(Auszug aus der Pressemitteilung)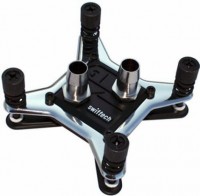 The Apogee GTZ is Swiftech's new flagship waterbock. While it shares the same

name with its predecessors, it also leaps beyond the GT and GTX performance chart
thanks to an entirely new design that pushes and refines both thermal and mechanical
specifications to the limits of today's technology.
Thermal Design
Thermal design of Apogee GTZ combines the benefits of direct cooling impingement
over the CPU area with an entirely new copper base plate design which is primarily
characterized by a pin matrix composed of 225μm (0.009') micro structures.
This results in a 20% improvement in thermal resistance compared to the Apogee
GTX.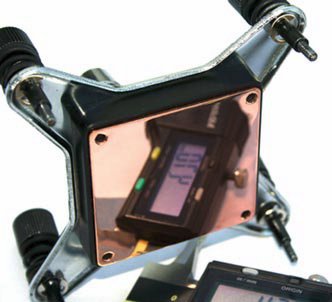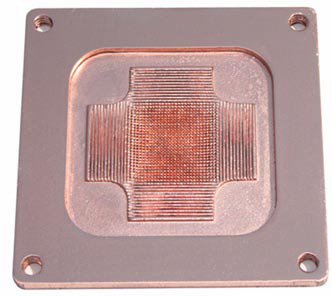 Mechanical Design
Mechanical design of the Apogee GTZ's copper base plate is optimized for Intel socket
LGA 775 and 771. The assembly features a patent pending design, characterized by
topographically mapped CPU contact area which results in a 75% and up to 300%
improvement in TIM joint thermal resistance compared to the Apogee GT/GTX series.
Other types of sockets such as AMD socket F, AM2 and 940 as well as upcoming sockets
similar in design to that of socket 775 may also benefit from the enhance contact
area.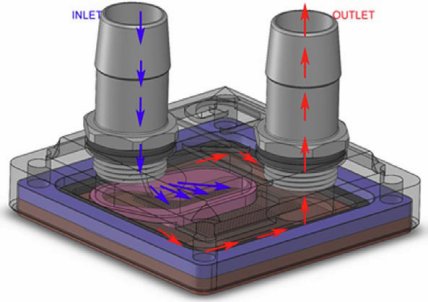 Retention Mechanism
An enhanced tool free retention system using thumb-nuts paires with a universal socket
775 motherboard back-plate guarantees high quality, safe and repeatable mounts.
Compatibility
The Apogee GTZ comes with an Intel Core 2 (socket 775) compatible hold-down plate
and complies with socket 775 keep-out specifications, thus ensuring compatibility with
all socket 775 type motherboards.
Two optional hold-down plates provide compatibility with most processors:
APO-1U-SHD: Intel Xeon socket 771, 603, 604 and AMD socket F, 754,939,940.
APO-GTZ-AM2-HD: AMD socket AM2
MSRP w/o VAT:
APOGEE GTZ: 49.95 euros
APO-1U-SHD: 8.95 euros
APO-GTZ-AM2-HD: 8.95 euros
Exploded View