(Auszug aus der Pressemitteilung)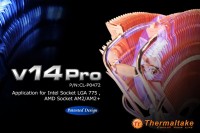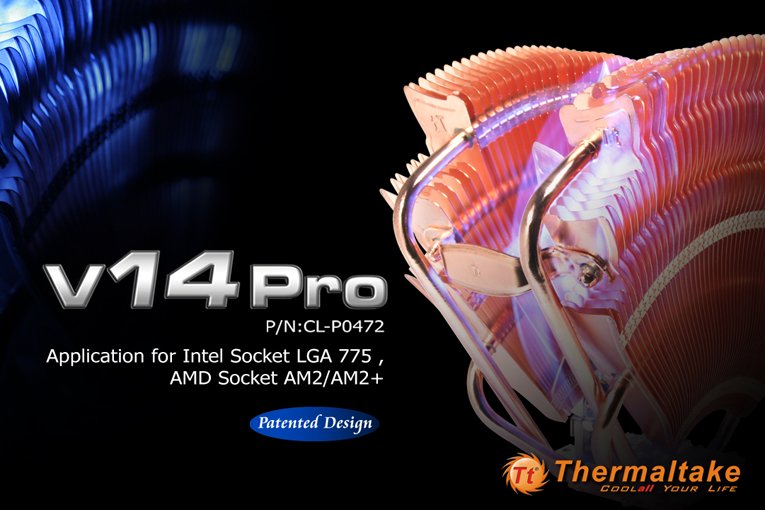 Oct, 2008 – Thermaltake, famed of their variety in air cooler selection, has released another one of their best performing CPU coolers today, V14Pro. Claiming to have reached the highest cooling performance ever, the new V14Pro comes with the giant size 140mm fan, 6 copper heatpipes, and 98 extended copper fins. The spec along had shown its design focus on the satisfaction of extreme overclockers and gamers. V14Pro will support mainstream and certainly, most of the high performance processors (Intel LGA775 and AMD Socket AM2/AM2+).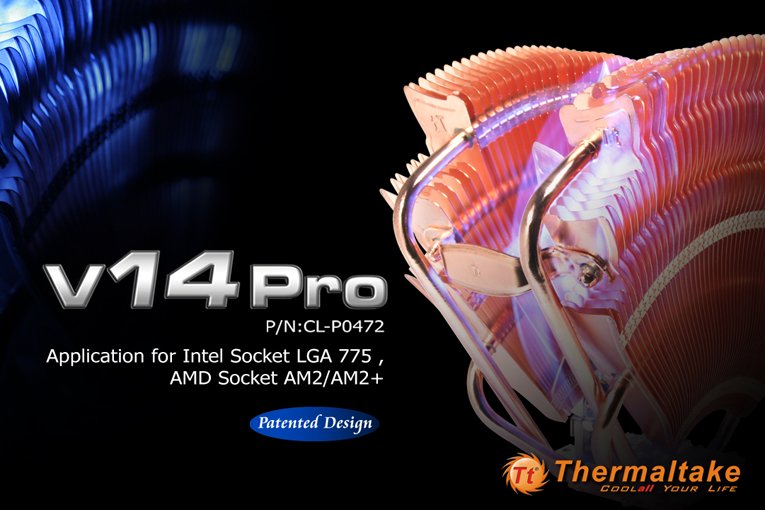 V14Pro, the new ideal air cooler for gaming enthusiasts, is the extended designed of dual-VTM architecture from the award winning V1 cooler. The structural design of V14Pro had shown the obvious intention on breaking the cooling record: Pure copper construction for best effective heat conductivity and dissipation; 6 long heatpipes penetrating the beautiful fin packs for instant cooling effect; and the impossible to ignore 140mm fan in between the fin packs giving a final strong push to accelerate cooling process and maximum cooling performance.
Another unique design touch on V14Pro was its side flow design of all V1 series; this utilizes the surrounding cool system air to pass through the cooler for more effective cooling. And the special architecture designed for multi-directional air intake also attributes to the superb cooling performance that V14Pro delivers. VR FanTM control function for user freedom in fan speed selection is available as most Tt coolers are.
Apart from the fine cooling performance that can be easily expected from the study on the structure and material of V14Pro, the new cooler also exhibits a unique and subtle futuristic look that certainly catches the attention of us PC enthusiasts and overclockers. Find out more about Thermaltake's new extreme CPU cooler: V14Pro.