(Auszug aus der Pressemitteilung)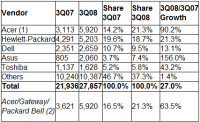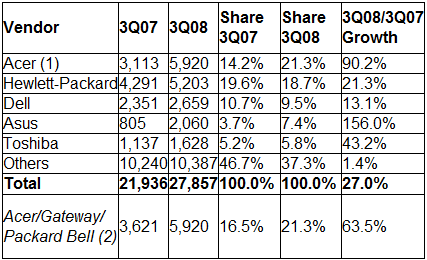 LONDON, October 17, 2008 – Driven by continued buoyancy in the notebook market and the additional momentum created by the new "Mini Notebook" segment, PC shipments recorded a robust 27% increase in EMEA (Europe, Middle East and Africa) in the 3rd quarter 2008 compared with the same quarter last year, according to preliminary data released by IDC EMEA.
Despite gloomy economic confidence in several European countries, notebooks continued to drive overall market growth at over 52% year on year as consumer demand showed no sign of slowing down in Western Europe and continued to grow in CEE and MEA, while the market also benefited from sustained demand in the business space.
"This quarter benefited not only from continued and robust consumer demand for mainstream notebooks as anticipated, but also from an acceleration and confirmation of the uptake of the new "Mini Notebook" segment with the proliferation of low-cost ultra portable products and deals through telco operators which contributed to boost consumer demand further", said Karine Paoli, associate vice president for IDC's EMEA Personal Computing research.
"Mini notebooks saw a surge during the back-to-school season with IDC estimating over 2 million units shipped in EMEA in 3Q08", said Eszter Morvay, senior research analyst for IDC's EMEA PC tracker. "Although the retail channel remained the primary route-to-market to reach consumers, mini notebook volumes were further boosted by the rising number of telco deals across several countries, enticing customers with free laptops bundled with mobile broadband, benefiting Asus and Acer in particular. Whilst the retail shelves were dominated by Asus in the first half of the year, the competition heated up over the summer months with Acer deploying strong push across the region. The appealing product design coupled with the right price point earned Asus and Acer a combined market share of over 80% in this rapidly expanding market. Mini notebooks are clearly shaking up the competitive landscape, which is likely to get even more fierce in the pre-Christmas season with several vendors launching products from October, and potentially pushing mini notebooks volumes in EMEA towards the 4 million range in 4Q08", she added.
"While the financial crisis that hit Europe in October may lead to intensifying economic pressure over the coming months and slowing business investment trends, the development expected of the new "Mini Notebook" segment could well balance the impact of any potential downturn and maintain buoyancy in the EMEA PC market in 2009, at least in unit terms. Continued price erosion and potential currency fluctuations will however add pressure in revenue and profit terms for several vendors." added Karine Paoli.
Vendor Highlights
This quarter marked significant change in the top vendor ranking in EMEA with Acer taking the #1 spot in EMEA while Asus stepped further up to 4th place in the overall ranking.
Acer made an explosive entry in the mini notebook market, which, combined with continued growth of its mainstream notebooks as well as desktops, propelled the Taiwanese vendor to 1st place in the overall EMEA PC market ranking for the first time. Acer deployed a massive push of its Aspire One across both the retail and telco channels, which contributed to soaring volumes, further strengthening its position in the notebook market. The vendor also continued to gain share in the desktop space, benefiting from the exit of local players from the Western European desktop market.
HP displayed solid growth at over 20% overall in EMEA, further strengthening its position in the desktop market, benefiting from corporate renewals in Western Europe and continued expansion in the CEMA region. However notebook growth remained below expectations as the vendor was not able to leverage from the current buoyancy in mini notebook demand. As a result, HP's performance was constrained particularly in the consumer segment, and pushed vendor into 2nd place in the overall EMEA ranking.
Dell maintained positive growth and a strong 3rd place in the overall EMEA ranking although share declined slightly. The vendor continued to leverage from its solid business footprint, and maintained strong positions across both commercial desktop and notebook markets in Western Europe, whilst driving further expansion in CEMA. However Dell also suffered from the late and limited launch of its mini notebook, which constrained overall notebook volumes this quarter.
Asus stepped further up to 4th place shipping over 2 million units this quarter, leveraging from the unabated success of the Eee PC product range. Boasting the largest mini notebook portfolio with varied spec options, the vendor maintained strong push into the retail channel, whilst sealing a multitude of deals with telco operators across EMEA. The elevated exposure and brand recognition gained through the Eee PC also contributed to strong growth of its mainstream notebook portfolio.
Toshiba continued to deliver solid performance with growth reaching over 40% across EMEA. The vendor's results were driven by sustained expansion in MEA and CEE in particular, whilst maintaining healthy performance in Western Europe as well, despite the lack of a mini notebook offering.
Top 5 Vendors: Europe, Middle East, and Africa (EMEA) PC Shipments*
3Q08 (Preliminary) (000 Units)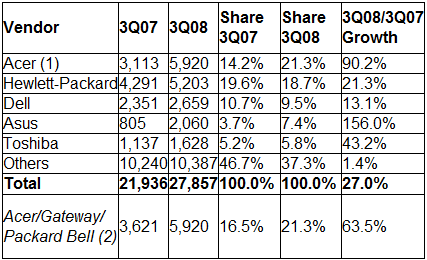 Source: IDC EMEA Quarterly PC Tracker, Preliminary Results, 3Q08, October 16, 2008
*PC shipments = desktop and notebooks.
(1) Acer shipments in 3Q08 include Acer, Gateway, and Packard Bell brands, following the acquisition by Acer of Gateway and Packard Bell.
(2) Acer, Gateway/eMachines and Packard Bell shipments for 3Q07 are aggregated in the additional row to allow easier year-on-year comparison. This is provided however solely for comparison purposes, as the three companies were separate entities prior to the acquisitions.
Shipments are branded shipments for all form factors (including desktop and notebooks) and exclude x86 servers as well as OEM sales for all vendors. Data for all vendors is reported for calendar periods.