(Auszug aus der Pressemitteilung)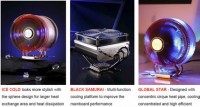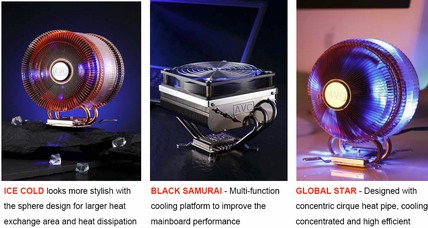 INTEL declares they will produce a new mini architecture-based desktop computer processor (code name: Nehalem). Socket LGA1366, a new generation of advanced CPU adopts this new mini architecture. Products based on this new mini architecture will improve the high performance, efficiency and power supply utilization, hopeful to lead the markets of computer in the future.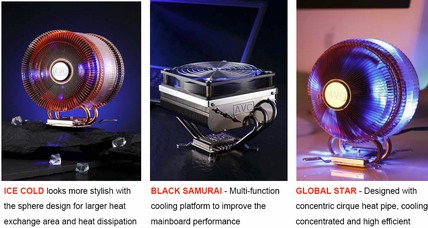 Cooperating with the CPU leading manufacturer to develop cooling technology, AVC has the full mastery of the developing trend and demand for computer industry, and sparkplugs the design notion of "Wind Woods Fire Mountain" to develop cooler with different functions, while "ICE COLD", "GLOBAL STAR" and "BLACK SAMURAI" satisfying the cooling demand of INTEL's new generation of advanced CPU LGA1366 architecture, are the best cooling scenarios of the users pursuing overclock performance.

"ICE COLD" delivers the remarkable features with outstanding performance. It incorporates mirror copper base, four radial heat pipes, aluminum fins and 9cm PWM fan as well, which can control processor temperature at the most suitable levels. This sphere design for larger heat exchange area has the extraordinary performance of heat dissipation, and looks more stylish & elegant.

"BLACK SAMURAI" is a multi-function composite cooling platform, which is constructed by six heat pipes and a 12cm front-windy fan, forming strong wind pressure, which not only cools CPU, and also assists removing extra heat from the other components such as graphic card, memory module, north & south bridges, the main board itself. "BLACK SAMURAI" can improve the performance of common mainboard and help users to save money and time for buying other coolers.
"GLOBAL STAR", designed with concentric cirque heat pipe and combined the copperized aluminous cooling fins in sunflower structure, makes use of the high-efficient heat pipe winding out from the copper base to give off the CPU waste heat speedily, behaving excellent conducting ability. "GLOBAL STAR" has enwrapped PWM intelligent fan with blue ray inside, and looks more fashionable, which let you deeply feel it is just a dazzling star surrounded by blueness.

Above three cross-platform coolers present a new notional cooler following AVC'S design notion of "SPEEDINESS AS WIND + COMPACTNESS AS WOODS + AGGRESSION AS FIRE + FIXING AS MOUNTAIN"
Product Specification