(Auszug aus der Pressemitteilung)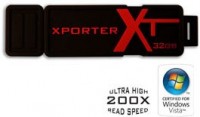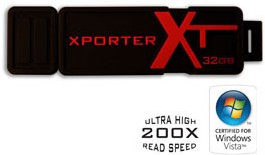 Fremont, California, USA, December 8, 2008 – Patriot Memory, a global provider of premium quality memory module and flash memory solutions, today announced their award-winning Xporter XT Boost USB flash drive now comes with improved read speeds of up to 200x. Previously, the Xporter XT Boost read speeds were rated up to 180x. The new Xporter XT still remains available in 2/4/8/16/32 gigabyte capacities and is still Microsoft® Windows™ certified for Vista ReadyBoost™.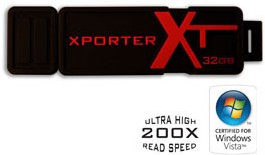 "In keeping in-line with our cutting edge philosophy, we are updating our already blazingly fast Boost series, giving the consumers an even better value." says Meng Jay Choo, Flash Product Manager for Patriot Memory. "Consumers will see a noticeable difference when using the new Xporter XT Boost. The 20x increase in read speed from the previous generation of the Xporter XT Boost equates to 3MB/s. This means more time to enjoy your pictures or videos rather than waiting for them to open.
Product Information: