(Auszug aus der Pressemitteilung)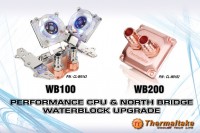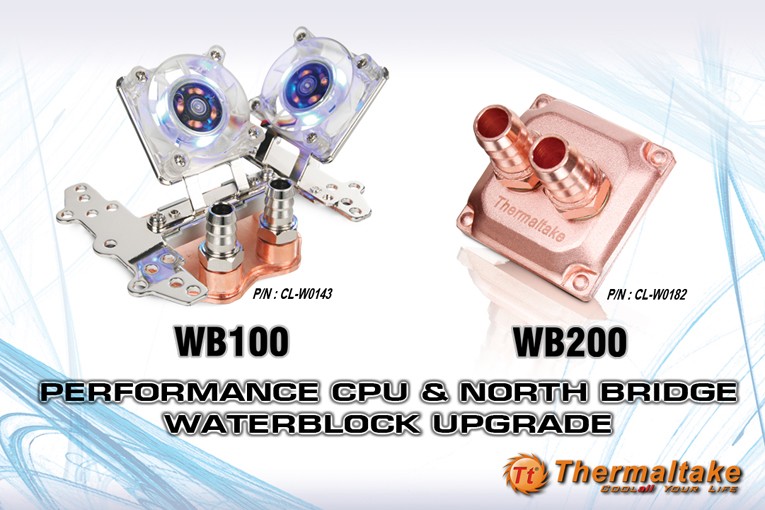 Dec, 2008 – Great news for Liquid Cooling System enthusiasts! New liquid cooling system upgrade from Thermaltake —WB100 waterblock for CPU and WB200 for North Bridge.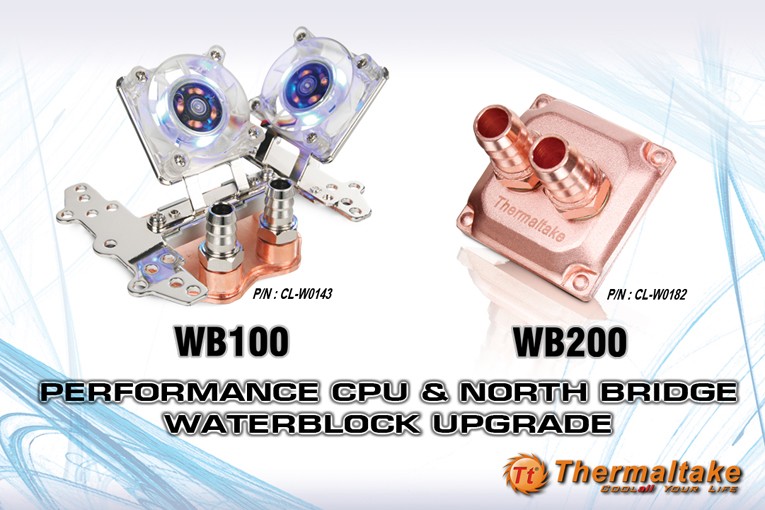 North Bridge thermal issue is often neglected in pc cooling field, but all true pc enthusiasts know it not only important but it also but one of the vital elements to the computer performance.. Thermaltake new WB200 is a perfect solution to North Bridge cooling in liquid cooling application. WB200 is purely copper-made for efficient and speedy heat dissipation in the first place; adding up the flawless contact surface with the chipset and the well-known brazing technology, WB200 should definitely guarantee impressive performance without worrying about leakage problems. Moreover, the Rotational Hose Connector used for connecting the tube and WB200 had made installation extremely easy!
On the other hand, WB100 CPU Waterblock can't be missed, either. It is compatible with most CPU on the market. The Rotational Hose Connectors allow the users install WB100 promptly and easily and meanwhile, it also offers the users leakage-free reliability. Inside the copper cover, it has the delicate Micro-channel design which can provide more contact surface to dissipate the heat. With these superior design concepts WB100 can maximize its thermal efficiency. That is not all; WB100 comes with two silent fans. While WB100 is dissipating the heat from the CPU, the fans can also cool down the VRM around CPU.
Thermaltake continuously brings innovative ideas with premium quality products to PC DIY world; even with a small upgrading waterblock, you can easily discover the great efforts put in user care and product design. If you are one PC DIY or liquid cooling system expert, please read more about WB200 and WB100 from Thermaltake official website today!