(Auszug aus der Pressemitteilung)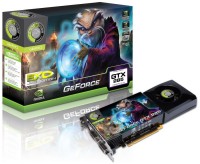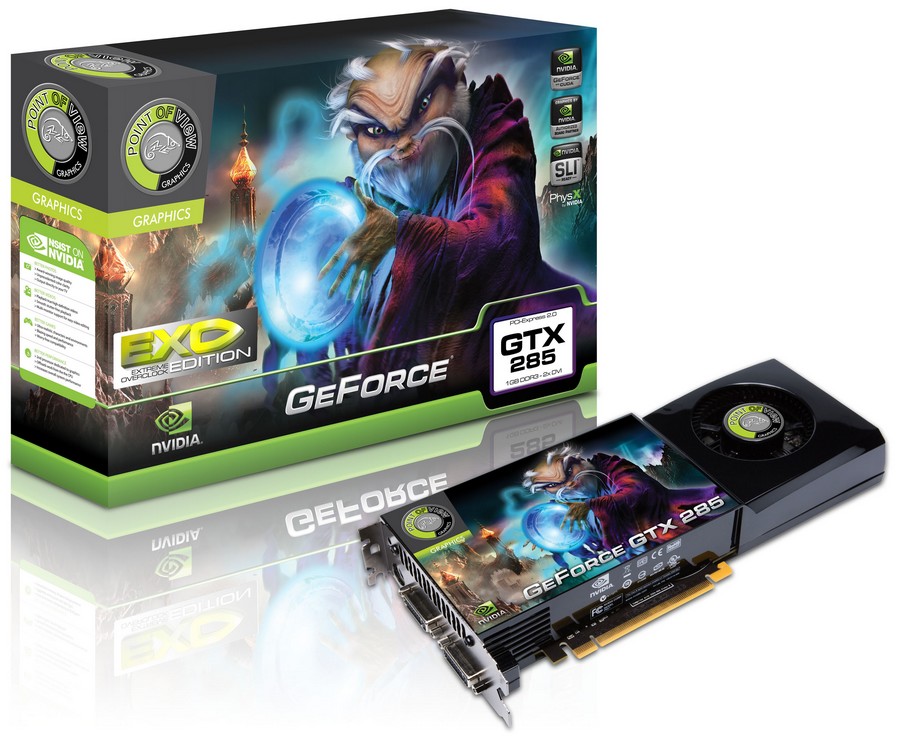 EINDHOVEN – January 15th 2009 – POINT OF VIEW, well known for its range of NVIDIA based Graphics cards, is launching today the fastest among single GPU graphics cards; the GeForce GTX285.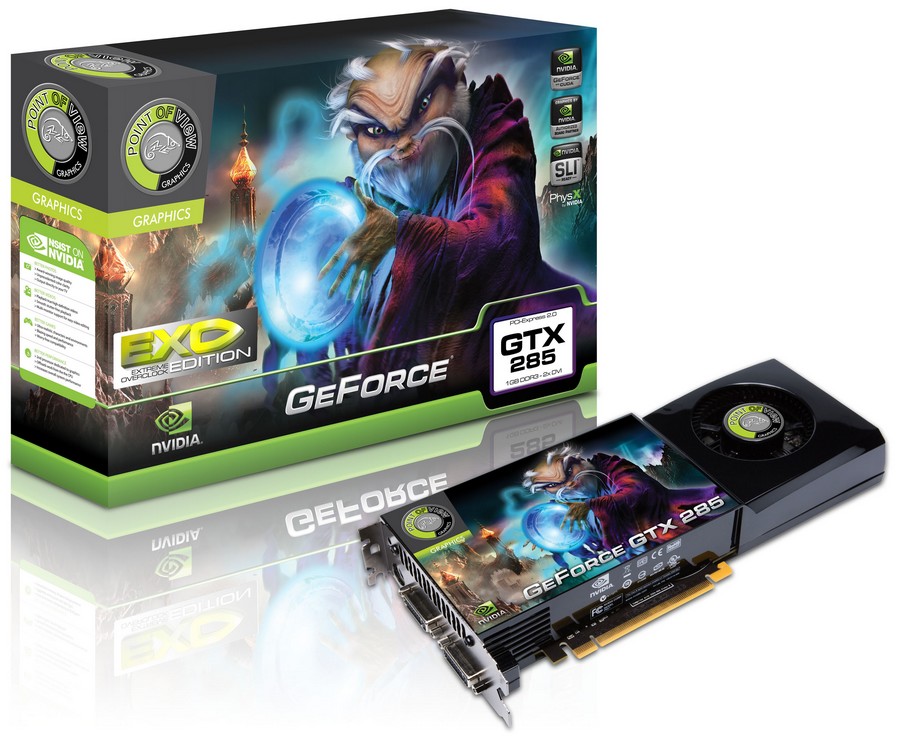 Built on 55nm, this enthusiast product is guaranteed to have better clockspeeds and higher overclocking possibilities. The 240 parallel GPU cores is the GeForce GTX285 take care of the 3-dimensional object rendering, physics and lighting effects and all other calculations needed for games, movies and multimedia applications.
The GPU itself runs on 648 MHz and has a Shader clock of 1476 MHz. Furthermore there is 1024MB of DDR3 on board with is running through a 512 bit memory bus at a massive speed of 2484 MHz. Also this one supports SLI with up to three graphics cards, which will offer even more performance.
Dual dual Link DVI port let you connect up to screens with resolutions up to 2560×1600. Also there's a DVI to HDMI adapter included to easily connect your computer to your TV with 1080p signal!
Besides the 'standard' version; Point of View will also release a special EXO edition with even more performance. This extreme overclocked edition is running on 675MHz for the GPU core, 1537MHz for the shader and a crushing 2550MHz for the DDR3 memory.
Like all other graphics cards in the GeForce 200 Series, this card has native support for DirectX 10 and Shader model 4.0. Other characteristics of the GeForce 200 Series are:
NVIDIA PhysX
True-to-life Water, cloth, explosions and smoke!
Experience even more realistic visual effects with the Physics accelerating technology!
NVIDIA CUDA
This technology allows other than graphics software to be run over the GPU.
Have 480 sub-processors decode your video many times faster than conventional (CPU-based) software.
NVIDIA Hybrid Power
Not playing any games? Switch to your integrated graphics chip for minimal power consumption. A smart solution for a greener environment.
The GeForce GTX 285 is also available with the Special Edition game bundle of Ubisoft's Prince of Persia. Both the regular version as the bundled version will be available from today. Visit the "Where to Buy" section of our website for a sales point in your country.
Ubisoft Montreal has delivered a magnificent game which looks like nothing you've ever seen before! The developers chose to implement an 'illustrative graphical style' which uses elements from cel-shading technology and is a perfect example of digital craftsmanship.
This hand-drawn feeling really adds to the surrealism that is the world of Prince of Persia. With its seamless animations and beautiful and colorful designs, Prince of Persia can be considered an interactive motion picture. Get ready to dive into this ultimate fantasy world with the Special Edition Graphics Card bundle of Prince of Persia!
Product codes
R-VGA150921N : GeForce GTX 285
R-VGA150921N-X : GeForce GTX 285 EXO
R-VGA150921N-POP : GeForce GTX 285 Special Edition Prince of Persia bundle
R-VGA150921N-X-POP : GeForce GTX 285 EXO Special Edition Prince of Persia bundle