(Auszug aus der Pressemitteilung)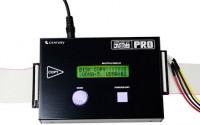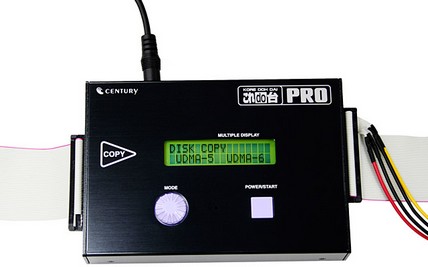 Have you had any experiences with data duplication?

This Century KD25/35Pro HDD duplicator is one of the world smallest standalone 1 to 1 HDD duplicator.
It not only supports 1 to 1 HDD cloning, but also supports Partition Copy, Data Comparison
and Data Erasure NSA standards features. In addition, it supports Raid 0 and Raid 1 Function. Enlarge the usage.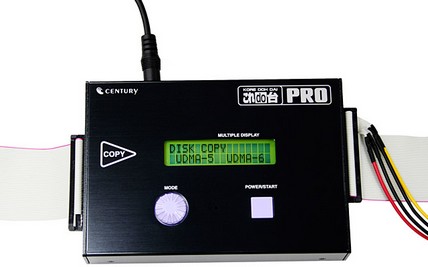 Key Functions:
Easy to Copy
Easy to clone HDD data from one HDD to another HDD in high speed without using PC. It uses Low-level copy agrothium, compatible with all OS's.
Super High Speed Copy

3.5″ SATA – 3.5″ SATA – 1TB
Max 101MB/S…..(AVG 95MB/sec)
3.5″ SATA – 3.5″ SATA – 320GB
Max 69MB/S…..(AVG 52MB/sec)
3.5″ IDE – 3.5″ SATA – 160GB
Max 69MB/S…..(AVG 52MB/sec)
3.5″ IDE – 3.5″ IDE – 160GB
Max 58MB/S…..(AVG 46MB/sec)
2.5″ IDE – 2.5″ IDE – 80GB
Max 43MB/S…..(AVG 32MB/sec)

*50GB of Data can be copied in 10 minutes.
(depends on the HDDs condition)

Compare
Quick comparison ability to identify the differences between the two HDDs connected.
Disk Check
Easily verify two HDDs once at the same time.
Data Erase (mode: x1 and x3)
Data of the HDDs can be erased by different speeds . One can choose the erasing mode from normal mode (x1) to high mode (x3)
( operates with NSA standard equivalency )
Data of the two HDDs can be erased together at the same time.
Partitioning Copy
Insecure parts would be excluded from the copy range (of Windows). (dynamic disk) is not supported.
Skip Error
When using our former product, if there is a sector error in the disk, it should stop copying. However, this product at the time of error occurred, it will skip at an error point and continue copying.
LCD Display
As it is equipped with LCD panel, you can confirm the operating situation at a glance. Convenience of operation is the best level !
SATA interface friendly
Two S-ATA connectors are built in main body on both sides key Applications (as an external HDD connector)
Combine
Two HDDs can be used as one big HDD with high capacity.
Mrror
Writes in data to both HDDs once at the same time for back-up purpose. ( this is not RAID)
Standard
It can be connected to two HDDs with individual HDD operated ability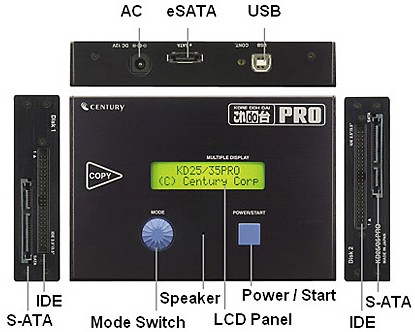 Specifications:
Computer Connection: USB 2.0 / e-SATA
USB Connector Type: Type B (5pin)
Temperature and Humidity: 5° ~ 35° , humidity 20 ~ 80%
**This machine should be used in the operation range of the connected PC
AC Power Adapter Input: 100 ~ 240V, 50/60Hz, 1.1A
AC Power Adapter Output: 12V/4.0A
Support Windows 2000/XP/VISTA, Mac OS X
Dimension: 146mm (W) x 102mm(D) x 25.4mm(H)
Weight: 360g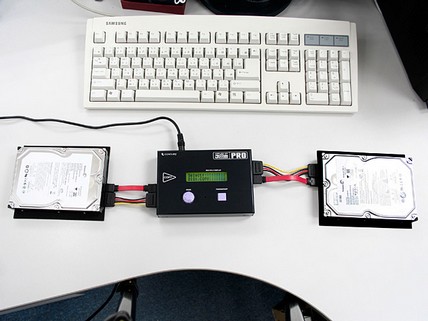 Package Contents:
1 x Century KD25/35PRO HDD Duplicator
1 x USB2.0 cable
2 x Flat Cables for 2.5″HDD
2 x Flat Cables for 3.5″HDD
1 x e-SATA Cable
2 x SATA Cable
2 x SATA AC Cables for Power Supply
1 x AC Adapter (100 ~ 240V)
1 x AC Cable