(Auszug aus der Pressemitteilung)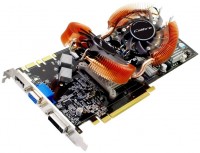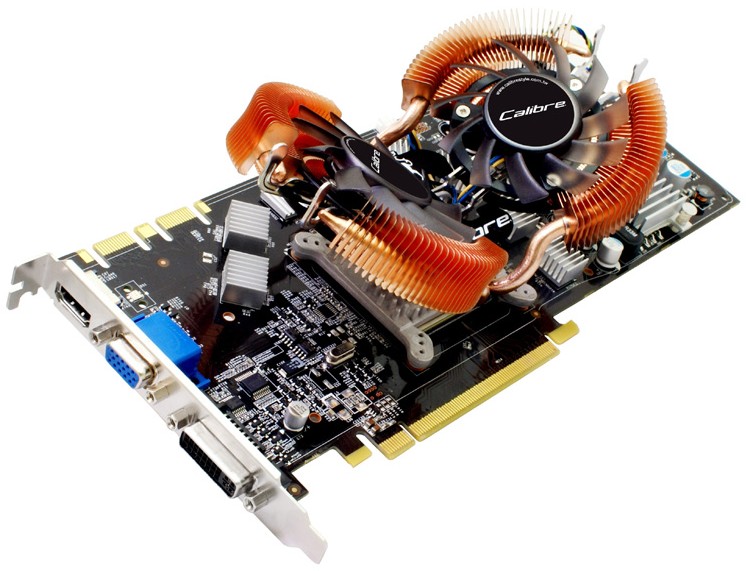 Taipei, Taiwan – March 25, 2009 – SPARKLE Computer Co., Ltd., the professional VGA card manufacturer

and supplier, today announced the Calibre X250 512MB/X250G 1GB GDDR3 Graphics Card with Calibre
Dual Fly Fan and SPA Tune OC software, extending the DirectX 10 gaming performance of GeForce GTS
250 GPU to a new level, bringing vivid DX10 gaming graphics on a mainstream consumer computing
platform.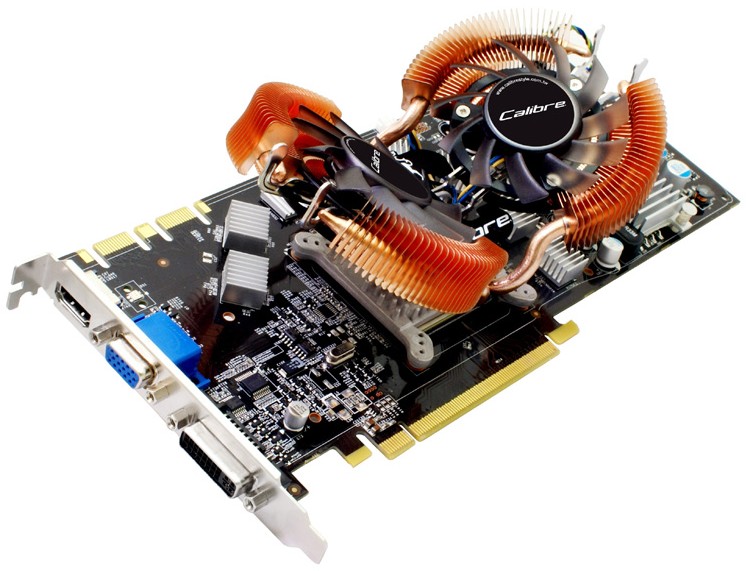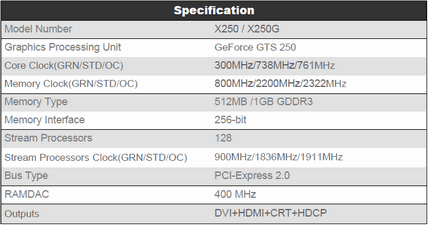 55nm Process with Calibre non-reference PCB design
Calibre X250/X250G Graphics Card features 55nm chip process from TSMC. So
It has groundbreaking speeds compared with ordinary GeForce GTS 250 graphics cards on market,
the core speed is raised from 738MHz to 761MHz, the shader clock is raised from 1836MHz to
1911MHz, making it can deliver unrivaled graphics performance in the hottest games including Far
Cry 2, Mirror's Edge, and Call of Duty 5: World at War. The Calibre X250/X250G Graphics Card
adopts Calibre non-reference PCB design, providing enhanced power circuitry with more phases of
vGPU power circuit and vMem circuit. Also it only uses solid capacitors with lower power loss,
providing more stable and longer product lifespan.
1GB Extreme Fast Large-capacity GDDR3 memory
Today's game, such as Crysis, Alone in the Dark 5, Stalker: clear sky, they normally use a large
number of bump texture, transparent texture to describe faces of characters and render realistic
gaming scenes, so these games put higher demands on the capacities of video memory. The
current situation demands at least 512 MB video memory to run these games. Compared with
ordinary GeForce GTS 250 graphics cards on market, Calibre X250G 1GB GDDR3 Graphics Card
comes with incredible large 1GB GDDR3 video memory can let mainstream users to pass the
3DMark Vantage High Test which strictly demand at least 512MB video memory, providing much
more detail information to mainstream users for better understanding its graphics capability.
Extreme Cooling with Calibre Dual Fly Fan System
The Calibre X250/X250G Graphics Card features Calibre Dual Fly Fan System – an ultimate
graphics cards cooling solution for users who seek higher graphics performance and lower
working temperatures. The cooling system consists of Pure Copper die-casting thermal base.diecasting
thermal base, high-efficient heat pipes and dual cooling fans with 0.2 mm thin cooling fins.
With improved wind pressure and airflow, it can get the most heat exchange area in a limited
space, guarantee a highly efficient cooling effect. Besides, the cooling fans of the Calibre Fly
Cooling System can be adjusted aslant 15 degree, so not only MOS circuit on the PCB can be
cooled efficiently, the memory and CPU cooling efficiency can be raised too.
Convenient SPA Tune OC software
The Calibre X250/X250G Graphics Card is bundled with convenient SPA Tune, an own designed
software, effectively balancing the computing power and power consumption. It provides three mode
transition buttons for Overclocking mode (OC), standard mode (STD) and green mode (GRN). The
OC mode provides high speed, best performance and more power consumption. The STD mode
brings standard performance and lesser power consumption. The GRN mode provides the energy
saving and green power consumption. Every mode sets up one team specification contains: Core
Clock (MHz), Memory Clock (MHz), Shader Clock (MHz), GPU Temperature ( ℃) and Fan Speed.
NVIDIA 3D Stereo Support
The Calibre X250/X250G Graphics Card supports GeForce Stereoscopic 3D Technology from
NVIDIA, which is market complete hardware and software kit for gamers built by NVIDIA for the 3D
stereoscopic gaming market. It will immerse gamers in the world of 3D content like never before.
Monsters, bullets, and landscapes jump out of gamers' flat monitors and into their imagination, making
them part of the game. With NVIDIA GeForce Stereoscopic 3D driver technology, gaming will never
be the same. Now with support for Microsoft Windows Vista and the Calibre X250/X250G Graphics
Card, gamers can play the hottest games and feel like they're part of the action rather than watching it
happen!