(Auszug aus der Pressemitteilung)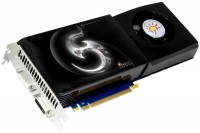 Taipei, Taiwan – April 2, 2009 – SPARKLE Computer Co., Ltd., the professional VGA card manufacturer and

supplier, today announced the SPARKLE GeForce GTX 275 Graphics Card, pushing DX10 gaming
performance of mainstream market to higher level.
0.8ns Extreme Fast Video Memory
SPARKLE GeForce GTX 275 Graphics Card uses 448-bit 896MB 0.8ns extreme fast GDDR3 video
memory, to achieve astonished 2268MHz memory speed, so it delivers unrivaled graphics
performance in the hottest games including Far Cry 2, Mirror's Edge, and Call of Duty 5: World at War. Besides, SPARKLE GeForce GTX 275 Graphics Card features 633MHz core speed, 240 1404MHz
stream processors. With the enhanced performance, the SPARKLE GeForce GTX 275 Graphics Card
tears through complex DirectX 10 environments at blazing frame rates in extreme HD resolutions.
NVIDIA 3D Stereo Support
The SPARKLE GeForce GTX 275 Graphics Card supports GeForce Stereoscopic 3D Technology from
NVIDIA, which is market complete hardware and software kit for gamers built by NVIDIA for the 3D
stereoscopic gaming market. It will immerse gamers in the world of 3D content like never before. Monsters, bullets, and landscapes jump out of gamers flat monitors and into their imagination, making them part of the game. With NVIDIA GeForce Stereoscopic 3D technology, gaming will never be the same. Now with support for Microsoft Windows Vista and the SPARKLE GeForce GTX 275 Graphics
Card , gamers can play the hottest games and feel like they're part of the action rather than watching it
happen!
NVIDIA SLI® Multi-Monitor support
Switch seamlessly between multi-display desktop mode and full screen 3D gaming with SLI. And enjoy
full multi-GPU support for dual-display capable 3D games such as World in conflict ,Supreme
Commander Forged Alliance, and Flight Simulator X.
3-Way SLI Support
The SPARKLE GeForce GTX 275 Graphics Card supports NVIDIA 3-way SLI technology, which
provides even higher frame rates and permits higher quality settings for the ultimate experience in
PC gaming when connected to a high-end, high-resolution monitor.
2nd Generation PureVideo HD
High-definition video decoder and post-processor delivers unprecedented picture clarity, smooth
video and accurate color for movies and video.
Cooling System
Exquisitely made cooling fans, which have high performance thermal compound ensures optimal
thermal dissipation even after years of use.
Full Microsoft ® DirectX ® 10 support
World's first DirectX 10 GPU with full Shader Model 4.0 support delivers unparalleled levels of
graphics realism and film-quality effects.
NVIDIA™ PhysX
GeForce GPU support for NVIDIA PhysX technology, enabling a totally new class of physical
gaming interaction for a more dynamic and realistic experience with GeForce.
NVIDIA™CUDA Technology
CUDA technology unlocks the power of the GPU's processor cores to accelerate the most
demanding system tasks such as video transcoding delivering up to 7x performance over traditional
CPUs.