(Auszug aus der Pressemitteilung)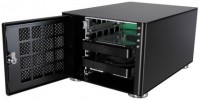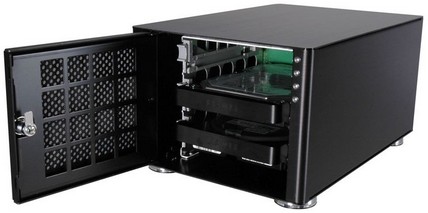 3 April 2009, Keelung, Taiwan – Lian-Li Industrial Co. Ltd has launched EX-10 (1xHDD), EX-20 (2x HDD's), EX-30 (3xHDD's) and EX-50 (5xHDD's) external HDD rack to support your storage needs in an all aluminum frame and housing. The HDD rack has a front loading door, with individual handles on a bracket for each HDD, as well as a back panel PCB with a RAID controller from Silicon Image. The Sil5744 chipset offers hot plug and play capability with many of the RAID settings required today.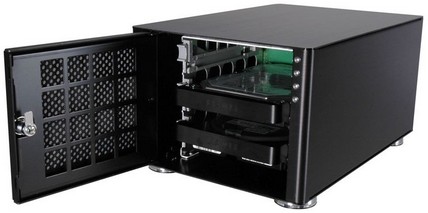 EX-30
The SATA HDD configuration is in a Hot Swap Plug & Play backplate with an integrated RAID controller chip. To keep the device cool there is an appropriately sized fan for your unit with a washable nylon filter keeping dust and debris out.
EX-20
EX-20: RAID Mode
BIG / JBOD / RAID-0(FAST) / RAID-1(SAFE, SAFE 33, SAFE 50)
EX-30 and EX-50: RAID Mode
BIG / JBOD+ (DISK 2 & DISK3) RAID-0(FAST) / JBOD+ (DISK 2 & DISK3)RAID-1(SAFE)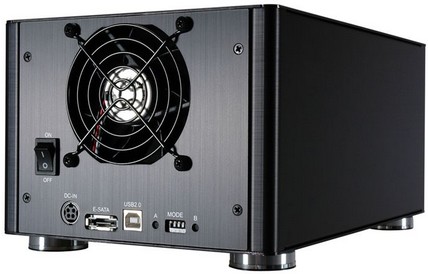 EX-30
The devices connect via USB 2.0 (480Mb/s) or e-SATA (3 Gbps, auto-negotiates to 1.5 Gbps) directly to your PC. You should make sure your PC complies with the minimum requirements: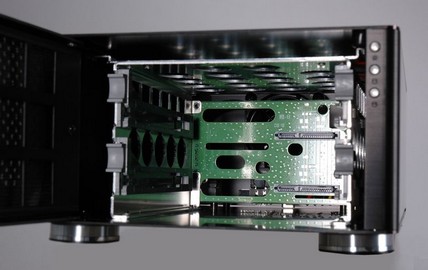 EX-20
System requirement
PC / Windows Systems:

Intel Pentium III 500 MHz equivalent or faster
Windows XP, 2003 Server or Windows Vista with latest Service Packs
64MB RAM minimum
250MB of free disk space
E-SATA & USB Connection

Macintosh Systems:

PowerMac G5, MacBook Pro or Mac Pro
MaxOS X 10.4.8 (or later)
E-SATA & USB Connection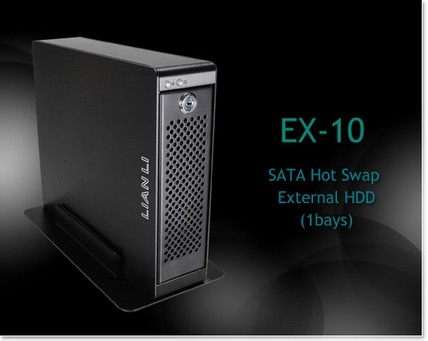 EX-10
Advantages of Hot Swap RAID array
These devices automatically rebuild HDD storage when a new one is added to the array when set up in safe mode. The best part is that no software is required and everything is automated from the moment you plug in the HDD's and turn on the device to your desired setting.

EX-10
Mounting HDD's is very convenient, with each handle mounted using screws, which act as guiding wheels as the hot swap HDD device is inserted securely while minimizing the noises from HDD chatter.
The cage on all units is lockable and complements Lian Li style with the hair-line brushed anodized aluminum in a black finish, combined with finely filed edges, and hand crafted tooling to prevent jagged edges, lending both safety and elegance to these neat external HDD cluster racks.