(Auszug aus der Pressemitteilung)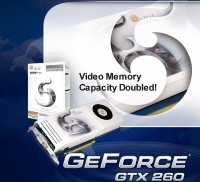 Taipei, Taiwan – April 28, 2009 – SPARKLE Computer Co., Ltd., the professional VGA card manufacturer and

supplier, today proudly announced the SPARKLE GeForce GTX 260 1792MB Graphics Card with
SPARKLE own designed great non-reference PCB and incredible large 1792MB video memory, bringing
amazing extreme DX10 gaming performance which has never been seen in mainstream market.
Great Designed Non-Reference PCB
SPARKLE graphics cards with high performance and exceptional speeds are never far from the
gamers' mind. That is why SPARKLE, producer of top quality graphic solutions, has today
introduced the graphic solution with its own designed PCB. This PCB design provides enhanced
power circuitry with more phases of vGPU power circuit and vMem circuit, combining with Japanmade
polymer capacitors will lower power loss, making the graphics card more stable and powerful
than NVIDIA reference design. In this way, users will be able to enjoy extreme performance and
have peace of mind over product lifespan.
1792MB Video Memory Delivering Exhilarating Gaming Experiences
Compared with ordinary GeForce GTX 260 graphics cards on market, SPARKLE GeForce GTX
260 1792MB Graphics Card doubled the video memory capacity from 896MB to incredible large
1792MB, an unbelievable 100% video memory capacity improvement when compared to any other
reference designed board. This 100% improvement makes SPARKLE GeForce GTX 260 1792MB
Graphics Card to be the perfect platform for mainstream gamers looking for extreme gaming
performance right out of the box. So get ready to feel the adrenaline rush of gaming in the hottest
games including Crysis: Warhead, Far Cry 2, Mirror's Edge, and Call of Duty 5: World at War,
which have hungry demand for bandwidth and capacity of video memory.
3-Way SLI Support
The SPARKLE GeForce GTX 260 1792MB Graphics Card supports NVIDIA 3-way SLI technology,
which provides even higher frame rates and permits higher quality settings for the ultimate
experience in PC gaming when connected to a high-end, high-resolution monitor.
2nd Generation PureVideo HD
High-definition video decoder and post-processor delivers unprecedented picture clarity, smooth
video and accurate color for movies and video.
Cooling System
Exquisitely made cooling fans, which have high performance thermal compound ensures optimal
thermal dissipation even after years of use.
Full Microsoft ® DirectX ®10 support
DirectX 10 GPU with full Shader Model 4.0 support delivers unparalleled levels of
graphics realism and film-quality effects.
NVIDIA™ PhysX
GeForce GPU support for NVIDIA PhysX technology, enabling a totally new class of physical
gaming interaction for a more dynamic and realistic experience with GeForce.
NVIDIA™CUDA Technology
CUDA technology unlocks the power of the GPU's processor cores to accelerate the most
demanding system tasks such as video transcoding delivering up to 7x performance over traditional
CPUs.