(Auszug aus der Pressemitteilung)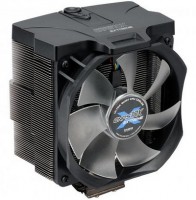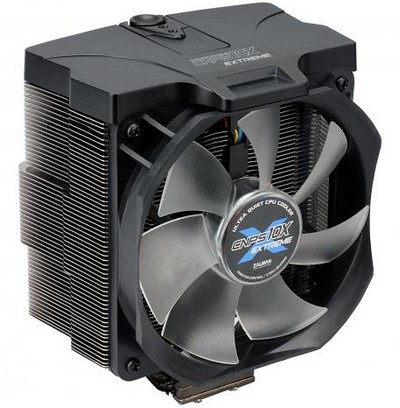 Toulouse, on the 10th of June, 2009 – Zalman breaks with the tradition and proceeds with a radical change inthe design of its new CPU cooler. The CNPS10X Extreme is a perfect association between innovation, performance and design.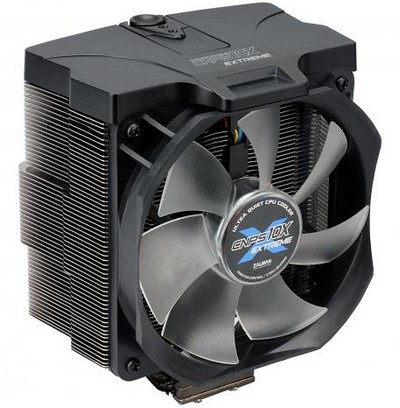 CNPS10X Extreme
Revolution, innovation, performance and design are the key words that best define the CNPS10X Extreme!
Breaking the habits as regards design, the Zalman CNPS10X Extreme was designed around a heatsink with aluminium fins "tower-shaped". Five 6mm "U"-shaped heatpipes cross the heatsink connected to a nickel copper base.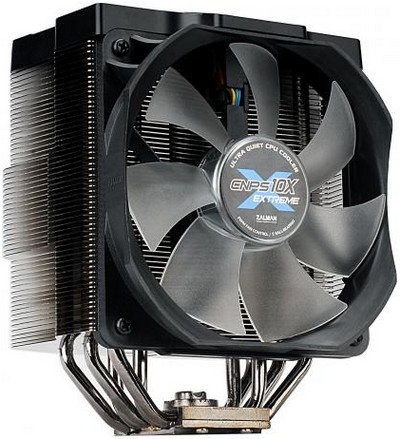 Real concentration of performance, Zalman went further and equipped its new cooler with the world first PWM regulator. This new technology enables the users to further balance the relation performance/noise of the 120mm which is included with the CNPS10X Extreme.
Symbol of all the know-how of the brand, the CNPS10X Extreme is one of the best coolers currently available on the market.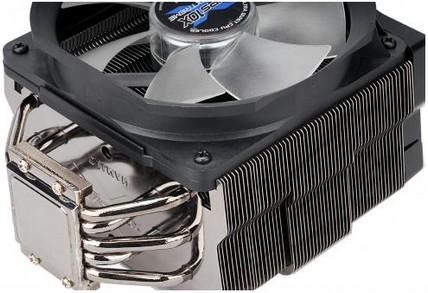 Features of the CNPS10X Extreme:
Revolution: the release of this new cooler marks a radical change in Zalman's habits, as the CNPS10X Extreme benefits from a "Tower" design, contrary to its predecessors.
Innovation: the PWM Mate which is located at the top of the heatsink (it can also be installed outside the case) is the world first system which enables to manually adjust the PWM regulator of the motherboard and thus perfectly monitor the fan rotation speed.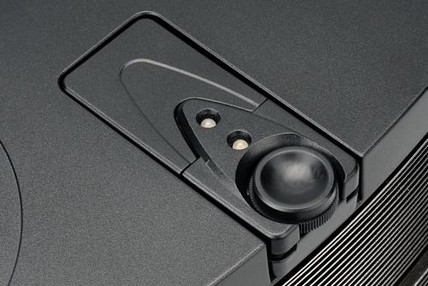 Performance: the nickel copper base, the five 6mm "U"-shaped heatpipes (alternated from the inside to the outside) that cross the nickel aluminium fins and the 120mm fan enable the CNPS10X Extreme to offer extremely high cooling performance.
Design: the "Black-Pearl" finish of CNPS10X Extreme and the fan blue LEDs give him a modern and sober look, that will fit any configuration.
Technical Spec. of the CNPS10X Extreme:
Heatsink
Dimensions: 135x100x160mm
Material: nickel copper & aluminium
Technology: heatpipe, 5 pipes
Dissipation Area: 8 540 cm2
Fan
Dimensions: 120mm
Blue LED
Fan Speed: from 1000 to 2 150 rpm (+/-10%)
Sound level: from 20 to 39 dBA (+/-10%)
Technology: Double Ball-bearing
PWM Mate
Low Auto Mode: from 1000 to 1500 rpm, 20 to 28 dBA
Mid Auto Mode: from 1000 to 1950 rpm, 20 to 35 dBA
High Auto Mode: from 1000 to 2150 rpm, 20 to 39 dBA
Manual Mode: from 1000 to 2150 rpm, 20 to 39 dBA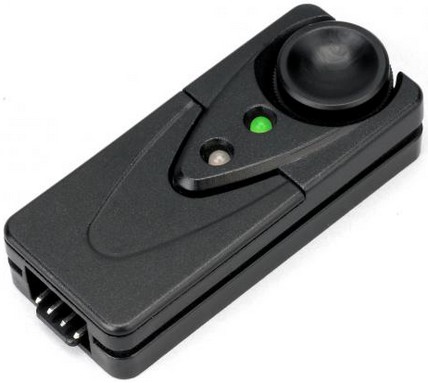 CPU Compatibility
AMD: socket AM3 / AM2 / AM2+ / 754 / 939 & 940
Intel: socket LGA775 / LGA1366 / LGA1156
More Information
Total Weight (heatsink + fan): 920g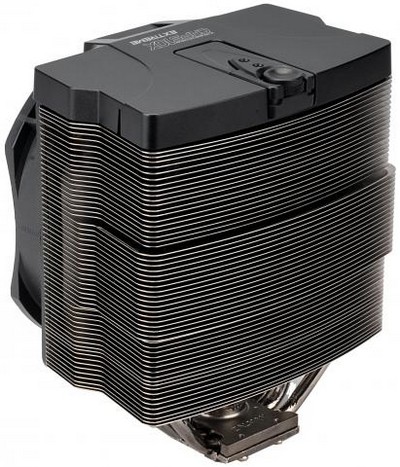 Price and availability: Zalman and Bacatá announce the immediate availability in Europe of the CNPS10X Extreme.
MSRP w/o VAT: 53.90 €