(Auszug aus der Pressemitteilung)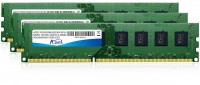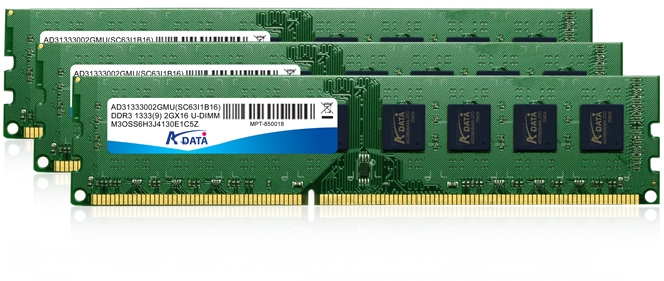 Taipei, Taiwan – June 23, 2009 – A-DATA Technology Co., Ltd., the worldwide leader in DRAM modules and Flash application products, proudly recommends DDR3 1333MHz Triple-Channel memory module for the hottest Intel® Core™ i7 platform that every PC enthusiast has been talking about.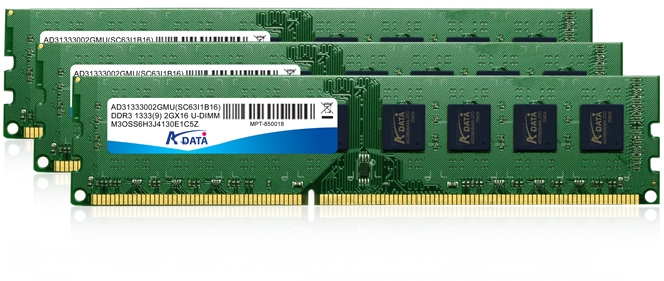 This high-speed Triple-Channel kit, available in 3GB and 6GB, is ideal for value-driven users who seek high performance yet competitively-priced memory solution to support the powerful processing capability that Core™ i7 CPU has to offer. A-DATA DDR3 1333MHz Triple-Channel kit features CAS Latency 9 at the low 1.5V working voltage while delivering three times the peak bandwidth than in single channel mode to help enhance the overall performance at an affordable price range, providing customers superior Cost/Performance ratio.
The 240-pin DDR3 1333MHz Triple-channel memory kit uses original IC and conforms to JEDEC standards, as well as passing rigorous cross-platform and durability testing in matched triplets to guarantee quality, compatibility and satisfying performance to our customers. As the demand for more powerful hardware continues to grow, A-DATA leads the industry with a complete high-speed, leading-edge memory product lineup, including the 1600MHz solution, for the future generation platforms. Once the latest system hits the market, A-DATA will be set to provide compatible memory solutions for those who are ready to pursue the most advanced computing technology.