(Auszug aus der Pressemitteilung)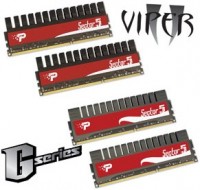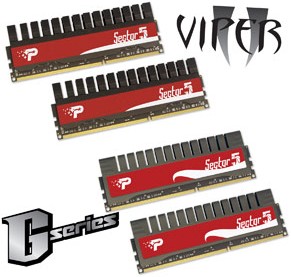 Fremont, California, USA, August 20, 2009 – Patriot Memory®, a global pioneer in high-performance memory, NAND flash and computer technology, today announced the release of their new Sector 5 Gaming modules explicitly designed to compliment Intel's® new P55 chipset.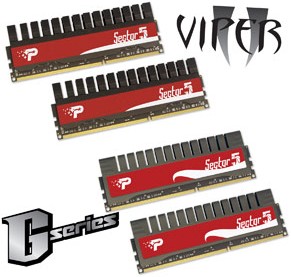 Specifically engineered for the new P55 chipset, the Sector 5 gaming modules have been optimized to take full advantage of the dual-channel architecture. Patriot's Sector 5 series will include two options; an extreme latency with speeds from 1333Mhz to 2000MHz supported with Patriot's award winning Viper II heat shield. In addition, the extreme latency will include Futuremark's® 3DMark Vantage, the world's #1 benchmarking software, offering consumers the chance to see how their system performs and stacks up against worldwide contention. The Futuremark Bundle will be offered in kits of 1600MHz and higher. Patriot's second option is their enhanced latency, "G" Series, which gives you the look and feel of many of the high end, gaming memory products, but with an advantageous price.
"The Sector 5 Series have been thoroughly tested for maximum performance with Intel's P55 chipset," says Benny Chea, Patriot's Senior Application Engineer. "In conjunction with Intel's chipset, we have tested these modules on some of the premier motherboard manufacturers; Gigibyte®, MSI®, Asus®, and Intel®. Capable of handling the demands that high-bandwidth multimedia programs and PC games require, the Sector 5 memory has the perfect combination of density and speed to push systems beyond what is currently imaginable."
Product Information: