(Auszug aus der Pressemitteilung)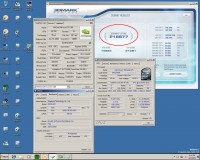 Taipei, Taiwan, 30th September, 2009 – GIGABYTE, a leading manufacturer of motherboards and graphics cards, today announces a world record P16877 3DMark Vantage score and an incredible GPU score of 15297 for the global launch of the GPU overclocking competition, Beat Me If You Dare. GIGABYTE's in-house overclocking team presents an unrivaled GPU clock of 1100 MHz and memory clock of 1400 MHz. The scores have been posted on the Beat Me if You Dare event website and contestants around the world are invited to challenge GIGABYTE's scores for cash and prizes.
The champion of each round will receive $1,500USD cash. As an added bonus, any contestant that beats the benchmark set by the GIGABYTE team will double his or her prize. Round 1 for the Beat Me If You Dare competition will start on Oct 1st.
Beat Me If You Dare Round 1 details:
(contestant's 3DMark Vantage Performance GPU score – 9000) / 9000 = X1 %
(contestant's game benchmark fps score – 100) / 100 = X2 %
X1 *80% + X2 *20% = final score
Contestants may use any brand of GTX 260 Graphics Card and no hardware limitation for participation.