(Auszug aus der Pressemitteilung)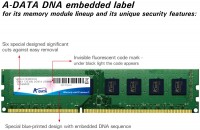 Taipei, Taiwan – October 22nd, 2009 – A-DATA Technology Co., Ltd., a worldwide leading manufacturer in high-performance DRAM modules and flash application products, today announces that its A-DATA® standard DRAM modules are now adopting the latest DNA authentication technology, in order to protect its intellectual property of DRAM modules against counterfeiting and fraud.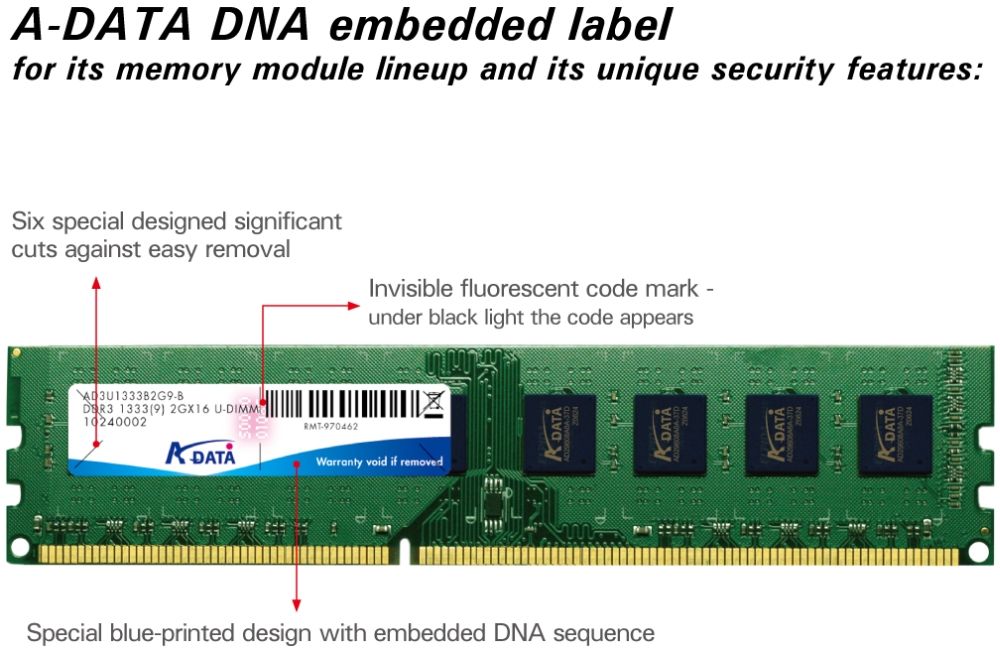 The DNA authentication technology involves the embedded sequence of a unique DNA in the product label. In addition, A-DATA uses this technology in conjunction with advanced identification systems, to provide an effective solution in cause of protecting consumers' rights, and the intellectual property of A-DATA as a quality manufacturer of DRAM modules.
Utilizing a black light pen to show up the fluorescent coding, consumers can easily identify the genuine of their purchased DRAM module from retailer, while the identification of the embedded DNA sequence can be identified by A-DATA labs. Moreover, the special designed significant cuts on the product label can avoid removing it easily to duplicate.
"Counterfeiting DRAM module is a serious and growing problem in the DRAM industry, which needs a necessary precaution against it" said Gibson Chen, Vice President and Head of Product Management Division. "As a leading manufacturer of DRAM module in the industry, A-DATA is committed to offer the highest quality of DRAM module and solution to the consumers. Thus, we adopted the DNA authentication technology to protect our intellectual property and our consumers' interests."
Once again, A-DATA takes the lead in the DRAM industry to anti-counterfeit and fraud, in order to protect its intellectual property and consumers' valuable investment.