(Auszug aus der Pressemitteilung)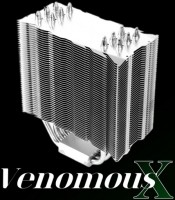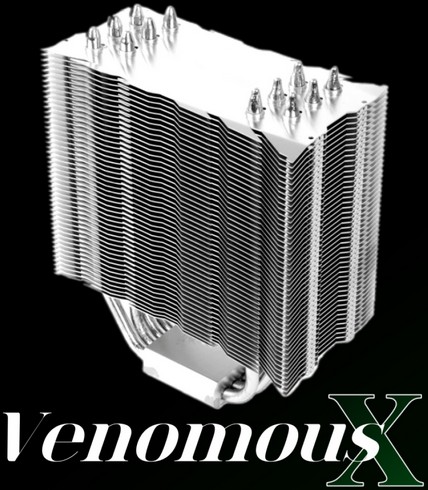 Since the release of the Thermalright Ultra-120 Extreme in 2007, more than 30 of the best hardware review sites have awarded the U120E "The Best CPU Heatsink." During the U120E's reign, we have continued to research the latest in thermal technologies to bring you the best products and the highest quality control. Furthermore, we greatly appreciate the feedback and support we have received from our customers. Through their efforts, we have refined our existing products through revisions to best meet their needs while improving thermal performance.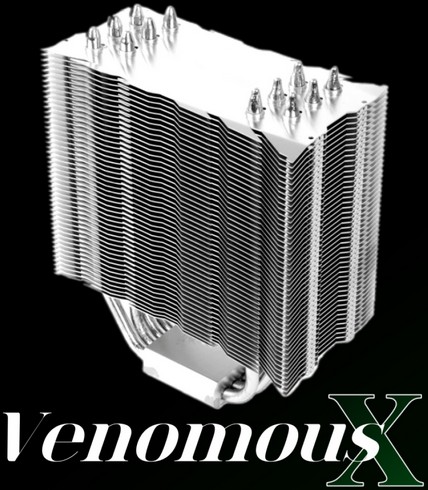 When designing a successor to the U120E, we centered our focus on three characteristics: installation, thermal performance, and outlook. Eighteen months later, what we came up with was the Venomous-X. Sporting the best adjustable retention system or "installing mechanism" to date while breaking thermal performance barriers and retaining some Thermalright style, we know you won't be disappionted.
The Venomous-X is compatible with sockets 775, 1156, and 1366. Thus, the Venomous-X will conquer the heat produced by any Intel Core i5 and i7 processors. However, the Venomous-X was designed with the future in mind. Six Cores processors have already been accounted for. This is possible because, our installation hardware allows the end-user to adjust pressure via the "Pressure Vault Bracket". Adjustments can be made from 40-70 lbs of pressure to fit any CPU IHS for the best possible CPU contact. The Venomous-X inherited our 6mm sintered heat pipe design, with soldered contract points with the fins and heatsink base to ensure effective heat transfer to our fin array. Thermalright engineers also increased the fin gap distance by 20% to 1.9mm. This modified fin array incorporating our arrowed bent winglet design allows air to rapidly pass through the heatsink with minimal resistance. Consequently, low or high RPM fans will exhibit excellent performance.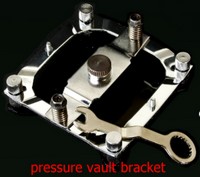 Secondly, Thermalright customers have been requesting a mirrored copper base. Done. We have also Nickel coated it to ensure long term usage, preventing oxidation. The base of the Venomous-X is also slightly convex. This design has been proven to increase performance of the heatsink by drawing away heat from the center of the CPU at an accelerated rate. Manufacturing such a base is a complex task, thus ensure every Thermalright Venomous-X CPU heatsink is produced with the highest of quality standards. Our manufacturing efforts maintain build quality. Every heatsink from the base, heat pupres, fin array, fan, and all of the soldering points in between will mirror our original design.
In our lab, we test products under the most brutal conditions. High voltage just over ambient is our goal and we are sure you will agree that the Venomous-X is the best performing CPU cooler we have produced to date.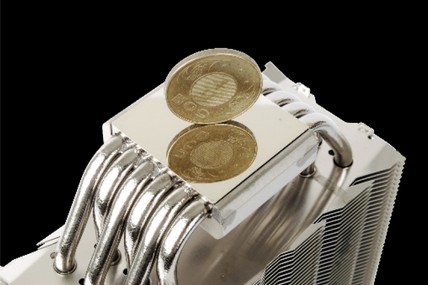 mirror copper base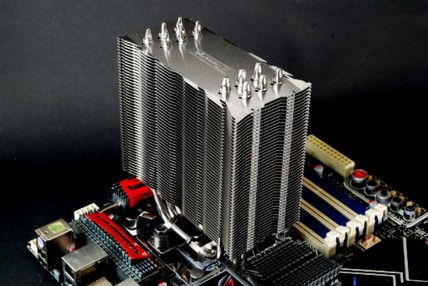 Features
All the patented multiple support pressure vault bracket system, allow users adding pressure to the bracket system (40~80 lbs.), and have a more efficient and secure mounting. (1366/1156/775)
Mirrored copper base increasingly upgrade the quality and the performance of the heatsink
Special bent winglet design, allows hot air to pass the heatsink more rapidly
Heatsink are all nickel plated to ensure the best quality and performance and could last for years
Soldered heatpipes, copper base and fins, to ensure the best thermal conducting efficiency
Six sintered heatpipe design, all heatpipes are nickel plated. To slow the oxidation deterioration to the heatpipe, to ensure longer usage and performance of the heatsink for the cpu
Including 2 sets of 120*24mm fan clips and Chill factor II thermal paste
Convex copper base design, to ensure the Highest thermal conducting thermal efficiency between the cpu and the heatsink
Dimension
Size: Length 125mm x Width 158mm x Height 160mm
Weight: 755 g (excluding fan and bracket system)
Heatpipe: 6mm sintered heatpipe *6 units
Copper base: C1100 pure nickel plated copper base, with ultra-shine mirrored surface