(Auszug aus der Pressemitteilung)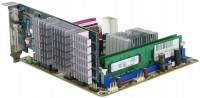 EINDHOVEN – January 11th 2010 – POINT OF VIEW, well known for its range of NVIDIA based Graphics cards, is presenting today the new generation of Intel Atom based mainboards and Mobii miniPC systems equipped with this new technology.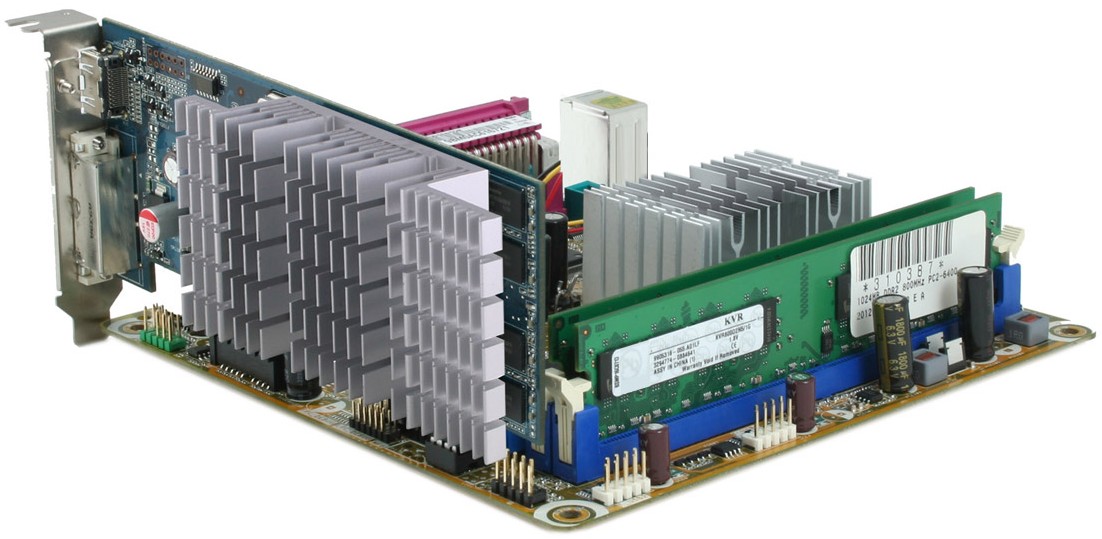 Mobii mainboard Atom D510
The heart of the board is formed by the Intel dual core processor, the Intel Atom D510 CPU. Powered by a very diverse Intel NM10 chipset, the system offers a huge range of functionality. The new energy friendly Atom solution really opens up the door for many low powered computers such as browsing PC's, car PC's and Home servers.
The internal structure of the Atom series desktop solutions are a really big step forward. The memory controller and graphics chip are now integrated inside the CPU which improves the performance up to 20% compared to previous generation Intel 945 chipset. The power consumption on the other hand is lowered drastically and offers really good results for the overall system temperature and noise caused by fans.
Mainboard specs
Processor : Intel Atom D510
Chipset : Intel NM10 with Intel GMA 3150
Memory : max 2GB DDR2, 240 pin DIMM
SATA : 2x SATA 150/300
USB : 4x USB 2.0 (I/O) + 4x USB 2.0 (internal for front panel)
Audio : 6-channel HD audio with stereo + SP/DIF output
LAN : 1x RJ-45 10/100/1000 Mbps
Also a very neat feature is the PCI-E 1x expansion slot on the board, making it possible to add a discrete graphics card to the system. This mean that a graphics performance boost can be added to the system with a PCI-E 1x passive GeForce G210 (optionally available). The 512 MB of DDR3 memory and improved clock speeds (650 MHz core, 1550 MHz shader and 1600 MHz memory) is more than enough to fire up your system.
Hardware acceleration in application, videos, games and lately web browsing (through Adobe Flash 10.1) will make this combination a good solution for the more advanced browsing and office PC but also Media center. Besides the extra graphics performance, this also opens up the door for digital graphics signal such as DVI and HDMI – added to the standard VGA graphics output.
These PCI-E 1x GeForce graphics cards will be in low-profile and will be both available as a retail product and bundled with the mainboard. Also very good news is a PCI-E 1x version of the GeForce GT220 and GT240 are being developed and released in the very near future.
Mobii MiniPC Atom D510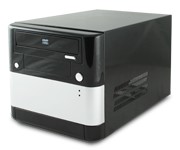 The above mainboard and CPU will also become the heart of the all-new Mobii miniPC. The combination of performance, versatility and an extremely interesting price really cranks up the bar for entry level systems. Whether it's for your living room, office, kitchen or grandma, the Mobii miniPC Atom D510 will be most bang for the buck, noted that it's a small buck that we're speaking of.
The basic system specs for the Mobii miniPC D510 will be:
Processor : Intel Atom D510 dual core CPU
Chipset : Intel NM10 with GMA 3150 graphics processor
Memory : 2GB DDR2
Hard disk : 320 GB SATA
Optical : DVD-RW 8x
LAN : Gigabit Ethernet RJ45
Audio : 6-channel HD-audio with stereo and digital SP/DIF output
SATA : 2x SATA (150/300)
USB : 4x USB 2.0 (I/O) + up to 4x USB 2.0 on front panel
Graphics : GeForce 210 – 512MB PCI-E 1x (optional)
The mini ITX form factor is really developing as the ideal player with its small size, low power consumption, low noise production and off course diverse range in features. Contact your POV retailer for more information and availability. To finish the package, an excellent warranty procedure is arranged with 2 years of pick-up & return warranty.
Also look out for the upcoming Point of View Mobii Home server. A new Atom desktop solution equipped with Microsoft's new consumer server platform; combining backup functionality and multimedia features in a compact web managed system. More news will be revealed soon.