(Auszug aus der Pressemitteilung)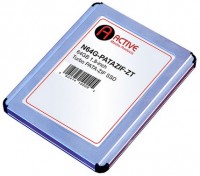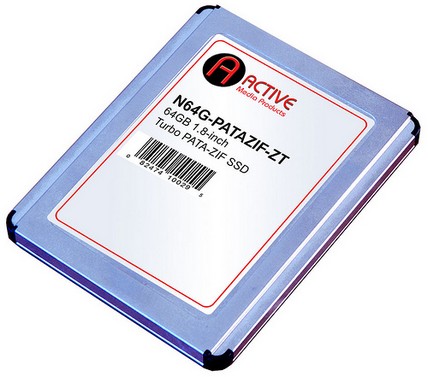 Fremont, California – March 8, 2010 – Active Media Products, manufacturer of SSDs and endangered species USB drives, today released new 32GB and 64GB 1.8-inch PATA ZIF SSDs that support read speeds up to 100MB/sec and, thanks to their DRAM cache, reach write speeds up to 85MB/sec. These new Turbo ZIF SSDs are available now through Amazon.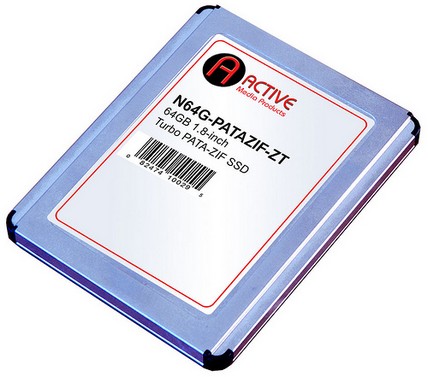 With no moving parts, SaberTooth ZT is rugged enough for use in industrial, embedded and network computing applications where a very compact yet high speed storage solution is needed. Its PATA / IDE ZIF interface supports PIO mode 4 and UDMA mode 6. It also supports SMART commands. The ZT includes excellent ECC, wear leveling and bad block management technologies that improve reliability and extend endurance. These drives have the same physical dimensions as industry standard 1.8-inch HDDs, measuring only 2.8 x 2.1 x 0.2 inches (71 x 54 x 5 mm), making them an easy plug-in replacement in many laptops and netbooks. Active Media Products' full range of PATA ZIF SSDs now includes three models:

SaberTooth SSD Advantages
SaberTooth SSDs offer a multitude of advantages over HDDs including:
Substantially faster bootup and application load speeds;
Consume far less power than HDDs, which means you'll enjoy longer battery life and greater productivity;
Lighter weight than an HDD;
No moving parts;
Completely silent operation;
Produce less heat than an HDD;
More rugged and reliable than an HDD.
"The SaberTooth ZT removes the performance tradeoffs that have plagued slim 1.8″ ZIF drives for so long. Now you can get a truly fast ZIF drive that still fits in a standard 1.8″ form factor. By incorporating a DRAM cache, we've dramatically improved write speeds over other ZIF drives", stated Active Media Products' VP of Sales, Jerry Thomson. Part numbers and current pricing on Amazon are as follows: N32G-PATAZIF-ZT $169.95, N64G-PATAZIF-ZT $299.95.