(Auszug aus der Pressemitteilung)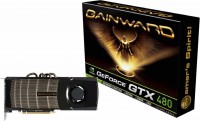 Taipei, March 26th, 2010 – Gainward GeForce GTX 480 1536MB GDDR5

"THIS IS IT!" Long anticipated Gainward flagship finally unveils its mask. Massive die-cast alludes its potent
power lying beneath it. The GeForce GTX 480 – a tribute to world enthusiastic PC gamers, thrust by
revolutionary Fermi-architecture GPU (codename: GF100), with stunning realism thanks to NVIDIA PhysX &
CUDA parallel computing engines implanted into gaming graphics. It is technically the world fastest
DirectX11 future-proof graphics card, adopting Hollywood-grade rendering techniques – tessellation &
ray-tracing, generating too-good-to-be-true geometric realism, pumping level of detail up to film-like Extreme
High-Definition (XHD) image quality. What's more, "3D Vision Surround" is now supported with GF100
GPUs in SLI configuration. With wireless shutter glasses, the technology takes 3D gaming to another
dimension by delivering near-realistic IMAX illusions across 3 monitors in full stereoscopic 3D. Not only the
characters coming live right in front of you and debris from explosions passing by your eyebrows may scare
you! The scenes are so immersive, like you've been sucked into the gaming warp. This is the way you reach
gaming nirvana! It's simply beyond your senses.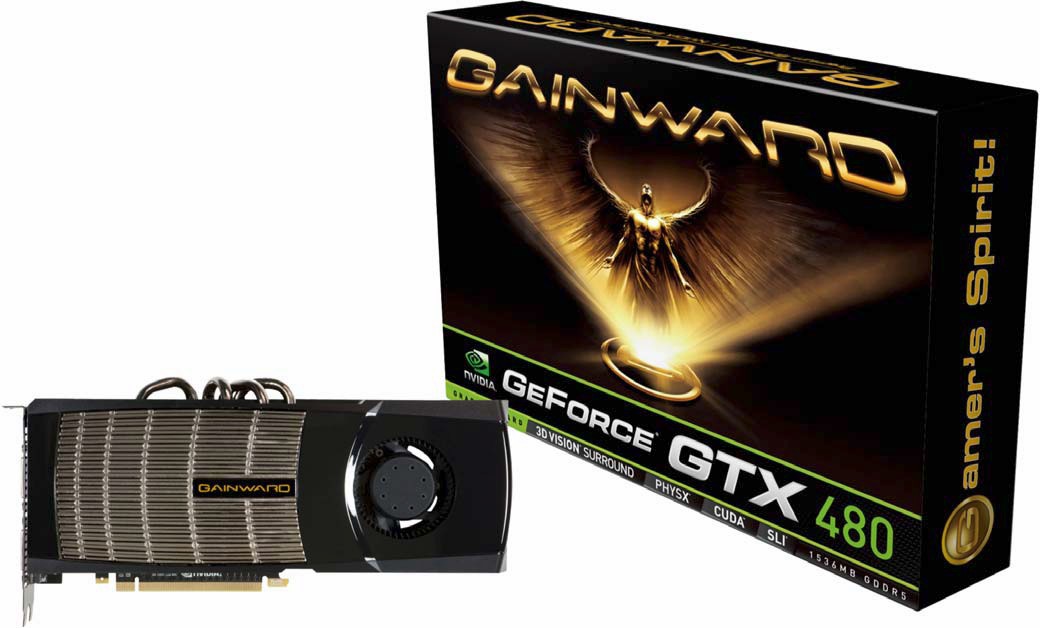 2010 is arguably the first year of 3D entertainment since James Cameron's film – Avatar, brought us to
Pandora for an epic adventure. Can't wait to fly again with Neytiri! Now, March 26th, 2010, this is a day to
remember in history of gaming. Gainward dark angel grants your wishes with a key – GeForce GTX 480 to
open Pandora's box. You've been warned! The cinematic 3D experiences can be addicted. There is no
remedy, but to play the games over and over again!
What are you waiting for! Order NOW a pair of Gainward GeForce GTX 480s at the shop nearest you. To
show off your most powerful rigs ever to your pals, and enjoy their envies! Oh, what a day!!!
Gainward GeForce GTX 470 1280MB GDDR5
Gainward GeForce GTX 470 shares exactly the same PolyMorph engine with its big brother 480 CUDA
cores GeForce GTX 480 masking few processors down to 448 CUDA cores, however with more affordable
pricing, created one of the highest C/P (Capability over Price) gaming rig over entire range of graphics cards.
Do not underestimate its relatively lower spec, it is equally impressive for its state-of-the-art 32x Anti-Aliasing,
real time PhysX, dynamic cinematic effects with tessellation and ray-tracing. Best with 3D Vision Surround at
triple full HD 1920×1080 resolution powered by 3-Way SLI, for those not ready to jump into stereoscopic
gaming, 3D Vision Surround also supports non-stereoscopic 3D at Extreme HD up to 2560×1600 resolution,
which is equally enjoyable!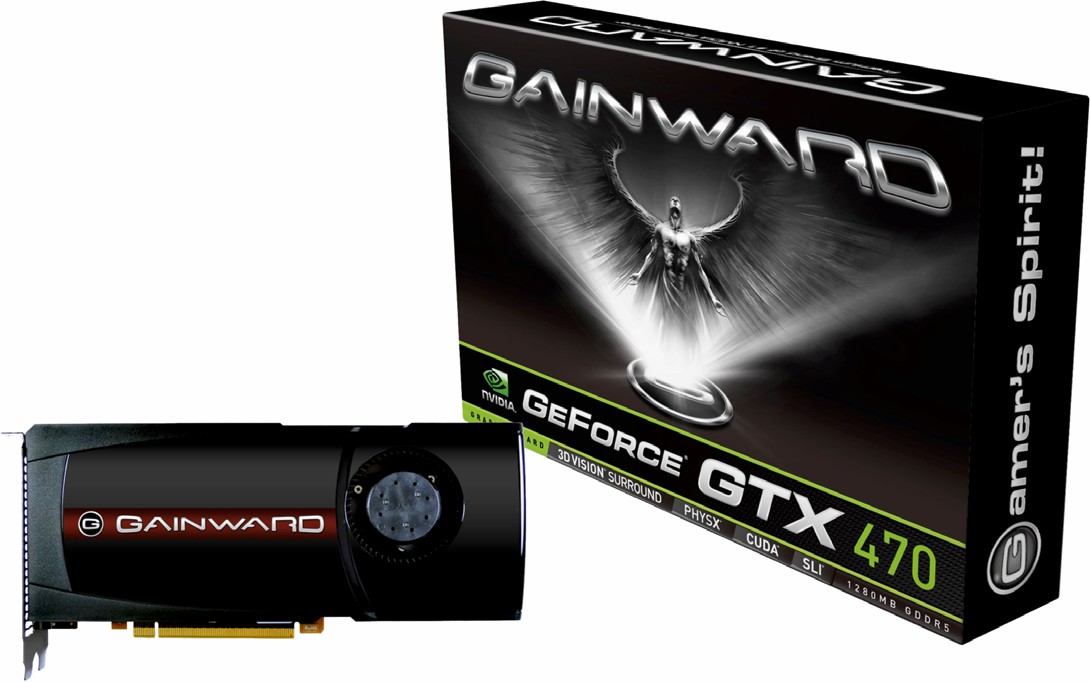 Free Applications bundles: See it, Play it, Love it!
Supersonic Sled

Strap yourself to a rocket – and get ready to experience serious G-forces.
A great example of how combining PhysX simulation, CUDA and DX11
hardware tessellation delivers a glimpse into the future of realistic and
interactive game play.
Design Garage

Interact with and create incredibly photo-realistic images of some of the
fastest, most exclusive vehicles on (and off) the road through CUDA
accelerated ray tracing. Each 3D model has an assortment of
customizable parameters – so you control the look and feel of the
materials, the lighting, and even the scene. Once you have satisfied
your imagination, capture the moment and share the photo-realistic
vehicle image with the world.
Super LoiLoScope

Super LoiLoScope is a user-friendly and super-fast video editing
software that utilize CUDA engine of your new GAINWARD Graphics
card to its full potential. You may organize, combine multiple videos or
place special effects on them up to 10X more efficient than non-CUDA
graphics! Then save to various formats and watch on-the-go with your
portable devices (iPod, iPhone, etc.) or to share on youTube as easy
as just one-click! Download and experience 30 days trial for free. To
purchase full version of Super LoiLoScope with voucher gets 25%
discount (MSRP $88) special for GAINWARD valued customers.
Gainward GeForce GTX 480/470 Specifications