(Auszug aus der Pressemitteilung)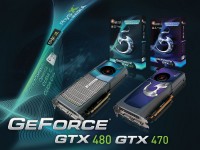 Taipei, Taiwan – March 26, 2010 – SPARKLE Computer Co., Ltd., the professional VGA card manufacturer and supplier, today proudly

announced the SPARKLE GeForce GTX 480/470 Graphics Cards, which are the most powerful single chip graphics cards on the planet for gaming and beyond.
Fastest DX11 HD Gaming Experience
Packing in 3 billion transistors, double the CUDA cores of
previous generation GPUs, a high speed GDDR5 memory
interface, and full DirectX 11 support, the SPARKLE GeForce
GTX 480/470 Graphics Cards are designed for groundbreaking
graphics performance. With a revolutionary new scalable
geometry pipeline and enhanced anti-aliasing capabilities, the
SPARKLE GeForce GTX 480/470 Graphics Cards are the
world's most powerful single GPU graphics cards solution,
delivering up to 3 times faster performance than previous GTX 285 single GPUsolutions. With the power of GF100 GPUs, the
SPARKLE GeForce GTX 480/470 Graphics Cards bring ultimate DX11 HD gaming experience to high-end gamers. The
SPARKLE GeForce GTX 480/470 Graphics Cards place gamers in the center of the action and experience true DirectX 11
gaming cinema in extreme HD (2560×1600) resolutions—all enabled by GF100's revolutionary compute architecture, NVIDIA 3-
way SLI technology, and incredible performance in the latest DX11 games including Dirt 2, Stalker:OCP, Alien VS. Predator,
Metro 2033 and so on. With 1.5~3 times more performance than prior generation GPUs, the SPARKLE GeForce GTX 480/470
Graphics Cards tear through complex DirectX 10 environments and cinematic effects at blazing frame rates in extreme HD
resolutions.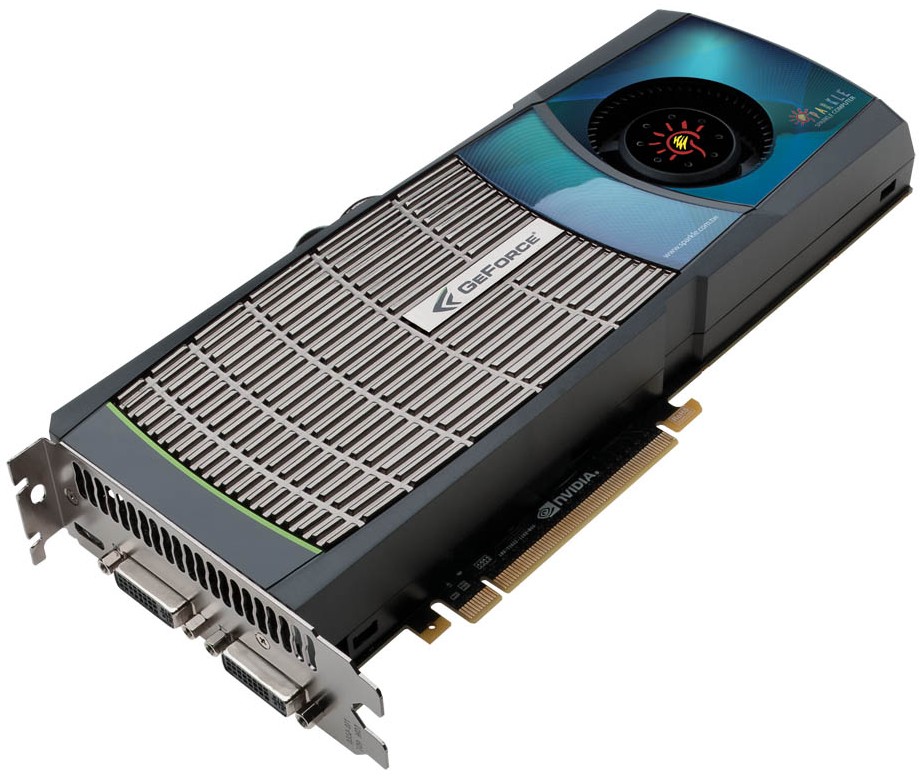 The Revolutionary Compute Architecture for
Gaming
The SPARKLE GeForce GTX 480/470 Graphics Cards adopt
the GF100 architecture which implements all DirectX 11
hardware features, including Tessellation and DirectCompute,
among others. GF100 brings forward a vastly improved
compute architecture designed specifically to support next
generation gaming effects such as raytracing, orderindependent
transparency, and fluid simulations.
Game performance and image quality receive a tremendous
boost, and GF100 enables film-like
geometric realism for game characters and objects.
Geometric realism is central to the GF100 architectural enhancements for graphics. In addition, PhysX simulations are much
faster, and developers can utilize GPU computing features in games most effectively with GF100.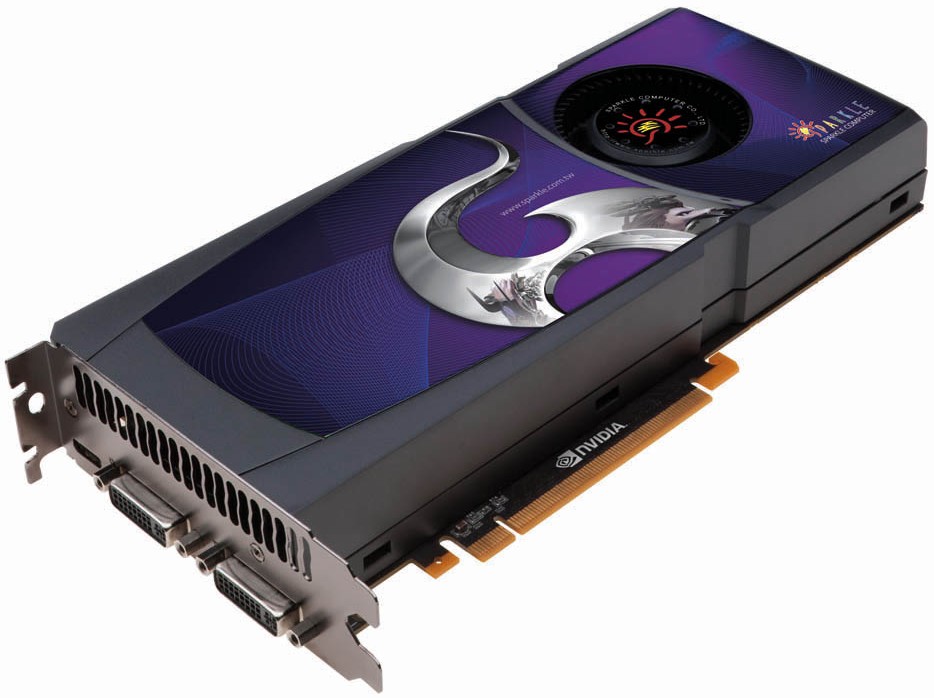 High Performance In Tessellation Brings Filmlike Geometric Realism
While Tessellation has mostly been used in films. With the
introduction of DirectX 11 and NVIDIA's GF100, developers will
be able to harness these powerful techniques for gaming
applications, gamers will fully immerse in the film-like
geometric realism brought by these DirectX 11 titles, such as
Dirt 2, Stalker:OCP, Alien VS. Predator, Metro 2033 and so on.
With the GF100's PolyMorph Engine, the Tessellation allows
more complex animations possible, so that rough edges
become more rough, smooth edges become more smooth, the
caracks closes more accurately with more realistic shadows.
And since Tessellation is only applied to necessary areas,
game performance is not compromised.
The SPARKLE GeForce GTX 480/470 Graphics Cards are built ground up for Tessellation up to 8X faster geometry
performance than GTX285. Using Tessellation technology, the SPARKLE GeForce GTX 480/470 Graphics Cards can bring
realistic water — up to 1.6 billion triangles/s and realistic hair – 18,000 strands!
Ray Tracing Support: The Future Of Gaming
The SPARKLE GeForce GTX 480/470 Graphics Cards brings
interactive ray tracing to the consumer market for the first time,
providing a glimpse into the future of visual realism in games.
By tracing the path of light through a 3D scene, ray tracing
uses the power of the GF100 GPUs to create spectacular,
photo-realistic visuals. GF100's compute architecture was built
specifically with ray tracing in mind. GF100 is the first GPU to
support recursion in hardware, enabling efficient ray tracing
and a host of other graphics algorithms.GF100 excels not just
at standard ray tracing, but also at advanced global illumination
algorithms such as path tracing, which uses a much larger
number
of rays to collect ambient lighting information from the scene. To sustain performance, a game may use ray tracing selectively.
This hybrid model of rendering enables fast performance with great image quality. Thanks to the innovative unified cache
architecture in GF100, ray tracing on the SPARKLE GeForce GTX 480/470 Graphics Cards runs up to 4 times faster than prior
generation GPUs.
2~3X PhysX Performance over GTX285
Helped with the GF100 compute architecture, the SPARKLE
GeForce GTX 480/470 Graphics Cards are designed to take
NVIDIA® PhysX® technology to the next level—making games
more lifelike than ever before with advanced effects such as
turbulence and fluid dynamics. The new NVIDIA® GigaThread
hardware scheduler allows 10 times faster switching between
graphics and physics processing, enabling more complex
effects
to be rendered in real time. The overall PhysX performance is 2-3 times faster on previous GeForce GTX 285 graphics card.
Total Immersive With NVIDIA 3D Vision
Surround Technology
Prepare to be blown away by the most immersive PC gaming
experience imaginable. Leveraging the power of multiple
GF100 GPUs in an NVIDIA SLI configuration, NVIDIA 3D
Vision Surround enables a new level of eye-popping 3D stereo
gaming, expanding your real estate across 3 panels for the
ultimate "inside the game" feeling. The SPARKLE GeForce
GTX 480/470 Graphics Cards provide the incredible graphics
horsepower to run your game in 3D stereo, across 3 panels, at
HD resolutions up to 5760×1080.
The SPARKLE GeForce GTX 480/470 Graphics Cards aslo support gaming across three non-3D displays with resolutions up to
2560×1600,it's the best in Class 2D Surround Gaming.
1536MB/1280MB Incredible Large High Speed GDDR5 Video Memory
Today's DX11 game, such as Stalker: Call Of Pripyat, Metro 2033, they insanely use as large as possible number of bump
texture, transparent texture to describe faces of characters and render realistic gaming scenes, so these DX11 games put
rigorous demands on the bandwidth and capacities of video memory. The current situation demands at least 1GB video memory
to run these games. Compared with previous GTX 285 cards on market with 1GB GDDR3 video memory, the SPARKLE
GeForce GTX 480/470 Graphics Cards come with incredible large 1536MB/1280MB high speed GDDR5 video memory, making
them to be first batch of DX11 single chip graphics cards in the world with video memory capacity larger than 1GB.
3-Way SLI Support
The SPARKLE GeForce GTX 480/470 Graphics Cards supports NVIDIA 3-way SLI technology, which provides even higher frame
rates and permits higher quality settings for the ultimate experience in PC gaming when connected to a high-end, high-resolution
monitor.
3nd Generation PureVideo HD
High-definition video decoder and post-processor delivers unprecedented picture clarity, smooth video and accurate color for
movies and video.
NVIDIA™CUDA Technology With 512 cores CUDA C/C++ Support
CUDA technology unlocks the power of the GF00's 512 processor cores to accelerate the most demanding system tasks such as
video transcoding delivering up to 7x performance over traditional CPUs.
OpenGL 3.2 Optimization and Support
Ensures top‐notch compatibility and performance for OpenGL applications.
The SPARKLE GeForce GTX 480/470 Graphics Cards Comes with 3 free Applications Bundled.
MAGIX Video Easy, which is the first video editing program for the whole family. It's
so easy to use that even beginners without any prior skills will be able to design
breathtaking videos in just a short time. Transform recordings of family celebrations,
vacations, or special events into video DVDs or present your videos on the Internet
with ease.
SPARKLE GTX470/480 also offer Supersonic Sled and Design Garage,2 new,
exciting NVIDIA applications which showcase how GeForce and these new products
are driving the future of gaming. Supersonic Sled is a timed race game involving a
rocket-driven sled on a 6-mile track. It provides a compelling and interactive
showcase of DX11 Tessellation, PhysX, CUDA particles, and fluid simulation. Design
Garage is new, exciting demonstration of ray tracing technology. Interact with the
most exclusive vehicles on the road and create incredibly photo-realistic images.
Harness every last bit of GF100 compute power using CUDA accelerated ray tracing.
With these two applications, SPARKLE wants to literally give consumers the keys to
the new GF100 architecture. To expose and showcase the new level of interactivity
and realism that this architecture enables. Applications so compelling that consumers
will spend hours playing with.