(Auszug aus der Pressemitteilung)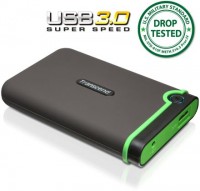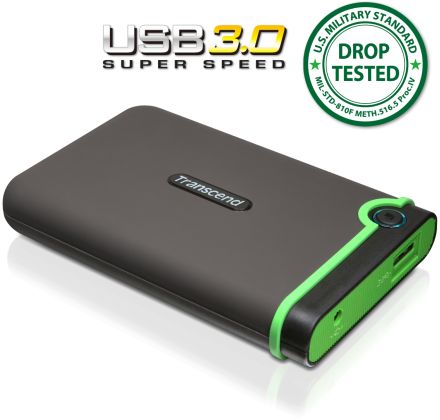 May 19, 2010 – Transcend Information, Inc. (Transcend), a worldwide leader in storage and multimedia products, today launched a new USB 3.0 external storage device, the StoreJet 25M3 2.5-inch rugged portable hard drive. The USB 3.0 model combines the advantages of Transcend's award-winning shockproof StoreJet M series and the next-generation SuperSpeed transfer rates of USB 3.0, allowing users to enjoy ultra-fast file transfers and the highest level of anti-shock protection.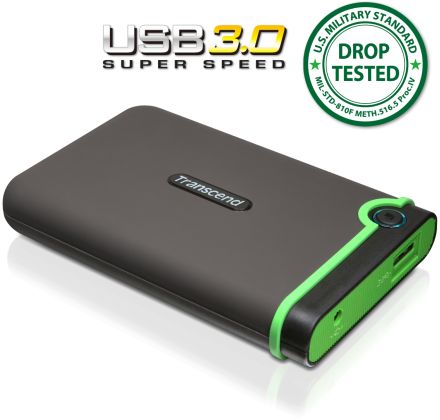 Gearing Up for The SuperSpeed USB Revolution
As more and more notebook and desktop computers are shipping with USB 3.0 compatibility, Transcend's StoreJet 25M3 serves as an outstanding way for users to experience first-hand the improvement of USB 3.0 over USB 2.0. Featuring blazing fast real-world transfer speeds of up to 90MB/s (in USB 3.0 mode), the StoreJet 25M3 enables users to copy large files without having to waste precious time waiting for the transfer to complete.
Thanks to its backward compatibility with the previous USB 2.0 and USB 1.1 standards, the StoreJet 25M3 allows users to access their files from nearly any computer. With its multicolor USB 3.0/2.0 status LED indicator, users can easily identify the drive's current connection type. When operating in USB 2.0 mode, the drive's LED indicator will light up orange; when connected to a USB 3.0 port, the LED light will turn bright blue.
Engineered to Meet Military Grade Durability Standards
In addition to delivering optimized data transfer performance, the StoreJet 25M3 is specially engineered to ensure it is rugged enough to protect against excessive vibration or sudden jolts that can cause hard drive failure. As with other StoreJet M series portable hard drives, Transcend's StoreJet 25M3 sports a sophisticated three-stage shock protection system that incorporates a vibration-absorbing slip-resistant silicone outer shell embellished with an apple green color band, a reinforced hard casing that evenly distributes the force of an impact, and an internal hard drive suspension damper as a last line of defense. The StoreJet 25M3 meets rigorous U.S. military drop-test standards (MIL-STD-810F 516.5- Transit Drop), making it one of the most robust portable hard drives available.
Besides its outstanding combination of super fast transfer speeds and extra-rugged anti-shock design, the StoreJet 25M3 is equipped with an extremely convenient One Touch auto-backup button. The One Touch backup system lets users instantly backup and synchronize data with their notebook or desktop PC, ensuring their important data is safely stored in a secondary location.
For extra reliability and convenience, the StoreJet 25M3 is backed by an extra-long 3-year warranty, and comes bundled with Transcend's own StoreJet elite software that offers intelligent backup scheduling, Internet tools and 256-bit AES encryption. The StoreJet 25M3 is now available in 500GB and 640GB capacities.