(Auszug aus der Pressemitteilung)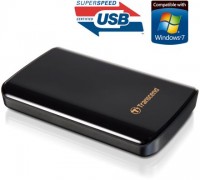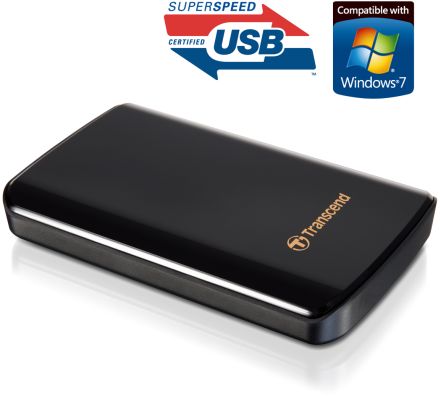 May 19, 2010 – Transcend Information, Inc. (Transcend), a worldwide leader in storage and multimedia products, proudly announced its StoreJet 25D3 2.5-inch portable hard drive has passed the USB-IF Test Procedure for SuperSpeed products. The StoreJet 25D3, Transcend's first USB 3.0 model, features significantly improved transfer rates, advanced anti-shock design, and spacious storage capacities of up to 640GB, allowing users to transfer fast and safely with a lot more space for their precious digital files.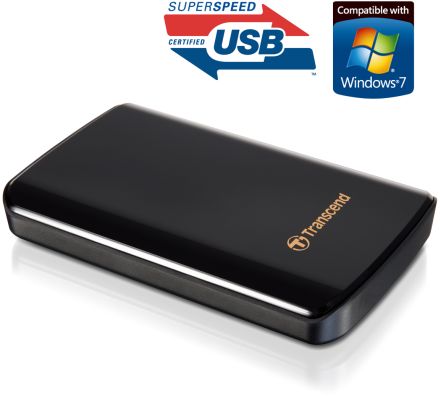 The USB Implementers Forum (USB-IF) is considered the gold standard for testing USB products. It institutes a USB 3.0 (SuperSpeed USB) Compliance Program to complement the specification and enable measurement of compliance in real USB products. The certification of the StoreJet 25D3 portable hard drive not only gives Transcend permission to bear the official SuperSpeed USB logo, but also offers users the ultimate confidence of compliance and performance as established by the USB-IF.
Utilizing the next-generation USB 3.0 standard, the StoreJet 25D3 delivers blazing fast data transfer rates of up to 90MB/s in real world testing ¡X at least 2.5X faster than USB 2.0 models, when used with a USB 3.0 expansion card or a USB 3.0-compatible motherboard. Thanks to its backwards compatibility with USB 2.0, users can easily access their files from nearly any computer. Under the StoreJet 25D3's seemingly delicate case with gloss piano finish is a shock-dampening system that incorporates internal suspension technology. While the sleek, mirror-like exterior enhances tactile and visual appeal, the advanced internal hard drive suspension system helps prevent damage from accidental slips or falls that may cause catastrophic hard drive failure.
For extra reliability, the StoreJet 25D3 is backed by an extra-long 3-year warranty. All Transcend drives are certified for Windows 7, and come bundled with Transcend's own StoreJet Elite software that offers intelligent backup scheduling, Internet tools and 256-bit AES encryption. Offered in large capacities of 500GB and 640GB, the StoreJet 25D3 is an extremely useful portable storage solution to match today's increasingly sophisticated devices.