(Auszug aus der Pressemitteilung)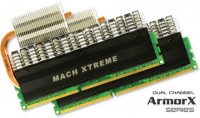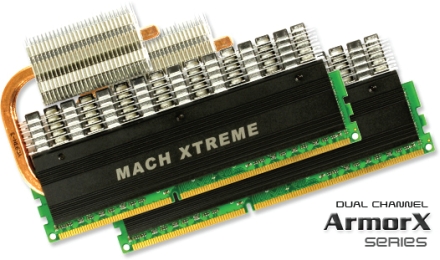 Taipei, Taiwan—July 5, 2010 – Mach Xtreme Technology Inc., a worldwide leader in top

performance, high reliability and user-friendly designed PC components, today unveiled
ARMORX™ Series DDR3 Dual-Channel 2000MHz high density memory 8GB (4GB x2) kits.
MX-Technology develops and manufactures a wide range of high quality memory modules,
whether seeking maximum frames rates on the latest games, achieving the highest benchmarks
through overclocking or demand ultimate, consistent stability.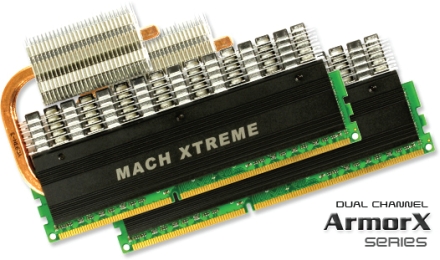 ARMORX™ is the ultimate performance memory solution within the MX Technology desktop
Dual-Channel DDR3 memory product line. Featuring enhanced capacity of 4GB per module,
these new high-density 8GB kits provide customers with cutting-edge low latency memory
solution at high frequencies of 2000MHz (and 1600MHz) and signicantly increase system
memory space. Coupled with the ultra-ecient HDT™ passive cooler, the ARMORX™ kits are
a must-have memory for every serious PC enthusiast. The HDT™ family passive memory
cooler is designed to eectively cool DDR3 modules working at high clock speeds and raised
voltage environments. All kits are strictly hand-selected with focus on stable performance.
All this combined with lifetime warranty and consumer friendly pricing nominates MXTechnology
ARMORX™ Series high density models as the #1 choice.