(Auszug aus der Pressemitteilung)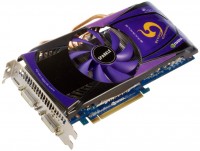 Taipei, Taiwan – July 27, 2010 – SPARKLE Computer Co., Ltd., the professional VGA card manufacturer and

supplier, today announced the SPARKLE GeForce GTX 470/465 Graphics Card Providing Solderless
Product With Green Process And Free Contact Process Cooling Technology, providing splendid 3D and
cooling performance to mainstream gamers.
SPARKLE GeForce GTX 470/465 Graphics Card Uses Solderless Product With Green
Process And Free Contact Process Cooling Technology
Ordinary Graphics card cooler more commonly use
soldering process with tin-based solder alloys, the
soldering tin will melt at a certain temperature, the
binding layer is formed between the metal welding
parts and tin atoms. When the graphics card starts
running, the GPU heat transferred between the
cooling metals must pass the soldering medium
first. The SPARKLE GeForce GTX 470/465
Graphics Card uses Solderless Product With Green
Process,making the cooling metal to fully contact
each other, improving the ineffective heat
conduction caused by traditional tin soldering and
reducing the thermal resistance. Compared with tin
soldering used by ordinary graphics card cooler,
the Solderless Product With Green Process, has a
higher heat transfer efficiency.
– With 5 high-performance copper heat pipes, the
SPARKLE GeForce GTX 470/465 Graphics Card
uses Free Contact process design, the heat pipes
contact the GPU directly. This design allows the
heat to transfer to the heat sink rapidly, effectively
increasing the heat conduction, the cooling
performance was significantly upgraded to maintain
the stability of the system which is running
efficiently.

(Figure 1)
(As shown in Figure 1, in the actual full loading, compared with GeForce GTX 470/465 graphics cards
using ordinary cooling fan on market, the working temperatures of SPARKLE GeForce GTX 470/465
Graphics Card is reduced by 4 degrees / 5 degrees.)
Unlike the standard fan design on the GeForce GTX 470/465 reference card , the SPARKLE GeForce
GTX 470/465 Graphics Card introduces the turbine thruster concept with large diameter 80×15 cooling
fan that can produce stronger wind pressure during operation and quickly remove excess heat. Using
the built-in PWM Technology, the fan automatically adjusts its rotational speed according to load
balance for an even more effective reduction of noise during operation.
Fastest DX11 HD Gaming Experience For
Mainstream Market
The SPARKLE GeForce GTX 470/465 Graphics
Card delivers all the benefits of the advanced 40nm
process from TSMC, a high speed GDDR5 memory
interface, and full DirectX 11 support, possessing
considerable power improvements compared to its
predecessor. It uses the GTX 470/465 core with
448 / 352 stream processors and a 320-bit / 256-bit
memory interface with a 607MHz core clock and
1280MB of 3384MHz / 1024MB of 3206MHz
GDDR5 memory.
With a revolutionary new scalable geometry pipeline and enhanced anti-aliasing capabilities, the
SPARKLE GeForce GTX 470/465 Graphics Card is the world's most powerful single GPU Graphics
Card solution for mainstream gamers, delivering up to 1.6 times faster performance than previous single
GPU solutions. With the power of GF100 GPUs, the SPARKLE GeForce GTX 470/465 Graphics Card
bring ultimate DX11 HD gaming experience to mainstream gamers. The SPARKLE GeForce GTX
470/465 Graphics Card places gamers in the center of the action and experience true DirectX 11
gaming cinema in extreme HD (2560×1600) resolutions—all enabled by GF100's revolutionary compute
architecture, NVIDIA 3-way SLI technology, and incredible performance in the latest DX11 games
including Dirt 2, Stalker :OCP, Alien VS. Predator, Metro 2033 and so on.
The Revolutionary Compute Architecture
for Gaming
The SPARKLE GeForce GTX 470/465 Graphics
Card adopts the GF100 architecture which
implements all DirectX 11 hardware features,
including tessellation and Direct Compute, among
others. GF100 brings forward a vastly improved
compute architecture designed specifically to
support next generation gaming effects such as ray
tracing, order-independent transparency, and fluid
simulations. Game performance and image quality
receive a tremendous boost, and GF100 enables
film-like geometric realism for game characters and
objects.
Geometric realism is central to the GF100 architectural enhancements for graphics. In addition, PhysX
simulations are much faster, and developers can utilize GPU computing features in games most
effectively with GF100.
Incredible Detailed Visuals
By supporting tessellation, the SPARKLE GeForce
GTX 470/465 Graphics Card lets mainstream
gamers to experience an unprecedented level of
detail and realism in the latest games, such as
Metro 2033, AVP etc. Tessellation- one of the
biggest new features of Microsoft DirectX11 helps
developers create more detailed characters and
terrain in games, bringing mainstream gamers
sharper, crisper images and a more realistic
experience. The SPARKLE GeForce GTX 470/465
Graphics Card are built ground up for tessellation
up to 8X faster geometry performance than
previous graphics cards, bringing games closer to
reality without sacrificing the high frame rates.
Ray Tracing Support: The Future Of
Gaming
The SPARKLE GeForce GTX 470/465 Graphics
Card brings interactive ray tracing to the consumer
market for the first time, providing a glimpse into
the future of visual realism in games. By tracing the
path of light through a 3D scene, ray tracing uses
the power of the GF100 GPUs to create
spectacular, photo-realistic visuals.
GF100's compute architecture was built specifically
with ray tracing in mind. GF100 is the first GPU to
support recursion in hardware, enabling efficient
ray tracing and a host of other graphics
algorithms.
GF100 excels not just at standard ray tracing, but also at advanced global illumination algorithms such
as path tracing, which uses a much larger number of rays to collect ambient lighting information from the
scene.
To sustain performance, a game may use ray tracing selectively. This hybrid model of rendering enables
fast performance with great image quality. Thanks to the innovative unified cache architecture in GF100,
ray tracing on the SPARKLE GeForce GTX 470/465 Graphics Card runs up to 4 times faster than prior
generation GPUs.
PhysX Performance Upgrade
Helped with the GF100 compute architecture, the
SPARKLE GeForce GTX 470/465 Graphics Card is
designed to take NVIDIA® PhysX® technology to
the next level—making games more lifelike than
ever before with advanced effects such as
turbulence and fluid dynamics. The new NVIDIA®
Giga Thread hardware scheduler allows 10 times
faster switching between graphics and physics
processing, enabling more complex effects to be
rendered in real time.
Total Immersive With NVIDIA 3D Vision
Surround Technology
Prepare to be blown away by the most immersive
PC gaming experience imaginable. Leveraging the
power of multiple GF100 GPUs in an NVIDIA SLI
configuration, NVIDIA 3D Vision Surround enables
a new level of eye-popping 3D stereo gaming,
expanding your real estate across 3 panels for the
ultimate "inside the game" feeling. The SPARKLE
GeForce GTX 470/465 Graphics Card provides the
incredible graphics horsepower to run your game in
3D stereo, across 3 panels, at HD resolutions up to
5760×1080.
The SPARKLE GeForce GTX 470/465 Graphics Card also supports gaming across three non-3D
displays with resolutions up to 2560×1600,it's the best in Class 2D Surround Gaming.
1280MB/1024MB Incredible Large High Speed GDDR5 Video Memory
Today's DX11 game, such as Stalker: Call Of Pripyat, Metro 2033, they insanely use as large as possible
number of bump texture, transparent texture to describe faces of characters and render realistic gaming
scenes, so these DX11 games put rigorous demands on the bandwidth and capacities of video memory.
The current situation demands at least 1.2GB and 1GB video memory to run these games. Compared with
mainstream graphics cards on market, the SPARKLE GeForce GTX 470/465 Graphics Card comes with
incredible large 1280MB/1024MB high speed GDDR5 video memory, making it to be first DX11 Graphics
Cards on mainstream market with 1GB GDDR5.
3-Way SLI Support
The SPARKLE GeForce GTX 470/465 Graphics Cardwith Specail Thermal Deign supports NVIDIA 3-way
SLI technology, which provides even higher frame rates and permits higher quality settings for the ultimate
experience in PC gaming when connected to a high-end, high-resolution monitor.
3nd Generation PureVideo HD
High-definition video decoder and post-processor delivers unprecedented picture clarity, smooth video and
accurate color for movies and video.
NVIDIA™CUDA Technology With 448 & 352 cores CUDA C/C++ Support
CUDA technology unlocks the power of the GF100's 448 / 352 processor cores to accelerate the most
demanding system tasks such as video transcoding delivering up to 7x performance over traditional CPUs.
OpenGL 4.0 Optimization and Support
Ensures top-notch compatibility and performance for OpenGL applications.
Native HDMI 1.3a Support and Audio Input for HDMI
Fully integrated support for HDMI 1.3a including xvYCC, Deep color and 7.1 digital surround sound. Highdefinition
audio transmission can be realized without spdif wiring.