(Auszug aus der Pressemitteilung)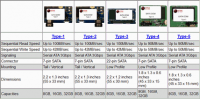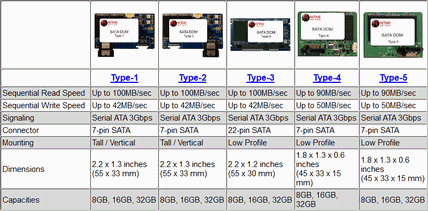 Fremont, California – August 9, 2010 – Active Media Products, a leading manufacturer of SSDs, DOMs and USB drives, today announced two new 7-pin SATA DOM (Disk on Module) drives featuring a right angle SATA connector for mounting parallel to the motherboard in low-profile enclosures. The new Type-4 and Type-5 SATA DOMs are built with an SMI SSD controller and MLC NAND flash that deliver sequential read speeds up to 90MB/sec and write speeds up to 50MB/sec.
"With the addition of the Type-4 and Type-5 modules we now have a complete selection of SATA DOMs in capacities from 8GB to 32GB, including vertical and low-profile mounting, 7-pin and 22-pin SATA headers, and right and left offsets to fit in virtually any server or embedded application," said Active Media Products VP of Sales, Jerry Thomson. "We accomplished this with just three PCB designs, as the Type-1 and 2 use the same PCB, just with different connector positioning that offsets the module in a different direction. We used a similar 2-in-1 design for the Type-4 and 5 DOMs, so we have less validation work and greater flexibility in responding to OEM requirements."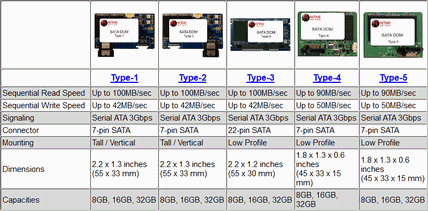 A DOM, also referred to as an FDM (Flash Disk Module), is a small flash based storage drive that plugs directly into an industry standard port on most motherboards. Because they are SATA compliant, they can be easily adapted to virtually any application including embedded computers, industrial computers, and networking and military applications where high reliability and excellent resistance to dust, shock, vibration and temperature extremes is crucial. Their industry standard Serial ATA interface and very small dimensions make them easy to design in.
These new SATA flash modules are sampling now to OEMs directly through AMP or through Amazon. They are expected to be in mass production by September 1. Approximate sample prices are as follows: 8GB models $68, 16GB models $88, 32GB models $166. OEM pricing is negotiable.