(Auszug aus der Pressemitteilung)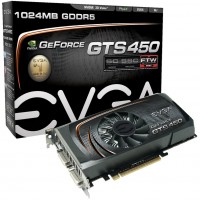 September 13, 2010 – The EVGA GTS 450 dominates the competition* with more than 2x the DirectX 11 geometry processing power for unparalleled game realism in the hottest titles. Built on next-generation GeForce "Fermi" architecture, NVIDIA GeForce GTS 450 GPU is designed from the ground up for DirectX 11 tessellation, this lets you dial up the geometric realism with incredibly detailed characters, terrain and game environments.
Also, the EVGA GeForce GTS 450 supports NVIDIA 3D Vision, PhysX, Surround and CUDA technologies meaning your senses will be stunned without depleting your funds.
*GeForce GTS 450 has more than 2 times faster FPS versus Radeon HD 5750 in Microsoft DirectX 11 SDK subd11 tessellation test with maximum tessellation level set.
New and Key features introduced on the EVGA GTS 450:
192 CUDA Cores
1024MB GDDR5
DirectX 11 Support Done Right
NVIDIA 3D Vision Surround
NVIDIA PhysX Technology
NVIDIA CUDA Technology
For more details please visit http://eu.evga.com/articles/00577/
The EVGA Difference
Known for offering value and performance, as well as top notch customer service, EVGA is recognized through customer loyalty and the highest levels in customer satisfaction. In addition to the expanded product lines, consumers and channel partners will also benefit from increased sales and technical support programs:
Industry leading Warranty. For more information go to http://eu.evga.com/support/warranty
24/7 Phone Technical Support – to assure users that courteous and friendly assistance will always be available at anytime of the day or night.
Step-Up Program – for the ability to trade up existing EVGA products for newer technology.
Community Message Boards -full of thousands of knowledgeable, friendly and satisfied EVGA customers.
EVGA MODS RIGS – show off your rig, win cash prizes.
Product prices are as follows…..
GTS 450 FPB – €129.90/ GBP108
GTS 450 SC – €135.00/ GBP112
GTS 450 FTW – €145/ GBP119