(Auszug aus der Pressemitteilung)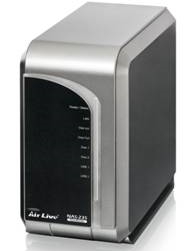 Taipei, Taiwan – AirLive, one of the most advanced worldwide brands for networking and communication equipment has released the 2Bay DiskMaster AirLive NAS-235 that allows user to back up important data faster and easier. AirLive NAS-235 is equipped with advanced CPU, Flash and Memory. AirLive NAS-235 supports multimedia broadcast and download, including audio streaming, such as iTune, MP3 broadcast server, video streaming via media player by using UPnP AV standard, and built-in downloader for BT, FTP and HTTP. With AirLive WN-200USB, the 150Mbps USB dongle, AirLive NAS-235 becomes a wireless file server with up to two 3.5" SATA hard drives for instant file sharing in the network.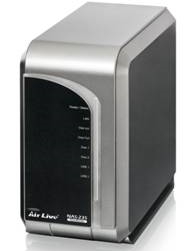 Featuring with 2-layer file-sharing function, AirLive NAS-235 allows user to define private folder and group share folder. By supporting RAID 0 1 of the mirroring function, this network storage optimizes hard drive capacity usage and prevents the data loss from HD failure.
There is built-in Bit-Torrent download engine, this engine allows user to download the legally shared contents on the Internet without leaving PC power-ON all the time.
AirLive NAS-235 comes with smart software, which allows user to schedule the timing for the automatic shut-down, reboot, or even data backup.