(Auszug aus der Pressemitteilung)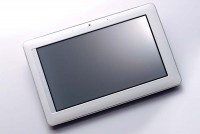 December 21st 2010, Taipei, Taiwan – Elitegroup Computer Systems (ECS), a leading Green computer product provider, plans to present a series of power-efficient and environmental friendly designed notebook, eBook Reader and Tablet PC for the up coming CES tradeshow at Mirage Hotel Las Vegas from January 6th to January 8th, 2011.
MB40/50 Series Notebook
The ECS MB40 and MB50 series notebooks support the 2nd Generation Intel® Core™ Processors for unlimited efficiency and productivity. With a HD LED display of 14" or 15" at 1366×768, ECS MB40 and MB50 series notebooks bring presentations to life with bright and crisp color. A 6-in-1 card reader supports popular media card formats. ECS Super POSH features provide optimized options; Super Power (power saving scheme for your system), Super OSD (On-Screen-Display enabled shortcut icon), Super Speed (optimize your system configuration) and Super HDD (detect your system current status).
E Series CMPC
The new Classmate PC employs an Intel® Atom™ processor, 10.1-inch display, up to 160-GB hard drive including both solid-state and disk-drive options, up to 9 hours of battery life and wireless connectivity options including Wi-Fi and WiMax. The device also has a 1.3-megapixel rotating camera and two speaker jacks.
ECS eBook Reader
Along with strong demand of eBook Reader in the market, ECS will showcase its complete eReader product line featuring 9.7", 8" and 6" with finger touch display in a thin and light design. ECS eReaders support Android and Linux operation system supporting versatile document and audio formats. They also come with WiFi, Bluetooth and 3G wireless connectivity. With ECS eBook Readers, users enjoy music and reading anytime anywhere without sacrificing forests.
ECS Tablet PC
Adapting to the hot topic about Multimedia Tablet in the second half of the year, ECS has also developed a series of smart design of tablet PCs with touch panel in different size from 10.1" to 7" for both Windows® and Android base solutions to fulfill various customer demand. For Windows based tablet, it comes with Intel® Atom™ processor and built-in wireless communication capability with WiFi, Bluetooth and 3.5G. While, for Android based products,it integrates with Marvell or Samsung processor with wireless connectivity. In CES, ECS Tablet PC will definitely gain attention and creates more admiration.
In compliant to ECS corporate philosophy ECS will once more present its Green designs on new products in order to protect the Earth, but, without compromising customer satisfaction. ECS expects bringing people with more Green Touch for a Good Life.