(Auszug aus der Pressemitteilung)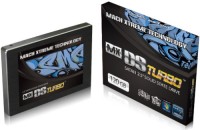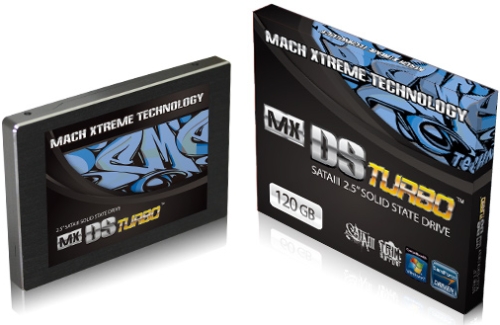 Taipei, Taiwan—July 08, 2011 – Mach Xtreme Technology Inc., a worldwide leader in top performance, high reliability and user friendly designed PC components, today unveiled the 2.5" SATAIII MX-DS TURBO Series SSD. This series offers mobile and desktop users groundbreaking computing experience and unparalleled level of read and write performance.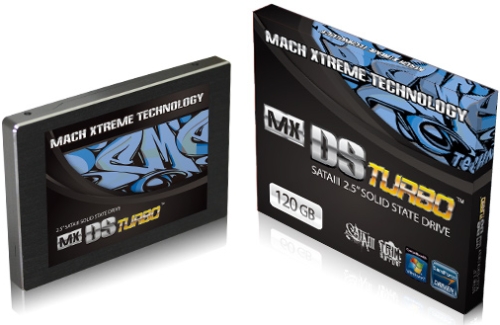 Advanced high speed SATAIII interface has been implemented in newer systems to remove previous performance bottleneck. The MX-DS TURBO Series is perfect to take advantage of that higher speed interface. This SSD series delivers performance that maximizes the throughput of a SATA III 6Gb/s interface with balanced read/write speeds. It supports DuraClass™ and DuraWrite™ technologies. DuraClass™ technology provides best-in-class endurance, performance and low power consumption. DuraWrite™ technology optimizes writes to the flash memory over conventional controllers increasing the overall endurance and reliability of the complete SSD. Highly intelligent block management and wear leveling also extends the overall endurance. It maintains backwards compatibility with existing SATA II 3.0 Gb/s and SATA I 1.5 Gb/s interfaces.
The MX-MD TURBO drive delivers best-in-class read and write speeds clocking in at up to 555MB/s read and 510MB/s write along with the stunning maximum of 85,000 IOPS, low power consumption (stand-by 1.6W / active up to 2.8W) and superior durability (2.0 million MTBF) compared to previous generation SATA 3Gb/s drives.
Available in capacities of 120GB, 180GB, 240GB and 480GB, Mach Xtreme Technology MX-DS TURBO SSDs come backed with 3 Year Warranty and outstanding after-sales service.
MX-DS TURBO Series 2.5" SSD at A Glance:

2.5" SATA III MLC Solid State Drive
Max. Read Performance up to 555MB/s (480GB up to 500MB/s)
Max. Write Performance up to 510MB/s (480GB up to 420MB/s)
IOPS up to 85,000
Power consumption: idle 1.6W / active up to 2.8W
MTBF: 2.0 million hours
Capacity: 120GB (MXSSD3MDST-120G), 180GB (MXSSD3MDST-180G), 240GB (MXSSD3MDST-240G), and 480GB (MXSSD3MDST-480G)
Warranty: 3 Years