(Auszug aus der Pressemitteilung)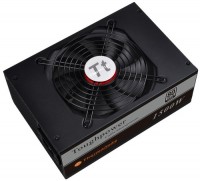 Taipei, Taiwan August 26, 2011 – Thermaltake, a premium computer components designer and supplier, an expert in creating leading-edge innovations and fascinating environment for gamers and enthusiasts, has provided customers with the ideal blend of high quality, performance, and efficiency power supplies to improve system performance and bring the users to the up most potential. Since the end of 2010 on the release of 【Toughpower Silver Series】 1350W 80Plus Silver certified, this is the well-proven success formula and showing the intelligent interaction with technical innovations. Thermaltake globally adding three more silver stars (80Plus Silver Certified) to the series in August, 2011. Now the 【Toughpower Silver Series】 80Plus Silver series will includes 1000W, 1200W, and 1500W along with 1350W for today's dynamic systems and power hungry enthusiasts. This 【Toughpower Silver Series】 high-efficient power supplies offer high-end features and exacting performance standards, but are still energy efficient and targeted at high-end users. With the proof of 80 Plus silver certification, 【Toughpower Silver Series】power supplies stands out from the crowd and inherit the Thermaltake's passion to technological craft and application of life entertaining culture.
Thermaltake Eco-Vision / Efficiency with Flexitivity
Major components in a PC system are progressively consuming more wattages than before. Thermaltake not only understands the needs of gamers and enthusiasts within this forever changing PC market, as well as keeping "Eco-Vision" in mind, we upgraded the Toughpower 80Plus series (1000W, 1200W and 1500W) to 【Toughpower Silver Series】 (1000W, 1200W and 1500W), in order to offer enthusiasts a wider range of money saving solutions, and show our concerns for our mother nature. The upgraded Toughpower 80Plus Silver certified series promised to provide up to 91% efficiency and deliver the world's high-efficient performance and advanced reliability in the market. Offering 8 of PCI-E connectors and 12 of SATA connectors, the 【Toughpower Silver Series】 is ready for all current multi-GPU setups ranging from NVIDIA 3-Way/4-Way SLI to AMD CrossFireX configurations. The additional double-forward switching circuitry provides highest reliability by reducing power loss considerably, while the DC-DC converter further increases highest efficiency levels.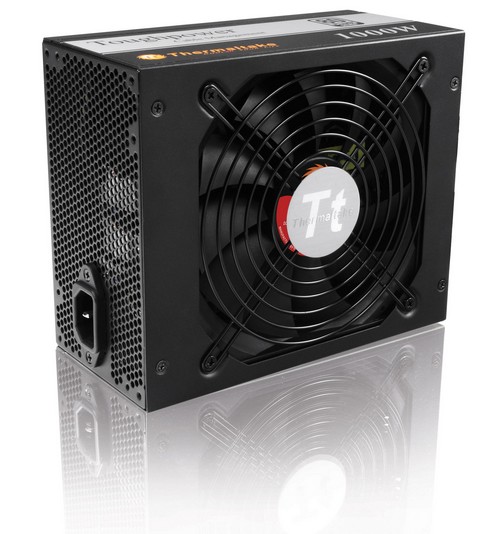 Superb Performance / Permanence
Still searching for a truthful power supply for your dynamic system? The robust dual+12V rail design allows excellent performance under all types of system loading, in combination with 100% 105 ℃ / 212 ℉ Japanese electrolytic and solid state capacitors allow for decisively improved over-clocking performance, longer life time and increased reliability as well as stability even under higher operating temperatures, frequencies and currents. An 8pin CPU and a 4+4pin CPU connectors enable support for dual CPU gaming and mission-critical server applications. Cool performance and quiet operation is provided by the ultra silent 13.5 cm fan with an automatic intelligent fan speed control. Built-in industrial grade protection circuitries to protect the power supply from over current, over voltage, under voltage, over power, over temperature as well as short circuitry, make 【Toughpower Silver Series】 the safest choice of its kind. The 【Toughpower Silver Series】 is guaranteed to deliver continuous power 24/7 @ 40 ℃ with up to 91% efficiency under real world load conditions in a multi-GPU setup. The 【Toughpower Silver Series】 is designed for professional gamers with high demand of efficiency, stability and reliability.