(Auszug aus der Pressemitteilung)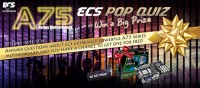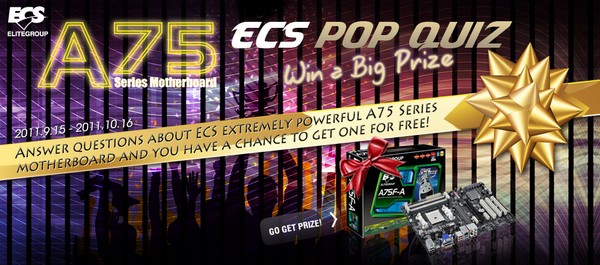 Taipei, Taiwan, September 15th, 2011 – Come to explore the most amazing APU world of ECS A75 motherboards. Join ECS A75 motherboard pop quiz to have the opportunity to win one ECS A75 series motherboard for free and enjoy the powerful Dual-Graphics technology with the best AMD APU platform! You won't want to miss out the exciting memory 2600 O.C. performance. Browse ECS quiz page right now!
[ECS Pop Quiz]
Period: September 15th, 2011 ~ October 16th, 2011
Award Announcement: October 19th, 2011
Award: 1. A75F-A x1 2. ECS Speaker x10
Participants: For European and Russian only.
Detail: Please visit "ECS Pop Quiz Page":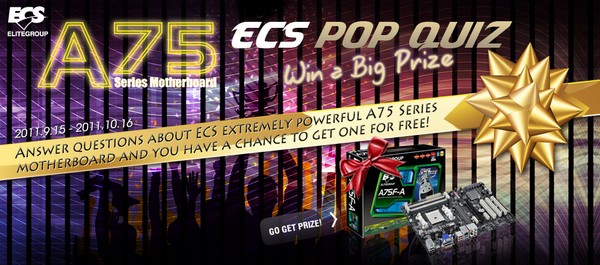 Policy & Requirement:
Participants who attend this event agree that ECS has the authority to announce and names of winners on ECS Pop Quiz page or ECS website based on the purpose of this activity.
ECS has the authority to save the personal information into ECS Database.
The winners will be randomly selected by ECS.
ECS has right to re-modify gaming rules, the content, methods, time period or prize of this event. The modification on these gaming rules will be announced on ECS Pop Quiz page only. Announcement will not be alerted to each participant. Any other terms and conditions related to gaming rules are up to ECS' decision.