(Auszug aus der Pressemitteilung)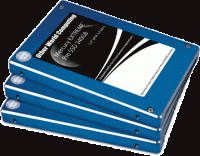 September 27, 2011 Woodstock, IL – Other World Computing (OWC®) ,
a leading zero emissions Mac® and PC technology company, announced today the
addition of its lowest-cost- of-entry Solid-State Drive to its award-winning
SSD line. The new OWC Mercury EXTREME™ Pro 3G SSD combines award-winning SandForce® technologies and
Tier 1/Grade A NAND to deliver data rates over 275MB/s in a noiseless, more reliable
form factor over conventional magnetic hard disk drives. Designed and manufactured
in the U.S. with imported parts, the new OWC Mercury EXTREME Pro 3G 30GB SSD's
$67.99 MSRP makes it one of the lowest-priced, high-performance SSDs on the market.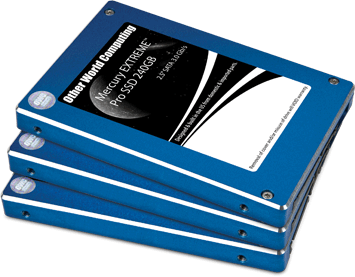 Maximizes Any Computer's 3G Data Bus
Consumers using a Mac or PC equipped with the Serial ATA data bus will find the
OWC Mercury EXTREME Pro 3G 30GB is able to deliver near bus saturating speed.
Independent tests have confirmed the OWC Mercury EXTREME 3G SSDs delivers sustained
data rates over 275MB/s and provides significant benefits in overall system responsiveness
and sustained workflow.
No Slow Down With Repeated Use
While ordinary SSDs initially offer fast read/write performance; they experience
significant write speed degradation over repeated usage. Independent simulation
tests conducted by leading drive performance experts like MacPerformanceGuide
confirm OWC Mercury SSD's ultra-efficient Block Management & Wear Leveling technologies
are able to eliminate virtually any reduction in data transfer speeds over heavy,
long-term usage without dependency on less-than-effective OS TRIM management.
Up To 100x Greater Data Protection
By utilizing SandForce DuraClass™ technology along with no moving parts, the
OWC Mercury EXTREME Pro 3G provides an increase of up to 100x in data protection,
compared to ordinary SSDs and leading enterprise-class hard disk drives. By
combining the highest level of Error Correction Code (ECC) and SandForce RAISE™
(Redundant Array of Independent Silicon Elements) technology, along with 7 percent
over provisioning, the OWC Mercury EXTREME Pro 3G provides RAID-like data protection
and reliability without loss of transfer speed due to parity.
Risk-Free 30-Day Satisfaction Guarantee
To ensure the highest level of customer satisfaction and confidence, the OWC
Mercury EXTREME Pro 3G SSD comes backed by a 30-Day Money Back Guarantee. If
consumers are not completely satisfied with their OWC SSD for any reason, they
simply need to contact OWC's award-winning Customer Service department – which
offers 24/7 Live Chat support – to request a full, hassle-free refund.
"While small in capacity, this new 30GB model offers a huge performance boost
in application and OS operation," said Larry O'Connor, Founder and CEO, Other
World Computing. "At its price point, you can't beat its use as a boot and app
load drive while offloading storage and backup duties to platter based drives."
Includes Only Mac-Friendly Updater
While the OWC Mercury EXTREME 3G 30GB SSD comes with the latest SandForce firmware
revision, it also includes the industry's first and only Apple/Mac-compatible
firmware updater should the firmware need to be updated in the future. The firmware
updater eliminates the need for a PC, ownership of Windows or other operating
system, or the creation of a specially designated drive partition that other
brand SSD updaters have required.
Adapters From $3 Offer Easy Install In 3.5″ Drive Bays
Desktop users wanting to experience the performance benefits of an OWC Mercury
SSD can choose from one of five adapters OWC offers starting at $3 for utilizing
2.5″ drives in 3.5″ bays.
Pricing, Availability
Compatible with Macs, PCs and external enclosures that utilize 2.5″ drives, the
OWC Mercury EXTREME 3G 30GB SSD is available now from Other World Computing as
well as through select retailers. The $67.99 MSRP drive features 7% over provisioning,
Tier 1/Grade A NAND, and a three-year warranty.
Industry's Most Comprehensive SSD Line for Macs and PCs
The new OWC Mercury EXTREME 3G 30GB model joins OWC's existing line of performance-leading,
world record-breaking '3G' (3Gb/s) and '6G' (6Gb/s) Mercury SSDs available for
nearly every Mac and PC produced over the past decade in capacities from 30GB
to 480GB starting from $67.99.