(Auszug aus der Pressemitteilung)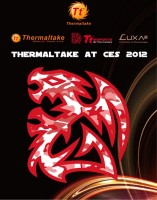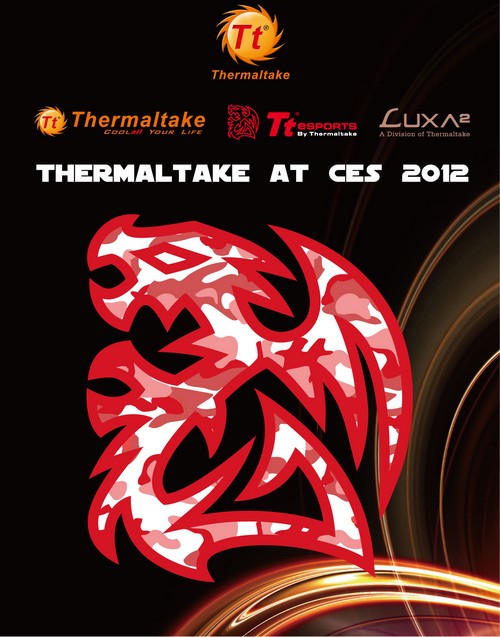 Las Vegas, United States January 3, 2012 – Thermaltake Technology, with the target and spirit to build three brands

Thermaltake, Tt eSPORTS and LUXA2 being the industry pioneer brand in PC DIY solutions, professional gaming products and unique and functional Apple accessories, carrying the corporate vision of "building Thermaltake Technology into a cultural brand for the enjoyment of entertainment, e-Sports, technology, and lifestyle" and continues to drive toward the corporate mission of "delivering the perfect user experience" on all segment of the market. At "2012 International Consumer Electronics Show (CES 2012) ", Thermaltake group is continuing their successful tradition as a trendsetter for presenting the future of the premium products during 9th till 13th January in Las Vegas. Be sure to come by our Suite at THE PALAZZO Las Vegas for a meet and greet!
Highlights from the new products in CES 2012 at a glance:
Thermaltake
The newcomers boasts all of the same progressive technology, they are Level 10 GTS gaming chassis, a mid-tower of pedigree with the innate aesthetics and dynamic mechanism, inherited the unique characteristic of its predecessors Level 10 and Level 10 GT. Being as the specialist and market leader in liquid-cooling, Thermaltake will introduce the new Water2.0 all-in-one Liquid Cooling Series. And the world's first high-end all white PSU and both "Red Dot Award" and "iF product design award" winner PSU in all white with the blessing of 80Plus Platinum – the Toughpower XT 1275W Snow Edition and Toughpower Grand 700W Snow Edition.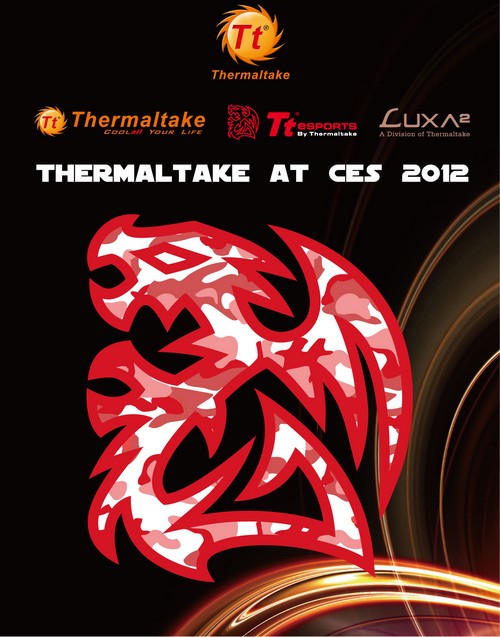 Tt eSPORTS
In 2012, Tt eSPORTS will present first at CES with an entirely fresh look, with products that comprehensively adapt to the cultures of e-Sports but also the culture on the streets, and we call it Chao. Tt eSPORTS will revolutionarily launch the new e-Sports fashion style headset DRACCO, with six different styles and colors, the headset under Chao family inherit the trendy technological advantages and a very exclusive finish characterise the essentially very e-Sporty atmosphere.
In addition, this year will be a milestone for Tt eSPORTS as we officially present SAPHIRA and THERON gaming mice, endorsed by the worldwide famous StarCraft2 players –Aleksey "White-Ra" Krupnyk, and our own professional e-Sports Team – Tt APOLLOS's StarCraft2 player – SoftBall. These endorsements show that Tt eSPORTS shares the same value with all the players and users around the world, by taking care of the customers' needs with cutting-edge technology, and numerous e-Sports gaming characteristic design.
LUXA 2
LUXA2 for the Thermaltake 's fashion brand is always looking for maximum possibilities by entering into the Bluetooth field in 2012. LUXA2 will unveil its newest lineup for 2012 at CES including the latest BT-X3 headphone with Bluetooth 2.1 technology. While the business focus is Apple product accessories, starting 2012, LUXA2 will also offer accessories for other smart phones and provide top-of-the-line products and services to owners of Droids, HTC, Samsung…etc. LUXA2's goal is to become the go-to resource for any individual living a mobile lifestyle.
A further highlight for LUXA2, please also visit the iLounge Pavilion (booth number 4522) during 10th – 13th January for more LUXA2 products!
Thermaltake‧Tt eSPORTS‧LUXA2
the benchmark in design, performance and innovation
Innovation has always been the key to success for Thermaltake Group and is set to become even more important in future. In 2012, Thermaltake group has time and again been setting new milestones for the further groundbreaking accents in the various fields!