(Auszug aus der Pressemitteilung)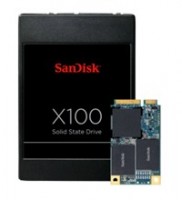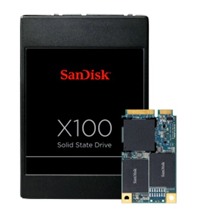 MILPITAS, Calif., February 14, 2012 – SanDisk Corporation (NASDAQ: SNDK), a global leader in flash memory storage solutions, today announced the SanDisk® X100 solid state drive (SSD) for client computing markets. The SanDisk X100 SSD is available in capacities up to 512GB1 and utilizes multi-level cell (MLC) technology, a SATA 6Gb/s high-performance interface, advanced multi-streaming features and tiered caching technology.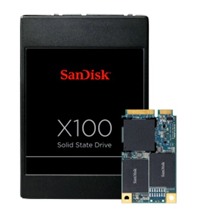 The drive offers up to 500/420 megabyte per second (MB/sec)2 sequential read/write speeds, and enables a user to copy a 4GB high-definition movie in less than 10 seconds*. In addition to the standard 2.5 inch form factor, the X100 SSD also comes in mSATA and customized thin form factors to address the emerging ultra-thin laptop market. SanDisk offers a wide variety of configuration options, including standalone and dual drive caching solutions.
"With the introduction of the X100 SSD, SanDisk now offers OEMs a complete selection of SSD storage choices," said Kevin Conley, senior vice president and general manager, client storage solutions, SanDisk. "From the smallest BGA form factors of the iSSD to the economical lower power U100, all the way up to the high performance and high capacity points of our new X100, SanDisk offers a solution to meet the needs of notebook, desktop and ultra-thin laptop manufacturers."
The SanDisk X100 SSD achieves long-term reliability through robust, continual background error checking and advanced NAND recovery mechanisms. The drive is available now for sampling to PC manufacturers and production-volume shipments.
Specifications

SanDisk Solid State Drives
SanDisk also announced today the SanDisk Extreme® SSD, a high-performance drive for consumers who want to improve the performance and extend the life of their desktop and notebook PCs.
SanDisk offers a full portfolio of products for the OEM, enterprise and retail channels that is supported by more than 20 years of flash memory innovation and the benefits of vertical integration. The OEM products include SanDisk® U100 SSD for cost-effective performance and customized form factors, SanDisk® iSSD™ for OEMs who need an embedded micro SSD SATA form factor, and X100 SSD for the utmost in performance and storage capacity. All models are available as standalone SSDs or dual drive caching solutions.