(Auszug aus der Pressemitteilung)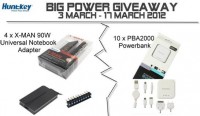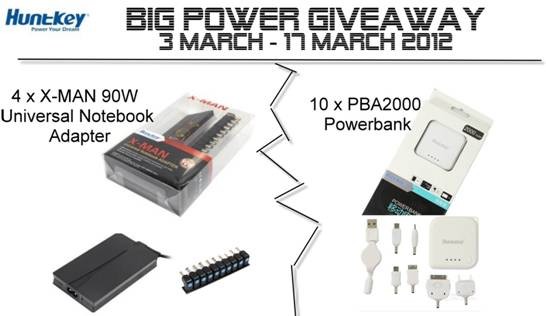 SHENZHEN, China, March, 2012 – Huntkey Enterprise Group, a global professional power supply provider, is introducing their official Facebook presence with a Big Power Giveaway. Up for grabs are 4 of their latest Universal Notebook Adapter, the Huntkey X-MAN 90W. Equipped with 10 exchangeable power tips, this adapter powers virtually all currently available notebooks on the market. But on top of things, the X-MAN 90W is one of the few adapters coming with a 5V USB power port supporting 2Ampere (most others only support 1Ampere). 2 Ampere are required for more power-hungry high-end smart phones and tablet PCs.
Furthermore participants have a chance to win one of 10 Huntkey PBA2000 Powerbanks. This portable "power supply" charges any 5V devices that use a mini-USB port to recharge. Several power tips and a telescopic cable make this a highly convenient power source for devises such as mobile phones, cameras, MP3MP4MP5, GPS, etc. when you are on the move.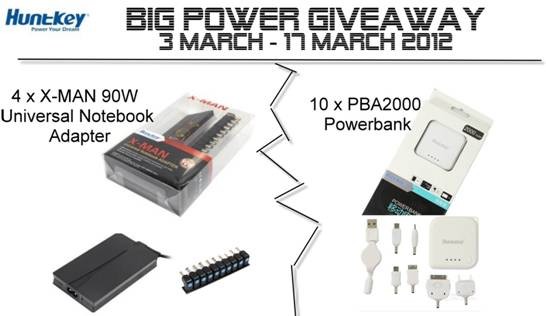 All you have to do in order to participate is go to Huntkey's Facebook page and like it, then take part in a small poll, and if you want to increase your chances to win, leave a short message on the Huntkey Facebook page and explain how you are planning to use the prize. Make sure to stop by the in-depth and hands-on video introduction on Youtube as well:
Prizes
4 x Huntkey X-MAN Universal Notebook Adapter with 5V-2A USB Power Port
10 x Huntkey PBA2000 Powerbank
Activity period
3 March through 17 March 2012
Task
like the HuntkeyDIY Facebook page
take part in one-click survey and your double your chances to win
if on top of things you decide to post a comment, why you would like to win, you further increase your chances.
Draw
Huntkey makes final winner decision in a random draw of each days submissions.