(Auszug aus der Pressemitteilung)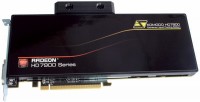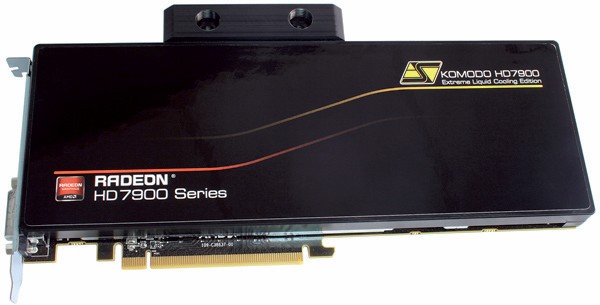 Swiftech, The American manufacturer, pioneer of liquid cooling solutions, and Bacata (exclusive European distributor) are pleased to announce the immediate availability of the new KOMODO-HD7970 full cover VGA waterblock and CrossFireX series bridges.
The Komodo™ HD7970 is a true full cover waterblock
for AMD® Radeon™ HD 7970 reference design boards.
The coolant flow path includes all critical components such as GPU, memory and power mosfets (voltage regulation modules, also called VRMs).
Proper cooling of all the critical components contributes to overclocking stability and reliable operations.
Specifications
Housing material: Black POM acetal
Base plate & VR: Chrome plated C110 copper
Back-plate material: Black anodized aluminum
Dimensions (L x W x H): 10.6 x 4.7 x .58''
Weight : 37 Oz – 1059g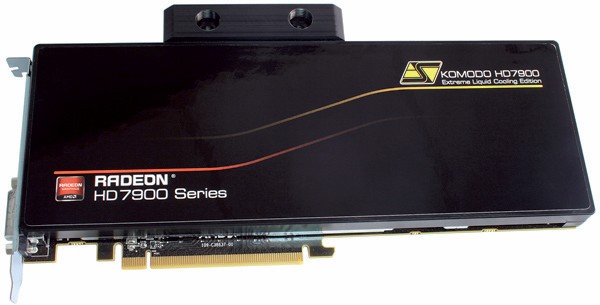 Benefits:
True full cover water-block: the block covers the full length of the card and utilizes all the
original circuit board mounting points; this results in superior thermal interface with all the
components, but more importantly it prevents bending and/or damage to the card compared
to competing solutions that leave critical components exposed for cost saving purposes; the
Komodo HD7970 continues this exclusive Swiftech® initiative as a true professional solution
(an industry first).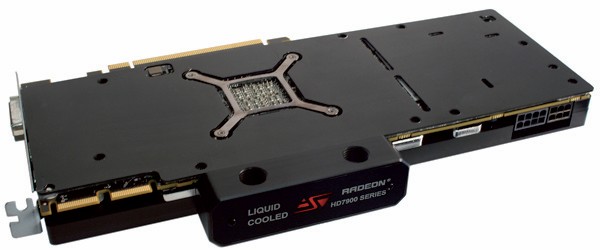 Further enhanced thermal performance: recent independent reviews have placed the Komodo
waterblocks at the top of the thermal performance charts compared to all other offerings
on the market; this was due to Swiftech's 0.60×0.60 thin pin matrix technology; with the
Komodo HD7970 Swiftech introduces the micro-pin matrix technology which features pins
measuring 0.25×0.35mm; this design improves thermal performance even further and is closely
comparable to that of the Swiftech's CPU waterblocks (0.25×0.25 micro-pins). This feature
brings unrivalled thermal efficiency across the widest range of flow rates.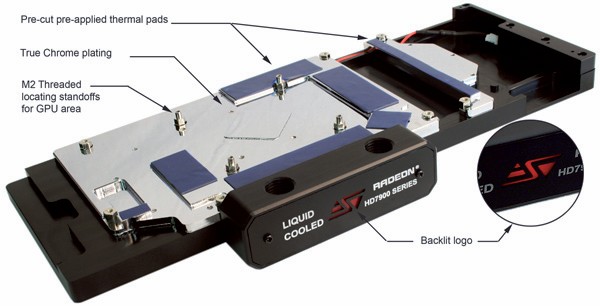 The flow restriction is moderate by design in order to take into account multiple water-blocks
in the same loop; additionally, the high efficiency of the thermal design authorizes better
thermal performance at lower flow rates, which is a critical feature for users of variable speed
pumps such as the MCP35X who wish to tune down their pump RPMs for quiet operations, or
for users with moderately powerful pumps.
New LED lit bridge construction: the new bridge construction dramatically enhances the
cosmetic appeal of the water-block when it actually counts, i.e. when the block is installed into your computer and you can actually see it working, thanks to a back-lit logo, and elegant laser engraved markings.
A high quality black anodized aluminum back-plate is included with the product, and it serves
to protect the fragile components at the back of the card during handling and/or installation.
New standoffs around the GPU include a threaded locator stem which is fully compliant with
AMD's reference cooler design. This feature precisely locates the board and cooler together,
eliminating guessing dring installation, and most importantly it allows you to re-use AMD's
excellent spring cross-bracket & screws: this new feature provides added safety, efficiency,
convenience, and it allows a quick and painless installation!
The base plate is precision CNC machined out of C110 electrolytic copper, and plated with
true chrome, as opposed to commonly used nickel plating (which is yellowish);
The housing is precision CNC machined out of durable black POM acetal;
High thermal conductivity thermal pads are already pre-cut and pre-applied to the memory
areas and VR areas; there is no need to waste time cutting thermal pads as is often the case
with our competition; thermal grease is included with the water-block for application to the
GPU area.
A single spacing PCI bracket is included for users who need to interpose other PCI cards in
between their graphics cards.
Up to four Komodo HD7970 waterblocks can be interconnected with Swiftech's bridges.
Compatibility:
The Komodo HD7970 is compatible with AMD reference board design #109-C38637.
Warning:
Please carefully inspect your card to locate the PCB revision number. All brands using AMD reference PCB's normally print this number on the card. It is usually located immediately above the gold PCI contacts.
ASUS HD7970-3GD5-3DI2S Radeon HD 7970 3GB
SAPPHIRE 11197-01-40G Radeon HD 7970 3GB
CLUB-3D HD7970, Radeon HD7970, 3.0GB GDDR5, PCI-Express (CGAX-7977)
SAPPHIRE 21197-00-40G Radeon HD 7970 3GB
Diamond AMD Radeon HD 7970 PCIE 3G GDDR5 Video Graphics Card 7970PE53G
VisionTek 900491 Radeon HD 7970 3GB
GIGABYTE GV-R797D5-3GD-B
VTX3D HD7970 3GB GDDR5 VX7970 3GBD5-M2DHG
GIGABYTE GV-R797OC-3GD Radeon HD 7970 3GB
VTX3D HD7970 3GB GDDR5 X-Edition VX7970 3GBD5-2DHX
HIS H797F3G2M Radeon HD 7970 3GB
XFX Double D FX-797A-TDBC Radeon HD 7970 Black Edition 3GB
MSI R7970-2PMD3GD5 Radeon HD 7970 3GB
XFX Double D FX-797A-TDFC Radeon HD 7970 3GB
MSI R7970-2PMD3GD5/OC Radeon HD 7970 3GB
XFX FX-797A-TNBC Radeon HD 7970 Black Edition 3GB
PowerColor AX7970 3GBD5-2DHV2 Radeon HD 7970 3GB
XFX FX-797A-TNFC Radeon HD 7970 Core Edition 3GB
PowerColor AX7970 3GBD5-M2DHG Radeon HD 7970 3GB
CrossFireX Bridges
This new series provide a convenient and elegant solution to associate with the HD7970 Komodo water-block and soon the HD 7950 series.
Declined in different configurations, it is suitable for CrossFire 2.3 or 4 cards 1.6'' spaced as well as cards for CrossFire 2, 2.3'' spaced.