(Auszug aus der Pressemitteilung)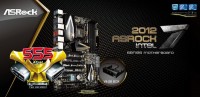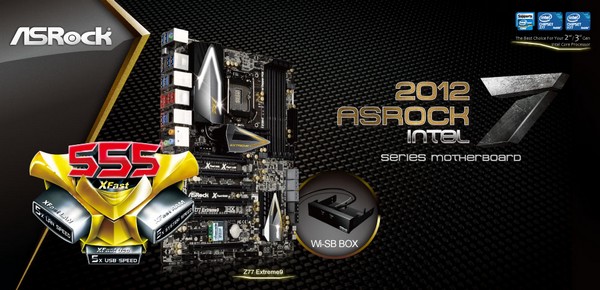 TAIPEI, TAIWAN, April 6, 2012 – World's top3 motherboard manufacturer, ASRock Inc, unveils its latest Intel 7-series motherboard at 2012 Annual Global Tour. The latest 7-Series motherboard supports 2nd and 3rd Generation Intel® Core i7 / i5 / i3 Processors. Featuring unique XFast 555 technology (XFast RAM, XFast LAN, XFast USB), ASRock 7-Series motherboard allows users to experience "REAL" performance boost (up to 5X better) in terms of PC's overall performance, LAN speed and USB transfer speed. ASRock has built up a reputation for building bulletproof mobos with very competitive price tag. In 2012 Global Tour, ASRock will be showcasing the long-awaited motherboards based on Intel 7-series chipsets.
Commenting on the new release, James Lee, V.P of ASRock Sales and Marketing, is with confidence. "ASRock is hitting another new market: gaming-focused motherboards, aiming to build the strongest rig with 12X World Champion Gamer Johnathan Fatal1ty Wendel. The newly launched 7-series motherboards come with a complete product line covering from enthusiast-level, mainstream to budget-level motherboards. With ASRock superb 7-Series mobos, XFast 555 software package, WiFi 802.11 a/b/g/n support, Wi-SB BOX and mSATA connector, users are allowed to achieve the highest level of computing" He stated.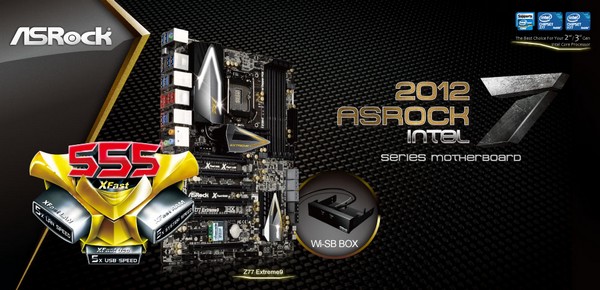 Give Me 5! Exclusive XFast 555 Technology
Not only focusing on developing rock-solid hardware components, ASRock also pay special attention on user-friendly software tools. All the innovative features of XFast 555 Technology are not specialties for the latest motherboards but can be implied on all series of ASRock motherboards.
XFast RAM will create a virtual disk from the system memory to boost the system performance. For Photoshop, it can even perform 5X faster than before. XFast LAN can lower latency in game after setting online game priority higher and drive 5X faster performance for gamers. XFast USB is the world's fastest USB transfer technology and provides up to 5X faster performance boost in USB data transfer speed.
Lucid Virtu Universal MVP
ASRock 7-series motherboard support Lucid Virtu Universal MVP technology that improves your PC's visuals, with faster response times, improved video processing and smoother media playback, all with low power consumption. Brilliantly designed for gaming, Virtu Universal MVP™ switchable graphics software assigns tasks dynamically to the best graphics resource and features new exciting techniques. HyperFormance™ combines integrated and discrete graphics for uncompromised performance and improves gaming rate 30-70%! Virtual Vsync™ solves the ever lasting debate between quality and performance. It even brings GPU performance from 60 FPS Vsync limit back to its maximum while keeping Vsync image quality and no tearing.
ASRock OMG (Online Management Guard)
OMG is unique from ASRock! It allows you to establish an internet curfew or restrict internet access at specified times. Administrators are able to schedule the starting and ending hours of internet access granted to other users. Plus, it is a free tool for controlling internet access of each single PC. Parents can easily control internet access through BIOS setup to protect their kids from using Internet at inappropriate time, and meanwhile, enjoy their own internet space.
ASRock Internet Flash
Internet Flash is a user-friendly tool and searches for available UEFI firmware updates from ASRock servers. System can auto-detect the latest UEFI from our servers and flash them within UEFI setup without entering Windows® OS.
Select Your Overclocking Beast: Z77 Extreme9
At the very top end of ASRock's Z77 segment is the Z77 Extreme9. At first glance, you will be definitely charmed by its shining LED heatsink design. The board was extraordinary dominated by a fancy LED heatsink design which represents advanced users' unique taste of motherboard preference. In addition, the metallic and minimalism look of the package brings the atmosphere of technology; the stylish brushed aluminum heatpipe design also ensures its effective heat dissipation.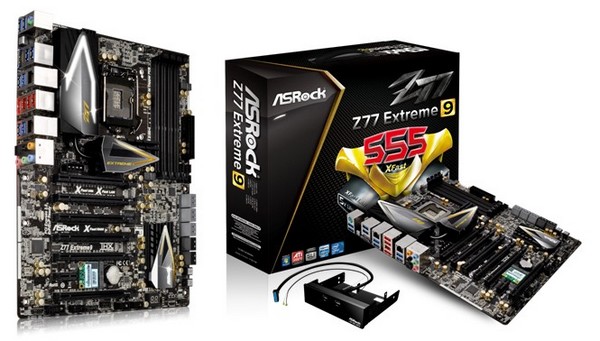 ASRock Z77 Extreme9 is a very powerful, future-proofed, highly overclockable machine and has the most overclockable configurations. For memory aspect, Z77 Extreme9 mobo breaks the memory overclocking barrier and pushes it up to DDR3 3000+ (OC) MHz! Moreover, this board is unprecedentedly equipped with PLX PEX 8747 bridge which is able to run dual VGA cards (2-Way SLI / CrossFireX) at PCIe Gen3 x16 / x16 mode or four VGA cards (4-Way SLI / CrossFireX) at PCIe Gen3 x8 / x8 / x8 / x8 mode. In addition, ASRock Z77 Extreme9 comes with an exclusive 2T2R Dual Band WiFi 802.11 a/b/g/n + BT v4.0 module that offers support for WiFi 802.11 a/b/g/n connectivity standards and Bluetooth v4.0. It supports Dual Band frequency 2.4 / 5 GHz as well. The board even bundles with an exclusive Wi-SB Box (with 2 antennas) that offers superior WiFi and Bluetooth signal quality and 2 front USB 3.0 ports. ASRock believe its rich and exciting Z77 Extreme9 package will definitely make geeks swoon!
The Most Compact Mini Mobo To Date: Z77E-ITX
Small size, huge performance. ASRock Z77E-ITX is a well-built motherboard and packs to the gills with features. There's a remarkable mSATA connector onboard. The mSATA connector can be used to connect a Solid–State Drive (SSD) for an internal storage device. Coupled with SSD and HDD, users are able to take advantage of Intel Smart Response Technology and enjoy smart caching performance easily. The board also comes with an exclusive WiFi module that supports WiFi 802.11 b/g/n connectivity standards. Users can easily create a wireless environment with ASRock WiFi-supported motherboard.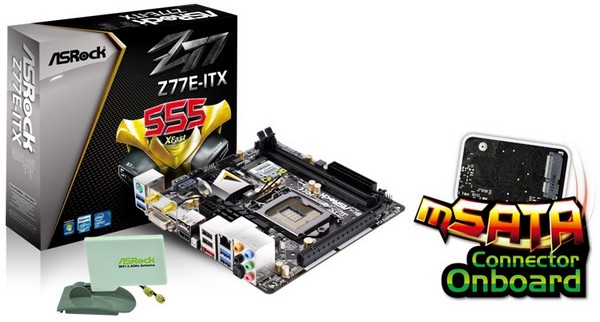 World's 1st & Only H77 MB Supporting Virtu MVP: H77 Pro4/MVP
Special introduce here is the H77 Pro4/MVP motherboard. Based on the Intel H77 chipset, this board is unprecedentedly able to support Lucid Virtu MVP technology. Designed for perfect gaming, the board was equipped with top-tier specifications, such as Digi Power, Multi-VGA display (D-Sub, DVI-D and HDMI), 7.1-CH HD Audio with THX TruStudio and On/Off Play technology. ASRock H77 Pro4/MVP comes with extinct features and rich packages; you don't have to spend a fortune to get a stunning rig!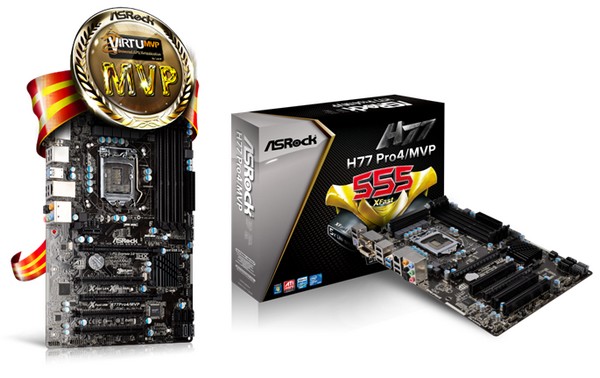 Fatal1ty Family Gaming Motherboard
In addition to ASRock Series motherboards, the much-anticipated 7-Series platform comes with several skus from ASRock / Fatal1ty relationship – Z77 Professional, Z77 Professional-M, Z77 Performance (two ATX, one Micro ATX). The ASRock / Fatal1ty Series of gaming motherboards are designed with the high-end features that gamers need, and nothing they don't want.
Fatal1ty Z77 Professional was designed to exceed the expectations of even the most dedicated gamer. With Z77 Professional, 100% precise Fatal1ty Mouse Port technology and all-in-one tuning program F-Stream; you will take your gaming to a whole new level. Fatal1ty Z77 Professional-M is the first Micro ATX Fatal1ty gaming motherboard. The board brings ultimate performance and high-end specifications that is able to satisfy all gamers who want to have small chassis. Designed for budget gamers, Fatal1ty Z77 Performance comes with everything essential and helps gamers to rule their own gaming path!

ASRock provides the smartest guide to technology, offers the features that gamers and builders demand. Noticeable features include XFast 555 Technology, OMG, Internet Flash, Lucid Virtu MVP, Intel Smart Connect and Intel Rapid Start Technology, etc. Picking an ideal board is so easy only at ASRock Intel 7-Series Motherboards!