(Auszug aus der Pressemitteilung)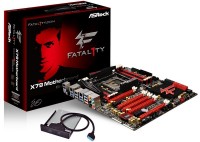 TAIPEI, TAIWAN, April 20, 2012 – Entering into the second year of ASRock/Fatal1ty partnership, ASRock has found its unique path to cooperate with Fatal1ty and develop the most trusted and strongest gaming motherboard series. Hitting the top end of Intel's motherboard chipset, ASRock today proudly launched its brand new gaming machine – "Falal1ty X79 Champion". Like most of ASRock's latest boards aimed at the enthusiast end of the market, Fatal1ty X79 Champion mainboard is full to the brim with features.
The legendary gamer Johnathan Fatal1ty commented "My vision for Fatal1ty hardware is to let gamers focus on competition without worrying about their equipments. With solid construction, Fatal1ty X79 Champion mobo was built with everything essential for the strongest rig. For instance, Fatal1ty Mouse Port delivers the most accurate control to elevate your game. XFast 555 Technology ensures gamers to get 5X faster performance increase in terms of LAN, USB and system overall performance."
"Based on Intel's top-spec desktop chipset X79/Sandy Bridge-E platform, this top gaming machine comes with ultimate specifications. Dual-Stack MOSFET provides more stable and efficient power supply to CPU zone. Onboard Creative SoundCore 3D chip with Premium Headset Amplifier (PHA) function provides first-class sound and delivers crisper audio into the gamers ears." said James Lee, VP of ASRock Sales and Marketing. "Passion for Performance! Quality is what ASRock/Fatal1ty Brand products represent."
Premium Hardware
"Full to the brim" is a bit of an understatement – the board comes with Digi Power, Premium Gold Caps and 12 + 2 Power Phase Design which is able to offer unmatched overclocking capability and enhanced performance with the lowest temperature. It also packs with 5 PCIe 3.0 x16 slots, supports 4-Way SLI/CrossFireX, Dual Gigabit LAN, 12 USB 3.0 ports, Fatal1ty Mouse Port and 8 DDR3 DIMM slots supporting up to 2500+(OC)MHz.
Special highlight here is the exciting Fatal1ty Mouse Port. It's a customizable technology for PC gamers who use F-Stream (exclusive from ASRock); with an adjustable wide range of mouse polling rates from 125 Hz to 1000 Hz. Gamers can now obtain the most precise control of their mouse.
Dual-Stack MOSFET
Once you get the Fatal1ty X79 Champion out of the box, the most eye-catching element is the stylish heatsink design. Underneath the large and fancy heatsink, users would be amazed by the Dual-Stack MOSFET (DSM) design. DSM is an innovative new design of MOSFETS. The silicon die area is increased by stacking two dies into a MOSFET. The larger the die area, the lower Rds(on). Compared to traditional discrete MOSFET, DSM can provide larger die area and lower Rds(on), so the power supply for CPU Vcore is more efficient.

Creative SoundCore3D with Premium Headset Amplifier (PHA)
Perfect gaming starts with a superb motherboard. Equipped with industry's leading Creative SoundCore 3D silicon chip, Fatal1ty X79 Champion ensures users to hear the best quality sound.
Powered by Sound Core3D™ quad-core audio and voice processor, Fatal1ty X79 Champion mobo is able to deliver the first-class sound experience to extreme gamers! This breakthrough audio chip even brings some exciting features, such as THX TruStudio PRO™ sound technologies, CrystalVoice™, EAX 1.0 to 5.0 and Scout Mode™. Scout Mode™ allows you to hear your enemies from further away, giving you a distinct tactical advantage in combat.

For serious gamers and enthusiasts who cannot tolerate mediocre audio, ASRock Premium Headset Amplifier (PHA)* provides wider bandwidth, higher slew rate with lower noise and distortion. It also supports up to 250 Ohm high-end headsets, which delivers crisper audio into the users ears. To get clear sound without noise, serious gamers should never miss the state-of-the-art Premium Headset Amplifier design.
*PHA is only supported with front audio.
HyperDuo Plus™ Technology
Get 14X Performance Boost! Specially equipped with Marvell SE9230 controller, Fatal1ty X79 Champion supports HyperDuo Plus™ Technology. While the SSD and HDD are connected, HyperDuo Plus™ makes the SSD become the cache of the HDD and delivers SSD-like performance.
V-Probe™ / Post Status Checker (PSC)
ASRock provides lots user-friendly tools to make overclocking easy. V-Probe™ is a 7-set of detection points, allowing overclockers to easily and quickly get the accurate voltage readings via a multitester. Post Status Checker (PSC) diagnoses the computer when users power on the machine. It emits a red light to indicate whether the CPU, memory, VGA or storage is dysfunctional.

The ASRock / Fatal1ty Series of gaming motherboards are designed with the high-end features that gamers need, and nothing they don't want. The Fatal1ty X79 Champion is no exception, with a good set of overclocking configurations and plenty of hardware options on the board. Furthermore, the board is marked by its versatile software applications, such as XFast 555 Technology, F-Stream, UEFI System Browser, OMG (Online Management Guard), Internet Flash, etc. With the perfect combination of hardware and software, extreme users are allowed to get overclocking/gaming insurance only from ASRock!