(Auszug aus der Pressemitteilung)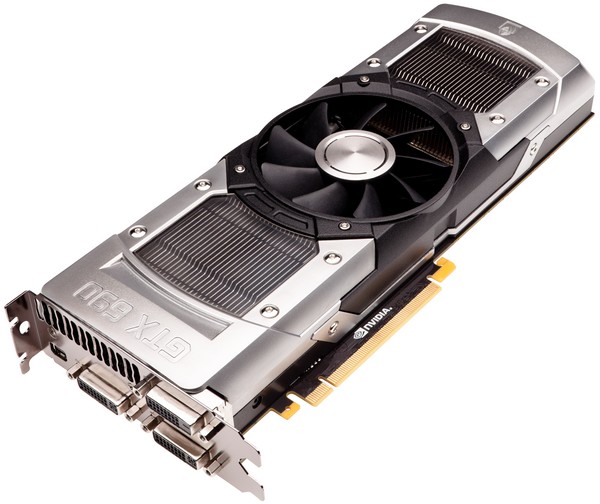 GEFORCE LAN/NVIDIA Game Festival 2012—SHANGHAI—April 29, 2012 – NVIDIA today announced the GeForce® GTX 690, the world's fastest consumer graphics card1—with a bold industrial design to match.
Powered by dual Kepler™ architecture-based GeForce GPUs, the GTX 690 is meticulously designed—inside and out—to deliver the most refined, elegant and smooth PC gaming experience possible.
The surprise announcement was made by NVIDIA CEO and co-founder Jen-Hsun Huang during his keynote address at the NVIDIA Game Festival in Shanghai, which is being attended by more than 6,000 gamers from across China.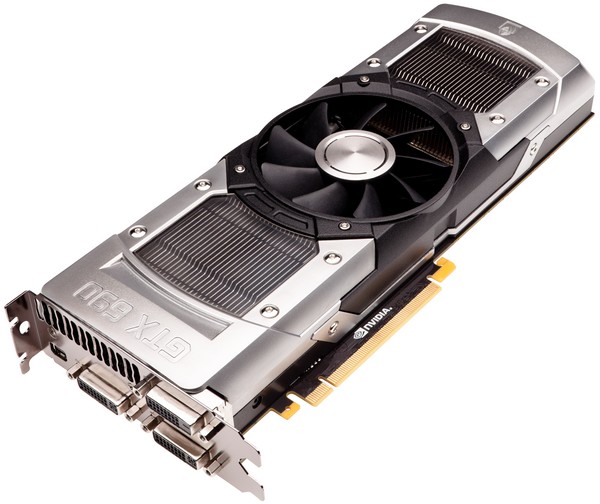 Engineered to reach a new threshold in gaming performance, the GTX 690 also looks the part. Its array of innovative technologies is complemented by sleek materials that contribute to the exotic design of the card, including:
An exterior frame made from trivalent chromium-plated aluminum, providing excellent strength and durability
A fan housing made from a thixomolded magnesium alloy, which offers excellent heat dissipation and vibration dampening
High-efficiency power delivery with less resistance, lower power and less heat generated using a 10-phase, heavy-duty power supply with a 10-layer, two-ounce copper printed circuit board
Efficient cooling using dual vapor chambers, a nickel-plated finstack and center-mounted axial fan with optimized fin pitch and air entry angles
Low-profile components and ducted baseplate channels for unobstructed airflow, minimizing turbulence and improving acoustic quality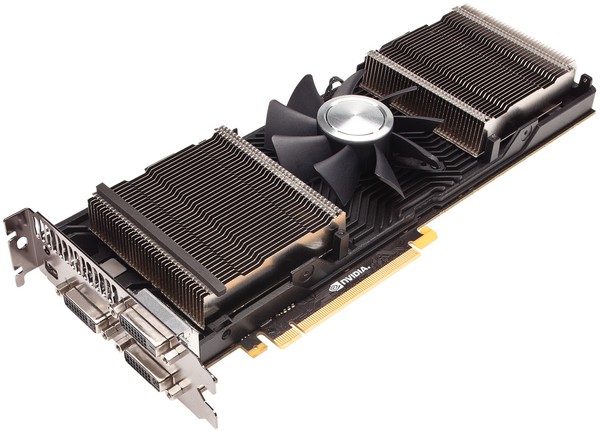 The GTX 690 is powered by a total of 3,072 NVIDIA CUDA® cores, all working to deliver awesome gaming performance for ultimate gaming setups. Designed for the discriminating gamer and ultra-high-resolution, multimonitor NVIDIA Surround™ configurations, the GTX 690 delivers close to double the frame rates of the closest single GPU product, the GTX 680. Plus, it is more power efficient and quieter when compared to systems equipped with two GTX 680 cards2 running in NVIDIA SLI® configuration.
"The GTX 690 is truly a work of art—gorgeous on the outside with amazing performance on the inside," said Brian Kelleher, senior vice president of GPU engineering at NVIDIA. "Gamers will love playing on multiple screens at high resolutions with all the eye candy turned on. And they'll relish showing their friends how beautiful the cards look inside their systems."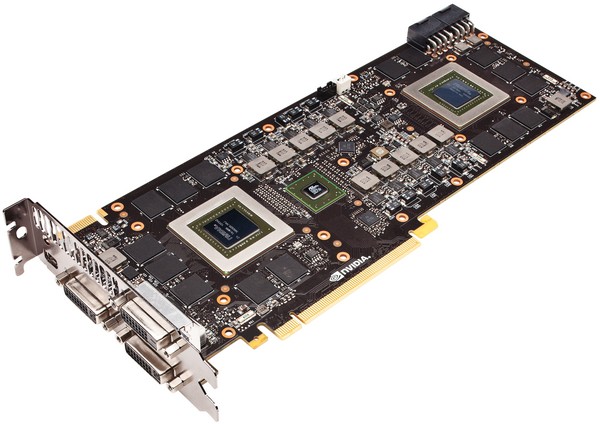 The GTX 690 graphics card is designed using GeForce GPUs based on NVIDIA's 28-nanometer Kepler architecture, following the introduction late last month of the GTX 680.
Availability
The NVIDIA GeForce GTX 690 GPU will be available in limited quantities starting May 3, 2012, with wider availability by May 7, 2012 from NVIDIA's add-in card partners, including ASUS, MSI, Gigabyte, EVGA, Gainward, Palit and Zotac.
(1) Testing was conducting comparing the GeForce GTX 690 versus GTX 680, running at a resolution of 2,500 x 1,600. Driver version used was 301.10. In the Heaven benchmark, with 4xAA/16xAF settings, GTX 690 scored 58.9 fps while the GTX 680 scored 31.1 fps. For Crysis 2 Ultra, the GTX 690 scored 57.8 fps while the GTX 680 scored 32.3 fps. In Dirt 3, with 8xAA/16xAF, the GTX 690 scored 111.2 fps, while the GTX 680 scored 62.3 fps. For performance, a higher number is better.
(2) GTX 690 acoustic measurement was 47 dB versus 51 dB for the GTX 680 SLI. For acoustic testing, a lower number is better.