(Auszug aus der Pressemitteilung)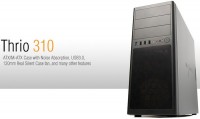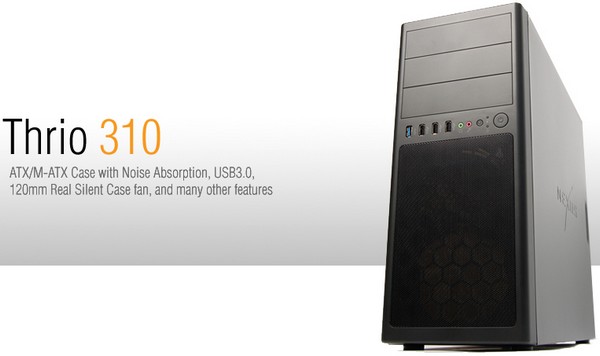 The Nexus Thrio 310 case is your choice for a silent computer. With its toolless installation features it is a breeze to install your components or change your set-up. The professional look and materials make the case fit in anywhere. A black mesh front and side panels with the Nexus logo stamped give the Thrio 310 a distinguished look. And the USB3.0 port on the front panel makes the case compatible with current motherboards.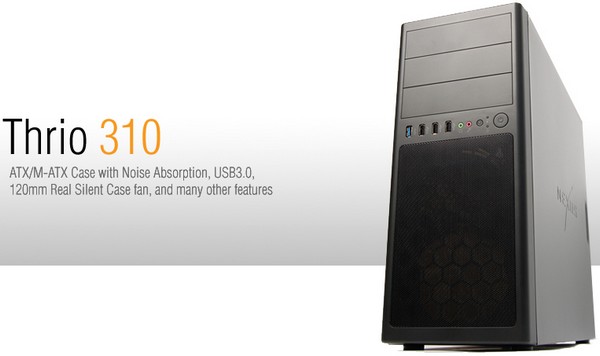 We already installed one of our excellent silent case fan, a 120mm fan is fitted as air outtake. Some isolating padding where the PSU is placed prevents resonance. The rubber feet keep the case elevated from the floor to make smooth airflow possible and to eliminate resonance. Check out all the great features….
Noise absorption
The Nexus Thrio 310 case is fitted with some noise absorption material we really love. It is a premium dense foam/rubber-like material with great characteristics. These materials surely hush your system.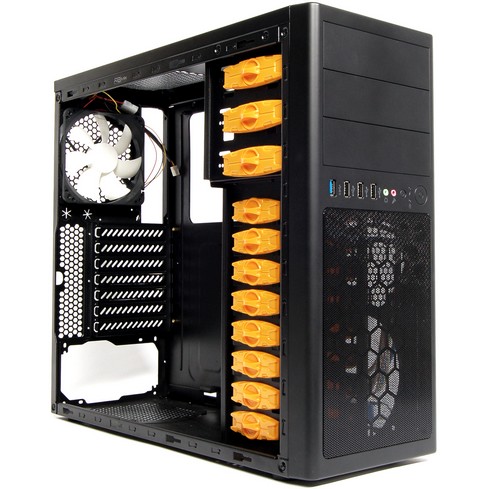 Toolless installation
Optical drives are installed toolless with a convenient open/lock system. And the side panels are easily being opened with the thumb screws.
PSU-bumpers
We have fixed some nice padding on the areas where normally the PSU would hit the chassis. We have attached some patches on the bottom of the case and a little frame around the PSU opening at the back of the case. These 'bumpers' are made form soft foam/rubber-like materials and absorb and vibration caused by the PSU and prevents this resonance to be transmitted to the chassis.
Top Fan (optional)
The Thrio 310 have extra space to mount a fan in the top of the case. As heat normally goes up it's very convenient to have some airflow thru the top. We also added some plastic mesh on the inside so small parts will not fall in the case if there is no fan installed.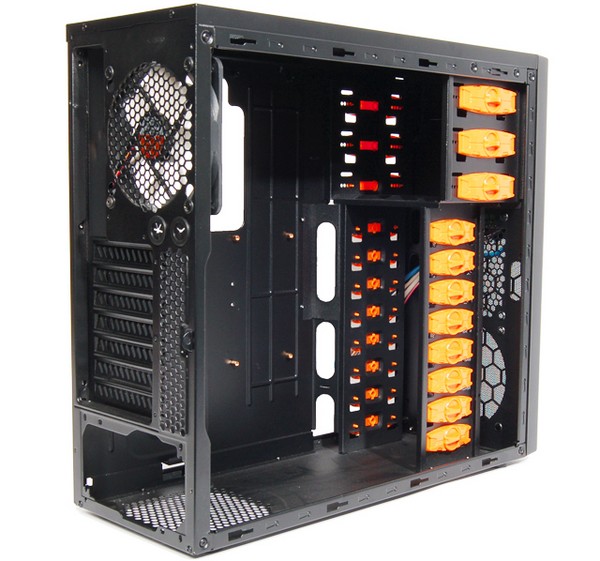 Specifications:
ATX/M-ATX case
Noise absorption material on side panels
Black interior
Real silent 12cm fan pre-installed
Room for 3 additional fans
5.25 bays: 3 exposed
3.5 bays: 8 internal
Front ports: 3xUSB2.0, 1xUSB3.0, 1xMic, 1x Audio
Expansion slots: 7 slots
Size case: 468x180x430mm (DxWxH)