(Auszug aus der Pressemitteilung)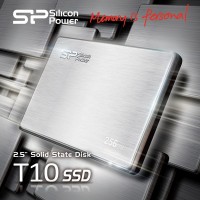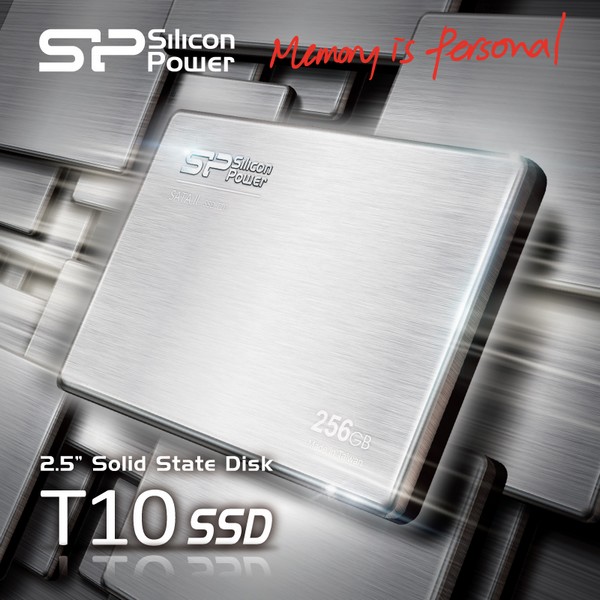 Silicon Power (SP), the world's leading provider of memory storage solutions today launches a new member of 2.5" SATA II Solid State Disk entry level families – Technology T10. T10, built with a brushed metallic structure, inherits excellent performance and stability from the SATA II families, reaching up to 278 MB per second transfer rate. T10's aesthetic design is the new selection for your personal computer upgrade offering unique style at an affordable price.
Normally when it comes to SSD, it can be described as pricy, rigid, and bulky; however, Silicon Power's T10 can totally alter your perspective when selecting a SSD. Coated in light silver gray, T10 reveals a refined ambiance; its brushed aluminum structure makes T10 an aesthetic artwork. As a SATA II entry level SSD, T10 can be your best economical choice of having both performance and stylish design.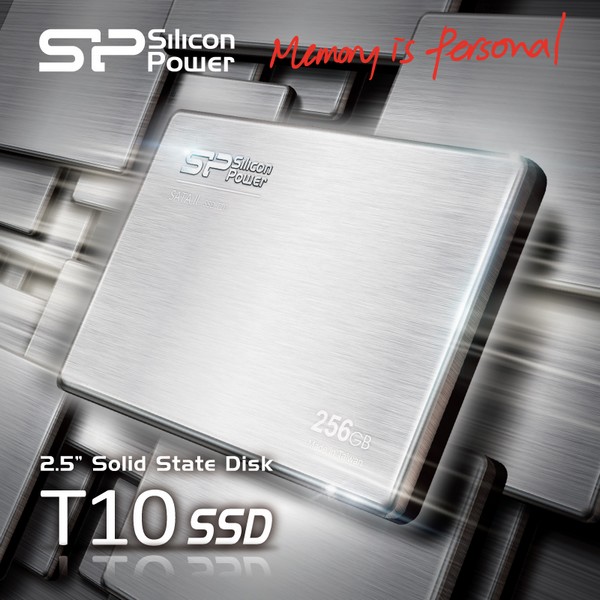 With DDR2 DRAM Cache Memory built in, T10 is capable of maintaining its best performance and excellent stability during continuous writing and reading situations. S.M.A.R.T and ECC error correction functions secure your data storage with the best protection. T10 also supports TRIM Command to maximize performance, allowing users to boot up their computers within 10 seconds!
Still being stopped by the price of SSDs? Silicon Power's Technology T10 is your best economical choice of having both outstanding performance and stylish look, indicating your extraordinary taste and personality.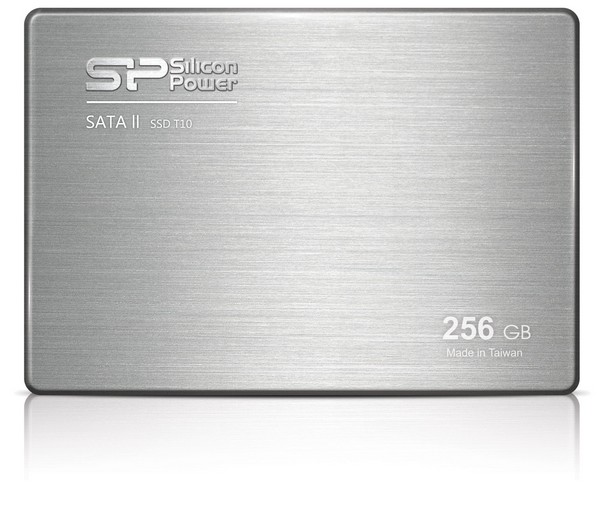 Features
Excellent transmission performance and stability.
Support TRIM Command, write-in function increased.
Available capacities: 32GB/64GB/128GB/256GB
Compatible SATA I and SATA II interfaces and conforms 2.5"SATA interface (SATA SSD)
DDR2 DRAM Cache memory implementation to enhance T10's reading performances and lifespan
Built-in ECC error correcting code to guarantee data reliability.
Super high speed transmission speed Wear-Leveling technology to extend its lifespan
Compliant with European RoHS requirement, meeting the green environment trend
Low power consumption and vibration proof
Noiseless operation, no latency delay and no seek error
3-year Warranty
Specifications
Dimensions: 100mm x 69.85mm x 9.4mm
Weight: 64g – 77g
Durability: 10,000 insertions
Operating voltage: 5V +/- 5%
Vibration resistance test: 20G peak-to-peak max
Shock resistance test: 1500G Max
Transmission rate: Maximum read rate 278 MB/s
* Transfer rates may vary, depending on system platform.