(Auszug aus der Pressemitteilung)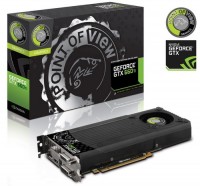 EINDHOVEN – August 16th 2012 – Point of View, a premier NVIDIA graphics partner and manufacturer of Android tablets, notebooks and other hardware, launches today the newest card of the GeForce® 600 family: the POV GeForce® GTX 660 Ti.
The GeForce GTX 660 Ti breaks with the previous generation in terms of quality, performance and features! For all who have delayed their upgrade, this is the time!
The GPU is built on the next generation streaming multiprocessor SMX technology which allows much faster calculations. The chip is produced on a 28 nm die-size – allowing high clock speeds and is twice as power efficient as its GeForce GTX 560 predecessor.
Also the new technology received a huge expansion of CUDA cores. The GeForce GTX 660 Ti now has an astonishing amount of
1344 CUDA cores to process all parallel calculations even faster! The card also has 2048 MB of DDR5 memory to keep up with all that GPU brute force!
The GeForce® GTX 660 Ti is a DirectX 11 and shader model 5.0 supporting graphics card with of course existing NVIDIA features such as NVIDIA 3-way SLI® Technology, PhysX®, PureVideo® HD and CUDA™ being present!
Being the youngest sibling of the GTX 600 series, it also utilizes GPU Boost – an intelligent clock speed management which dynamically maximizes (or minimizes) your clock speed depending on the current demand. Also other GTX 600 features such as Adaptive vSync and anti-aliasing technology FXAA are included.
Through the new 3D Vision™ Surround implementation, one single GeForce® GTX 660 Ti allows up to 4 monitors connected. Three of these can be used to create a stereoscopic 3D "inside the game" experience while keeping an eye (the fourth 'accessory' display) on your email, game-guide or social media page!
This design prides itself with an increased energy efficiency and better power management system. Thus a cooler and more stable card with higher clocks!
With further delay, let's have a look at the specs of the GeForce® GTX 660 Ti:
GeForce® GTX 660 Ti:
Graphics Engine : GTX660 Ti (28nm)
Interface : PCI-Express 3.0
Video memory : 2048 MB DDR5
Base clock : 915 Mhz
Boost clock : 980 Mhz
Memory clock : 6008 Mhz
CUDA cores : 1344
Memory bus : 192 bit
DVI-I : 2x dual link
HDMI : 1x HDMI
DisplayPort : 1x
The GeForce® GTX660 Ti is Faster, Smoother and Richer
The newest graphics card by Point of View will be available immediately, so contact your POV retailer for more information or visit the "Where to Buy" section of our website.