(Auszug aus der Pressemitteilung)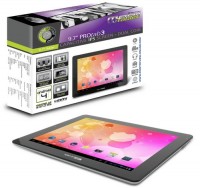 EINDHOVEN – September 11th 2012 – POINT OF VIEW, well known for its range of NVIDIA graphics cards and Android tablets is announcing today two new tablet models: the ProTab 3 IPS 9.7" and the ProTab 3 XXL IPS 10".
The used processor – in both tablets – is a dual core Cortex A9 running on 1.6 GHz accompanied by a quad core Mali 400 GPU and 1024 MB of DDR3 system memory. This engine is guaranteed to run all your favorite apps faster and smoother than anything you've experienced before. As a cherry on the cake, both tablets will be available with Android 4.1 Jelly Bean; the latest and most advanced Android operating system.
Whether it's social media apps or 3D games, the ProTab 3 tablet series of POV is the best choice for you.
As their product names indicate they are both equipped with a high quality IPS panel. Don't be fooled by the term IPS: with high quality we – team POV – mean an excellent viewing angle, vivid colors and last but definitely not least: a high nit (brightness) value.
ProTab 3 IPS 9.7"
With only 10mm thickness and 590 gram weight, the ProTab 3 IPS 9.7" is a very slim and light solution. Easy to carry around or slip into your bag and very comfortable to use!
The housing is made up by a cool grey aluminum back side and a black gloss front side. Stylish and simple: a classic combo. The housing has two cameras of which the 2 MP back camera is accompanied with a LED flash.
According to the loyal followers of the 4:3 aspect ratio, this form factor great for browsing, reading, emailing all other tasks that require a large working surface. The high performance 1024 x 600 IPS panel makes it an ideal device to share the fun with friends and family. People are able to see a beautiful and crisp image from any angle and the tablet will automatically flip the displayed image when needed!
ProTab 3 XXL 10"
The first thing that you will notice is that the ProTab 3 XXL 10" has an incredibly crisp display. Besides incredible vivid color and high brightness, also the display resolution got a boost up to 1280 x 800.
This means more actual information on the screen with of course the ability to pinch zoom and pan whenever you want.
The ProTab 3 XXL is a solid and sturdy device due to the full aluminum back. Its weight of 700 gram gives a deluxe feeling but with only 10.5 thickness the tablet still stays very thin. Again, the elegant combination of cool grey and glossy black is definitely a winner.
Whether you prefer the 4:3 aspect ratio or the 16:10 aspect ratio of the ProTab 3 XXL 10", your tablet experience will never be the same.
Faster, smoother and smarter. Those are the first thoughts that come to mind when first experiencing Android 4.1 Jelly Bean. It's difficult to improve something that's already so smooth and intuitive as the layout of Android 4.0 Ice Cream Sandwich, however with Android 4.1 Jelly Bean, you'll experience many improvements that make a great user interface brilliant!
For all you techies, without further ado the specs: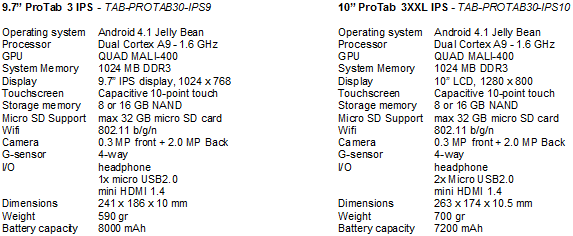 Jelly Bean simply is a better and faster operating system. More functions in your notification bar, a better UI in the settings menu and more options to find exactly what you are searching for. With the improved browser with better memory and processor efficiency, your web pages will load faster and feel smoother. Especially for non-English users, Jelly Bean is a dream come true. Support for Arabic, Persian, Hindo, Hebrew and improved support of Japanese will allow the best user experience, whatever language you prefer.
The Point of View ProTab 3 IPS 9.7" and the ProTab 3 XXL 10" will be available with Point of View retailers within the next few weeks.