(Auszug aus der Pressemitteilung)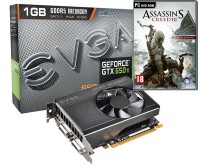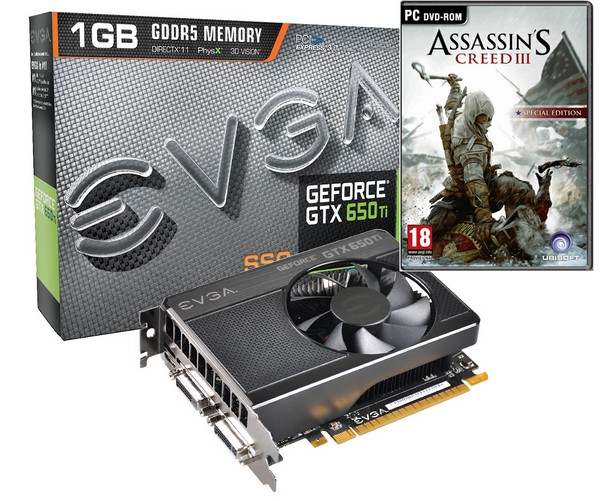 09 October, 2012 – If you're passionate about first-person shooters like Call of Duty, massively multiplayer online games such as World of WarCraft, or real-time strategy games like StarCraft II, then GeForce GTX is for you. Turbocharge your experience with the powerful performance of the EVGA GeForce GTX 650 Ti and enjoy the latest games in full 1080P HD with this next-generation NVIDIA Kepler architecture-based GPU.
EVGA will be offering four versions of the GeForce GTX 650 Ti. This includes a standard and SSC version, as well as 1GB and 2GB models. Please also note that both of the 1GB versions will be bundled with a free key for Assassin's Creed III* that can be redeemed once the game launches.
EVGA GeForce GTX 650 Ti 1GB (Free Assassins Creed III included)
EVGA GeForce GTX 650 Ti 1GB SSC (Free Assassins Creed III included)
EVGA GeForce GTX 650 Ti 2GB
EVGA GeForce GTX 650 Ti 2GB SSC
Learn more about the EVGA GeForce GTX 650 Ti.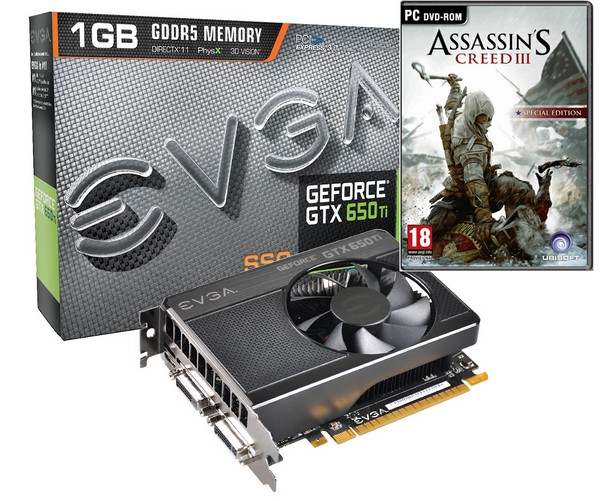 The EVGA GeForce GTX 650 Ti graphics card features many new and key features:
NVIDIA SMX Engine – Brand new processing engine which delivers twice the performance/watt compared to previous generations.
NVIDIA FXAA – Lightning fast anti-aliasing in a huge variety of games with the simple click of a mouse.
NVIDIA TXAA – Next generation anti-aliasing algorithm that delivers the image quality of 8x MSAA, with the performance hit of only 2x MSAA.
Adaptive Vertical Sync – Dynamically adjusts VSync to your monitor's native refresh rate for the smoothest gameplay possible.
Frame Rate Target – Set a target Frame Rate with EVGA Precision X and your card will automatically adjust the power/performance to meet that target.
NVIDIA 3D Vision Surround – Supporting up to three gaming monitors plus one accessory display!
PCI Express 3.0 – Offers double the bandwidth of PCI Express 2.0, for highest data transfer speeds. Also backwards compatible with all existing PCI Express motherboards.
Also, EVGA is offering an exclusive EVGA GeForce GTX 650 Ti Precision X skin that can be downloaded at the official EVGA Precision X website. EVGA Precision X is the ultimate GeForce overclocking/monitoring software which allows you to fine tune your EVGA graphics card, including GPU clock speeds, Memory clock speeds, fan speeds, and more.
EVGA Precision X Key Features:
Brand new GUI – Built from the ground up for the next generation of graphics accelerators.
Advanced Hardware Monitoring – See GPU vitals in real time.
In Game Monitoring – See your GPU vitals, without leaving your game!
Frame Rate Target – GeForce GTX 650 Ti will adjust power/clock dynamically to match set framerate.
Fan Curve – Set up an advanced fan profile.
In addition to EVGA Precision X, EVGA is also making available a new version of EVGA OC Scanner X, now compatible with the EVGA GeForce GTX 650 Ti. This application is free and supports the following features, and more.
Built in stress tester can find and report artifacts
Benchmark function allows you to quickly test your performance
GPU vitals show real time clock speeds and temperatures
Also supports CPU stress testing
Learn more at the official EVGA OC Scanner X website.
The EVGA Difference
Known for offering value and performance, as well as exemplary customer service, EVGA is recognised through customer loyalty and the highest levels in customer satisfaction. In addition to the expanded product lines, consumers and channel partners will also benefit from increased sales and technical support programs:
Global Warranty – No registration required, 3 Year Standard warranty with upgraded warranties available.
EVGA proprietary Advanced RMA (EAR) service – to enable customers to get a replacement card before sending the defective product back to EVGA.
24/7 Phone Technical Support – to assure users that courteous and friendly assistance is always available at anytime of the day or night (available 24/7 on US phone support number. Available 09:00 – 18:00, Monday to Friday, on European phone support number).
Step-Up Program – for the ability to trade up existing EVGA products for newer technology.
Community Message Boards – full of thousands of knowledgeable, friendly, and satisfied EVGA customers.
EVGA MODS RIGS – show off your rig, and win cash prizes.
EVGA Gaming – EVGA game servers are open 24/7 and feature the latest games.
*Designed from the ground up over more than two years, Assassin's Creed III takes one of gaming's most beloved franchises to new heights. Find out more here.
EVGA was recently awarded the top accolades in the industry-recognized PC Pro Excellence Awards 2012 – in both the Graphics Cards and Motherboards Categories:
"EVGA won plenty of praise from readers for the duration of its warranties and the quality of its after-sales support." PC Pro, November 2012 (Issue 217)
"EVGA takes all the glory this year with its industry-leading scores for reliability (94%) and value for money (95%)." PC Pro, November 2012 (Issue 217)