(Auszug aus der Pressemitteilung)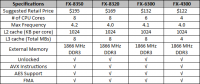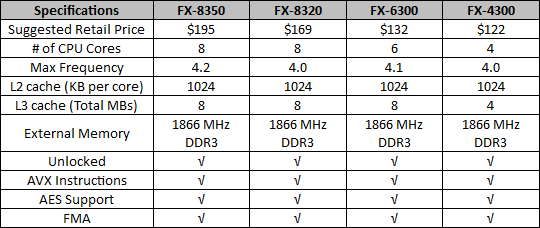 SUNNYVALE, Calif. — Oct. 23, 2012 – AMD (NYSE: AMD) announced an update to the Guinness World Record setting AMD FX family of central processing units (CPUs) that continues the brand's history of delivering a fully unlocked and customizable experience for performance desktop PC users. At the heart of the latest AMD FX processor is the new "Piledriver" multi-core architecture that offers up to a 15% increase in performance at a lower price than the previous generation – with the highest-performing processors starting at less than $200. The increased performance from the latest architecture is designed for multi-threaded applications like content creation, video and audio encoding, and games, allowing users extreme responsiveness and mega-tasking performance.
"Gamers and PC enthusiasts who buy AMD FX processors have even more to cheer about with the increased speeds and value we are delivering starting today," said Leslie Sobon, vice president of desktop and component products. "After introducing the industry's first and only 8-core desktop processor last year, we now have even faster stock frequencies and an all-new, high-performance x86 core architecture to satisfy power-users."
The AMD FX opens the door to a world of possibilities when combined with other AMD technologies, like an AMD 9-Series chipset motherboard and AMD Radeon™ HD 7000 series graphics cards with Eyefinity multi-monitor support. AMD also provides downloadable software upgrades that free the creative user to push performance with AMD OverDrive™, manage their gaming with AMD Catalyst™ Control Center, or harness the power of multiple graphic cards working in parallel with AMD CrossFire technology.
"After what we've seen of the previous generation of AMD FX series, the overclockers at HWBOT are very eager to find out what the new AMD FX series will bring to the game," said Frederik Colardyn, founder and CEO of the competitive overclocking site, HWBOT.org. "As the previous generation shattered the frequency world record, pushing it to a new high, we hope to see the new AMD FX series raise the bar even further."
Starting today, the new AMD FX CPUs will be available from global retailers.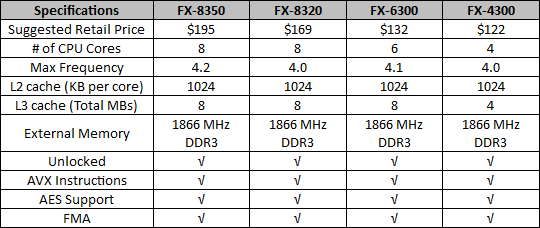 Industry Support
ASRock: "The new AMD FX Series is perfect for performance driven PC enthusiasts," said James Lee, ASRock vice president of Sales and Marketing. "We are beyond thrilled to inform users that our new ASRock motherboards work seamlessly and give full play to the AMD FX Series."
Asus: "A year ago, the FX Series broke records and we're excited about the 15% increased performance this year," said Joe Hsieh, general manager of Asus' Motherboard Business Unit. "We produce a large number of motherboards each month and are always committed to providing customers with an unmatched PC experience. The update to the FX Series allows us to continue to outfit our motherboards with leading processor performance."
MSI: "The increased speeds and value offered by the latest AMD FX Series gives overclockers and performance enthusiasts the responsiveness needed for any task, said Ted Hung, MSI vice president of Mainboard Department. "When the FX Series is paired with an MSI AM3+ mainboard not only do users get maximum performance, but they're also taking advantage of our OC Genie II technology providing military-class stability and intelligent overclocking within just one second."