(Auszug aus der Pressemitteilung)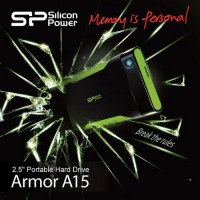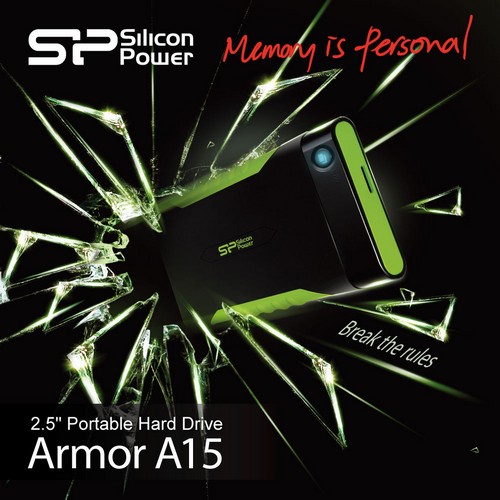 Taipei, Taiwan – November 27, 2012 – Have you ever thought of yourself as an IT warrior experiencing all sorts of extremes and obstacles in this technology jungle? If so, an ultimate anti-shock portable hard drive is your must-have tech. gadget. SP/Silicon Power, the world's leading provider of memory storage solutions today presents an ultimate rugged USB 3.0 portable hard drive – Armor A15. Protected by a shock absorbent silica gel cover, A15 is built to withstand shock and vibration, avoiding data lost in high impact movements. Featuring one-touch backup function and specialized software, this ultra rugged portable hard drive takes your data storage experience to the next level for enhanced security and convenience.
Inheriting shockproof protection features from the Armor series, SP Armor A15 is constructed in a shock-resistant silica gel case, increasing friction from falling off from slippery surfaces. For added protection, the ribbed shaped grips on the two sides are exquisitely designed for users to get better hold of the drive and the advanced internal hard drive suspension system makes Armor A15 function properly without risking a chance of losing data. When it comes to data security, A15 is in compliance with the stringent US military MIL-STD-810F standard (transit drop test), giving users a full range of protection when you accidently drop it on the ground.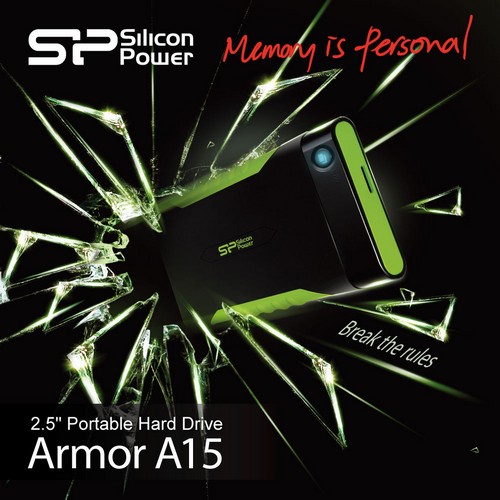 SP A15 is colored in a trendy mixture with black and neon green, making it stand out among all portable hard drives. In terms of performance, A15 is equipped with the high-speed USB 3.0 connection interface, presenting a powerful performance with maximum protection. SP A15 is also equipped with a one-touch backup button, LED status light indicating power / transfer statuses, SP Widget free download software, and a 60-day Norton Antivirus trial software. A15 is available in 500GB, 750GB, and 1TB and is backed by a three year warranty.
Features
Received 2012 Taiwan Excellence Award.
SuperSpeed USB 3.0 compliant and backwards compatible with USB 2.0
High transferring rate up to 5Gb/sec
Durable anti-shock rubber outer case
Advanced internal hard drive suspension system
Meet the U.S. military drop-test standards MIL-STD-810F (transit drop test), including (1) free fall drop directly onto concrete or hard surfaces; (2) specific height free fall test (122cm); (3) product's 8 corners, 12 sides and 6 surfaces all must pass free fall tests.
Easy Plug in and use – no external adapter required
One touch quick backup button
LED indicates power on and data transfer activity
SP Widget free download software, providing 7 major back-up and security functions
Specification
Dimensions: 136.0 x82.5 x19.8mm
Weight: 200g
Standard Compliance:USB 3.0 / 2.0
Data Transfer Rates:
Max. 5 Gb/s (USB 3.0 Mode)
Max. 480 Mb/s (USB 2.0 Mode)
Power Supply:DC 5V (Power supplied through USB)
Supported Operating Systems:Windows 7, Windows Vista, Windows XP, Windows 2000, Linux 2.6.31 or later, MacOS 10.5 or later (only USB 2.0 currently supported)
Operating Temperature:5℃~ 55℃
Storage Temperature:-40℃~ 70℃
Capacity: 500GB, 750GB, 1TB
Color:Black
Three-year warranty