(Auszug aus der Pressemitteilung)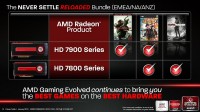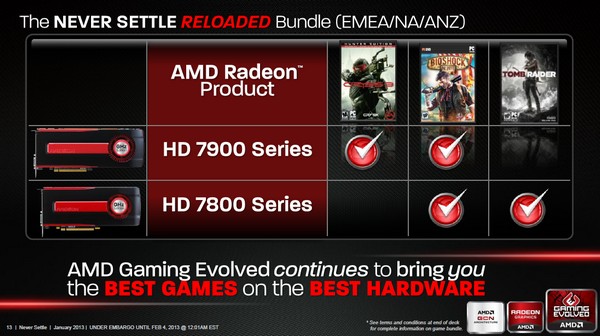 SUNNYVALE, Calif. — Feb. 04, 2013 – AMD (NYSE: AMD) today announced the arrival of its "Never Settle: Reloaded" game bundle, the sequel to last year's monumental "Never Settle" bundle. "Never Settle: Reloaded" delivers by bundling up to four of this year's most anticipated PC games ─ "BioShock® Infinite" by 2K Games and Irrational Games, "Crysis® 3" by Electronic Arts, "DmC Devil May Cry™" by Capcom® and "Tomb Raider®" by Square Enix ─ with select AMD Radeon™ HD 7900 and HD 7800 Series graphics cards. The bundle highlights the continued commitment by AMD to ensure an incredible gaming experience on the world's top PC titles optimized for AMD Radeon™ graphics cards.
"AMD knows gaming and in 2013 we plan to make a huge mark on the industry. Today we begin that journey by showing the world that the best PC game developers are AMD Gaming Evolved partners," said Matt Skynner, corporate vice president and general manager of AMD Graphics. "The 'Never Settle: Reloaded' bundle clearly stands apart from anything else in the market. Gaming has always been, and will remain, the core of the AMD Graphics strategy and success. In 2013, we plan to forge greater inroads into the gaming industry and it begins with packaging this year's biggest games with the best graphics hardware from AMD."
The introduction of this gaming bundle further demonstrates AMD leadership in and commitment to gaming as the centerpiece of its long-term graphics strategy. In 2013, AMD plans to further reinforce its position as an industry-leading graphics provider by focusing on four critical pillars. The first pillar is content, where AMD will continue its ground-breaking work with game developers to ensure the greatest games are optimized to play on the greatest hardware, AMD Radeon graphics. Second, AMD will work with console developers to evolve and improve the console experience for both gamers and game developers. Third is the cloud, where AMD will expand the limits of online gaming through technology partnerships with companies like CiiNow, enabling game publishers, retailers and carriers to tap into the growing online video game market, ultimately providing greater choice for PC gamers. And finally, AMD will continue to deliver cutting-edge graphics technology which ultimately sets the foundation for driving the best gaming experiences regardless of the platform.
"The 'Crysis' franchise has a reputation for demanding the world's most powerful graphics cards," said Cevat Yerli, CEO and president of Crytek. "'Crysis 3' pushes GPU technology even further and is the best looking game we have ever worked on, so we needed a hardware partner that could keep up with us. The AMD Gaming Evolved program clearly demonstrated that AMD Radeon and the Graphics Core Next architecture is what we needed."
Never Settle: Reloaded Bundle
The "Never Settle: Reloaded" bundle offers the following games when purchased with select AMD Radeon™ HD 7900 and HD 7800 Series graphics cards*: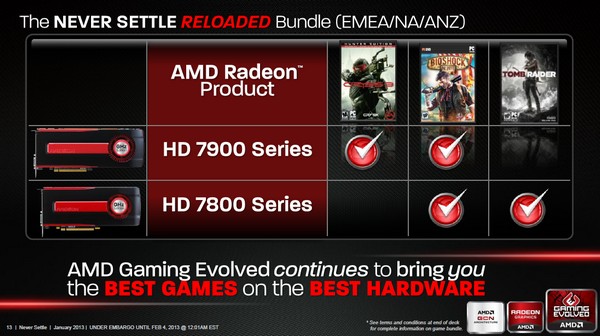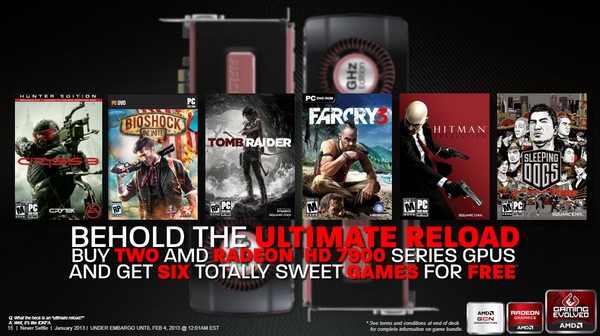 "One of our goals with 'Tomb Raider' is to make the game experience feel believable and the graphics become one of the key components to help deliver that," said Karl Stewart, global brand director, Crystal Dynamics. "Using AMD Radeon with the compute-driven graphics features in 'Tomb Raider" helped us create an island which can be visually stunning or inhospitably hostile, introduce a cast of characters and tell this origins story to the best effect."
AMD Radeon Technology
The award-winning AMD Radeon HD 7900 and HD 7800 Series graphics cards feature AMD CrossFire™ technology, immersive AMD Eyefinity multidisplay technology and AMD HD3D stereo 3D, which when combined with the latest DirectX® 11.1 capable games, deliver exceptional experiences and cutting-edge visuals for gamers. For gamers looking for the ultimate gaming card to take full advantage of the "Never Settle: Reloaded" bundle, the limited-edition ASUS ROG ARES II graphics card is currently available. Equipped with two overclocked AMD Radeon™ HD 7970 GHz Edition GPUs in a slender two-slot design, the ROG ARES II suits a variety of PC cases, and has a new hybrid thermal design that combines liquid and air cooling.
"We are pleased that the AMD 'Never Settle' promotion of 2012 returns in 2013. This free game promotion for AMD Radeon graphics was a huge success and was very well received by our gaming enthusiasts," said Rob Verheij, marketing coordinator, Alternate Netherlands. "I am convinced that this new bundle promotion, which contains top games like 'BioShock® Infinite,' 'Crysis® 3' and 'Tomb Raider®' will be a big success."
"After the success of last year's Never Settle Bundle, we are thrilled to see AMD, yet again, offer 2013's most anticipated PC games packaged with their award-winning graphics cards to our customers," said Soren Mills, chief marketing officer of Newegg North America. "Both Newegg and AMD are supporters of the PC gaming community, which is why we value this partnership and look forward to offering this exciting new bundle."
Redemption
Coupons for games included in the AMD Radeon Never Settle: Reloaded bundle will be provided by resellers when customers purchase AMD Radeon HD 7900 and HD 7800 Series graphics cards, and can be redeemed on the AMD Redemption portal.