(Auszug aus der Pressemitteilung)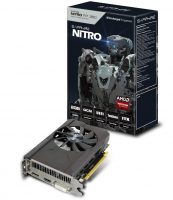 SAPPHIRE Technology has just announced a new addition to its successful SAPPHIRE NITRO Gaming series of graphics cards designed to provide the balance of high end features and affordability for the majority of gamers. The new card is based on the latest GCN (Graphics Core Next) architecture from AMD and delivers the full feature set including support for the latest operating systems as well as being ideal for online gaming.
Developed with on-line gamers in mind, the SAPPHIRE NITRO R7 360 is the ideal upgrade for a system with an older generation graphics card or with integrated graphics that do not support the latest display technologies. For a modest outlay, the user gets full support for DirectX 12 and the latest Windows 10 operating system, delivering significant performance advantages as well as advanced features like AMD FreeSync for a stutter free display when gaming. In fact the SAPPHIRE NITRO R7 360 has all the features of high end models based on AMD GCN, including AMD TrueAudio technology for the most realistic sound reproduction, as well as AMD Image quality enhancement, AMD HD Media accelerator and AMD PowerTune for optimum performance and even support for AMD VSR (Virtual Super Resolution) and FRTC (Frame Rate Target Control).
The SAPPHIRE NITRO R7 360 has 2GB of the latest GDDR5 memory clocked at 1625MHz (6.5GB/s effective) and a GCN core with 768 stream processors clocked at 1060MHz. With a SAPPHIRE Performance Index* of 1 it is designed to deliver a great experience for on-line gaming as well as general purpose computing. It has a short PCB, measuring only 170mm long, making it easy to install in any system enclosure including small form factor (ITX) designs and features an efficient single fan cooler.
This model also supports AMD Eyefinity, for multi-screen operation with up to three monitors. It is CrossFire ready for accelerated performance using multiple cards in a CrossFire enabled mainboard, allowing for future performance upgrades, and no interconnect cables are required as CrossFire is now enabled over the PCI-Express bus.
AMD APP acceleration is also supported for enhanced performance in a wide range of applications using the stream processing capabilities and specific hardware features of the GCN graphics architecture. Typical applications include Video encoding and decoding, compression and multiplexing for media distribution, gaming and video conferencing. APP acceleration can also enhance everyday tasks such as Internet browsing, Office applications and file compression with supported software suites.
The SAPPHIRE NITRO R7 360 is shipping now, and is available from SAPPHIRE etailers and retailers worldwide.
* The SAPPHIRE Performance Index is a new rating developed by SAPPHIRE to indicate to users the expected real-world performance of each of its graphics cards